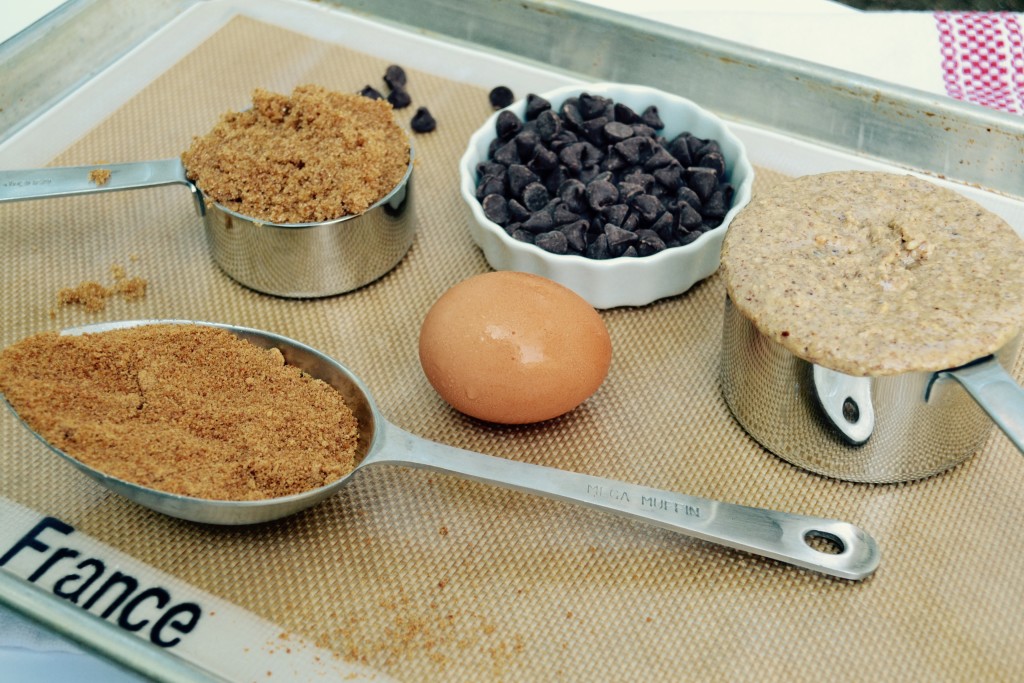 It's time for something sweet and I've got three words for you: One. Bowl. Cookies.
Trust me, there's nothing I love more than creaming butter and sugar together and sampling it when it's perfectly combined–for me, that's the best part about making cookies. But, there's something to be said about not having to break out the stand mixer just to make a special treat. Six ingredients, one bowl and a wooden spoon are all you need to make these tasty little gems.
These almond butter cookies are subtly sweet, super nutty, and highly addictive with a big kick of protein; they are also gluten-free. I feel good about giving these to my son, Everett, as a snack–and less guilty when I eat four or five at a time. They are a great cookie to make when you have little helpers: the kids can do nearly all of the steps–except when it comes to the oven, of course.
Freshly ground almond butter is the way to go, if you can find it. The ground nuts give the cookie a nice texture, similar to an oatmeal cookie. I buy my almond butter from The Fresh Market–you can actully grind it yourself. That particular almond butter tops the "favorites" list for my husband, Ed–with bananas and hummus coming in at a close second. If you can't find fresh-ground, jarred almond butter works well, though the texture of your cookie will be creamier. If your butter comes from a jar, be on the lookout for added sweeteners; if it contains ingredients such as evaporated cane juice, dextrose, fructose, coconut sugar, corn syrup, or stevia, you will simply need to adjust the amount of sugar in the recipe accordingly–see my note with the recipe below.
Years ago, I found this recipe in Martha Stewart's now defunct magazine, Everyday Food. I've tinkered with it every which way and here's what I've learned: any nut butter will work. Yes, peanut butter lovers, that means you! In fact, when I first started experimenting with this recipe it was peanut butter I was using. But, one day almond butter was all I had, and I really needed some cookies, and voila…I found my new favorite! Are you or someone you love allergic to nuts? I even experimented with a creamy soy-nut butter called Wow-Butter. It tastes very similar to the peanut butter version of this recipe and it's 100% nut-free–Ed and Everett didn't even realize that something was amiss.
In addition to the amount of sugar you use, the amount of chocolate can also be tweaked to your taste. If you love chocolate, mix 1/2 cup of chocolate chips into the dough. If you are like me and prefer a little less chocolate in your cookies, just press some chocolate chips into the top of each cookie prior to baking. For the purists, completely forego the chips altogether. For having so few ingredients, this recipe is really flexible, allows for many variations, and is totally forgiving: it's hard to mess them up. No matter how I have modified this recipe, I have earned a thumbs-up from both of the men in my house.
If you think slice-and-bake cookies are all you have time for, try this quick and easy recipe the next time you need something sweet…and try not to eat them all in one sitting!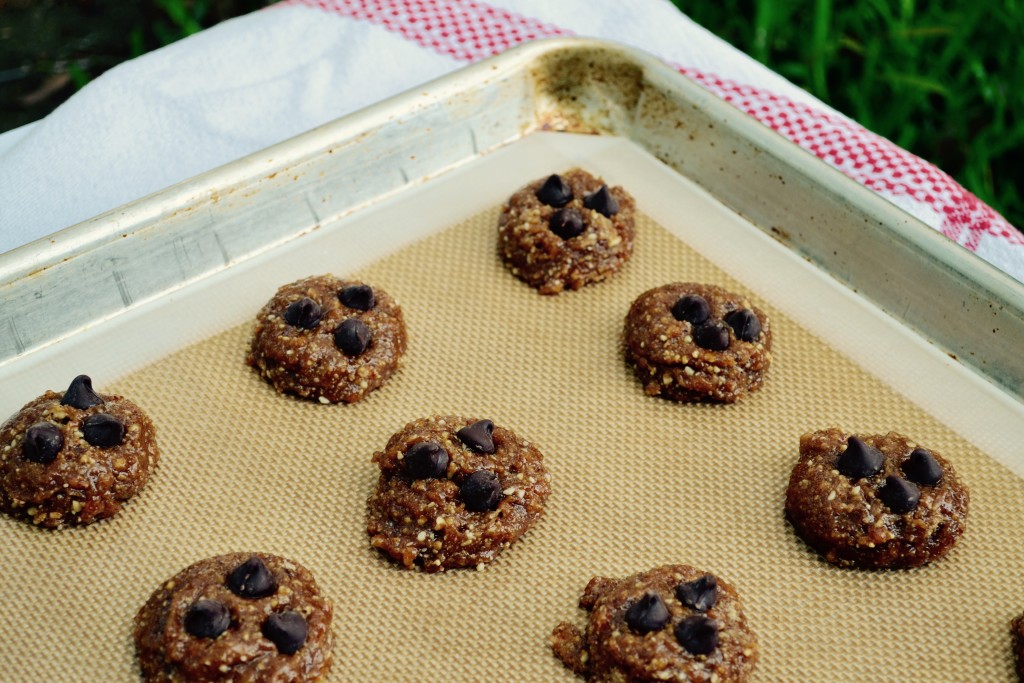 ALMOND BUTTER GEMS
If your almond butter is sweetened, use only a scant 1/4 cup of each of the sugars listed below.
1 cup almond butter or other nut butter, preferably freshly ground
Scant 1/2 cup lightly packed brown sugar
Scant 1/2 cup coconut palm sugar or granulated sugar
1 egg
1 1/2 teaspoon pure vanilla extract
Up to 1/2 cup semisweet or dark chocolate chips, (optional)
Preheat oven to 350 degrees. Prepare baking sheet by either lining it with a baking mat or parchment paper.
In a large bowl, combine all ingredients except for chocolate chips. Mix well with wooden spoon until thoroughly combined. If adding chocolate chips to the dough, add them next and gently stir to combine.
Drop cookies by level Tablespoonfuls one inch apart onto baking mat or parchment paper lined sheet pan. If you are using chocolate chips on top only, press 1-3 chips into the cookie dough before baking.
Bake for 11 minutes, rotating pans once halfway through baking time. Allow to briefly cool on pan, about 1-2 minutes, to aid in removing. Transfer to cooling rack. Once completely cool, store in an airtight container.
Makes about 2 dozen.