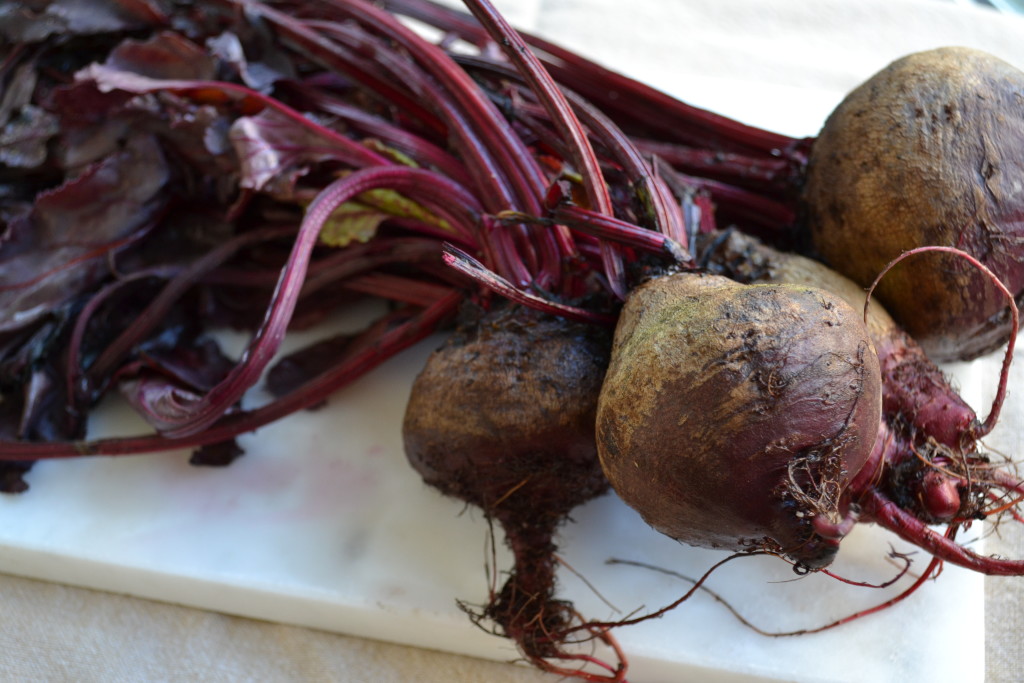 Do you ever receive or share cooking tips with the cashier at your grocery store? It happens to me often. I have been given tips about how to ripen avocados–put them in a paper bag with an apple; how to grill a whole Brussels sprout stalk–just oil it up and throw it on; and many recommendations from cashiers on their favorite supermarket items. I've shared many tips as well and the most recent topic was beets. Beets seem to be one of those all or nothing kind of foods: people either love 'em or they hate 'em—it may just be their uniqueness that turns people away. If you are of the latter group, humor me as I attempt to sway your opinion of my favorite vegetable on the planet.
As I stood in line at Publix last week waiting to pay for my groceries, the cashier saw my bunch of beets and her question to me was, "How do you prepare them?" She said that although she cooks every other kind of root vegetable, she had never tackled beets. I gave her my simple roasting trick: peel and dice beets into 1-inch cubes; drizzle with olive oil; season with salt and pepper; wrap in a foil packet and roast at 400 degrees for 20-25 minutes. That's all. Sim–ple.
Let's face it, beets appear a bit daunting: that brown, gnarly outer exterior; the inevitable juice that seems to stain everything it comes in contact with; and the attached bright green stems that are so unruly they never seem to fit neatly into a produce bag.  All of these characteristics are enough reason to choose something "easier" to cook. But the thing about beets is that they are deceptively simple: lop off the greens (and save them for another use); slice off the top and bottom of the beet; peel that tough skin off with a peeler; cut into slices (or wedges, or dice, or grate); and prepare by cooking, pickling, juicing or eating raw. Done. As you can see, there is no need for intimidation; beets can be as easy to prepare as a potato!
My favorite thing to do with the aforementioned roasted beets is put them in a salad. I take whichever greens I have on hand and top them with beets, goat or feta cheese, chickpeas, and toasted pecans or pumpkin seeds. My homemade maple mustard vinaigrette—see recipe below—is a perfect match. If you are already a lover of cooked and/or pickled beets, it's time to raise your beet cred by eating them raw. Grating beets along with carrots makes a bright crunchy salad which appeals to the eyes almost as much as it does to your taste buds. Juicing is another great way to enjoy your beets raw. Straight beet juice may a bit too intense for some; my recipe below uses carrot and apple juices to complement–and temper–the earthy beet.
Now that you know what to do with the beet, let's chat about the greens; don't waste them! The beet greens are delicious and easy to prepare as well; they have a taste similar to Swiss chard. A simple chop and sauté with a bit of garlic and olive oil is all of the effort required to make these greens shine. Don't want to cook? No problem, they can be eaten raw: swap out lettuce for beet greens on your favorite sandwich. When I was in nursing school, I practically lived at Borders bookstore; it was my favorite study spot. Their cafe used to serve an amazing veggie sandwich that I would eat at least three times a week; it was a toasted egg bagel with cream cheese, cucumbers, lettuce, carrots, beets, sprouts, and tomatoes. On my days at home, I started making them myself. Once, fresh out of lettuce, I used my beet greens instead; it was a game changer.
As this post falls under my Inspiration section, I hope that I have inspired you to try—or try something new with—beets!  The incredibly nutritious and super versatile beet should be on deck as the new superfood; mark my words, it's coming down the pike. Good for your heart and an amazing detoxifier for your liver, beets will get their day in the sun. Get on board now…kale is so on its way out!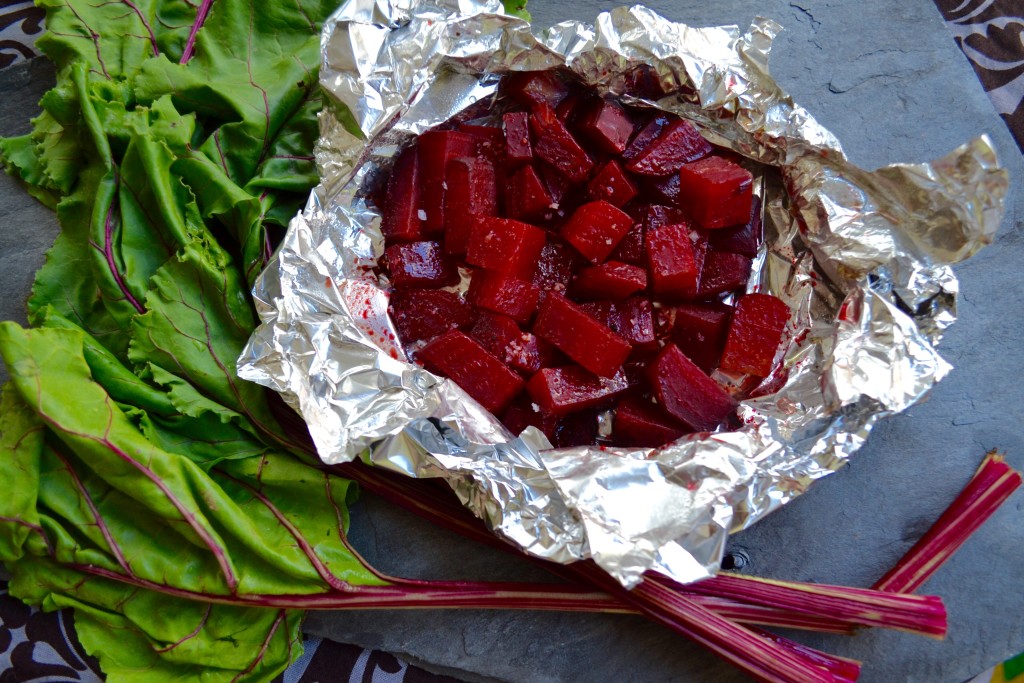 ROASTED BEETS
Daunting, schmaunting; this is the easiest way to cook beets, ever.
1 bunch beets
1-2 teaspoons extra virgin olive oil
Salt
Pepper
Preheat oven to 400 degrees.
Prepare the beets: cut off both ends of beets and peel. (Save greens for another use). Cut into 1 inch cubes. Take a 2 ft square of aluminum foil or parchment paper and fold in half. Unfold and place up to 1 cup of beets up against the crease in the center of the foil or paper. Drizzle beets with olive oil and season with a few grinds of salt and pepper. Fold foil or paper flap over the beets and starting at one end, crimp and roll up the edges of the foil about an inch all the way around to make a pouch—see photo. Place pouch on roasting pan and roast for 20-25 minutes. Remove from oven and pierce the middle of the pouch to allow the steam to escape–beware of the steam! Cut or tear open to liberate your beets.
Makes 2-3 cups.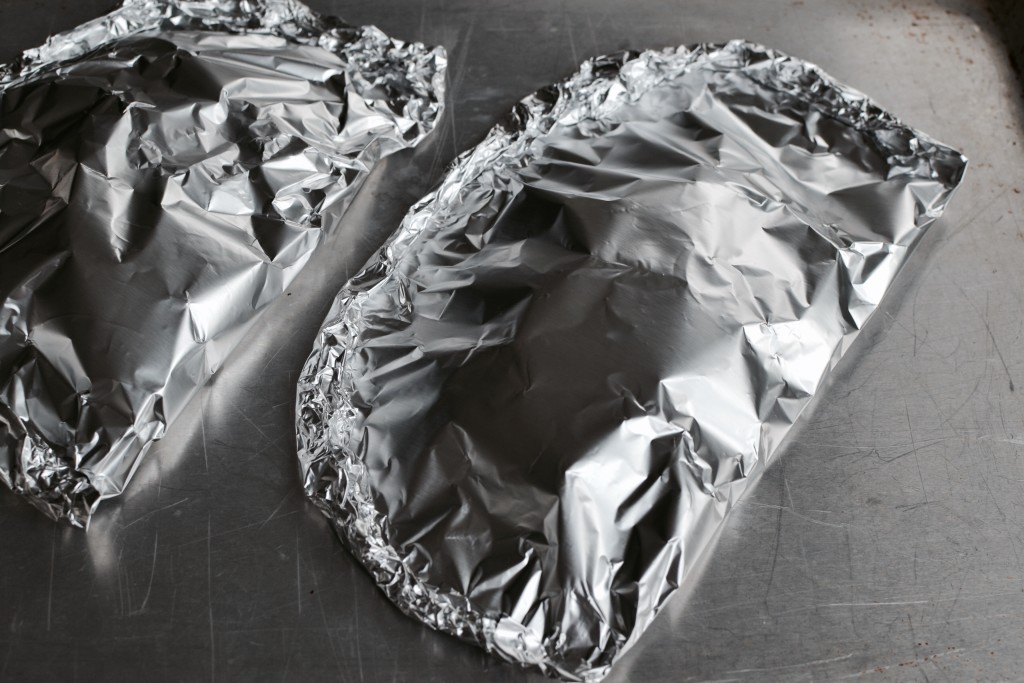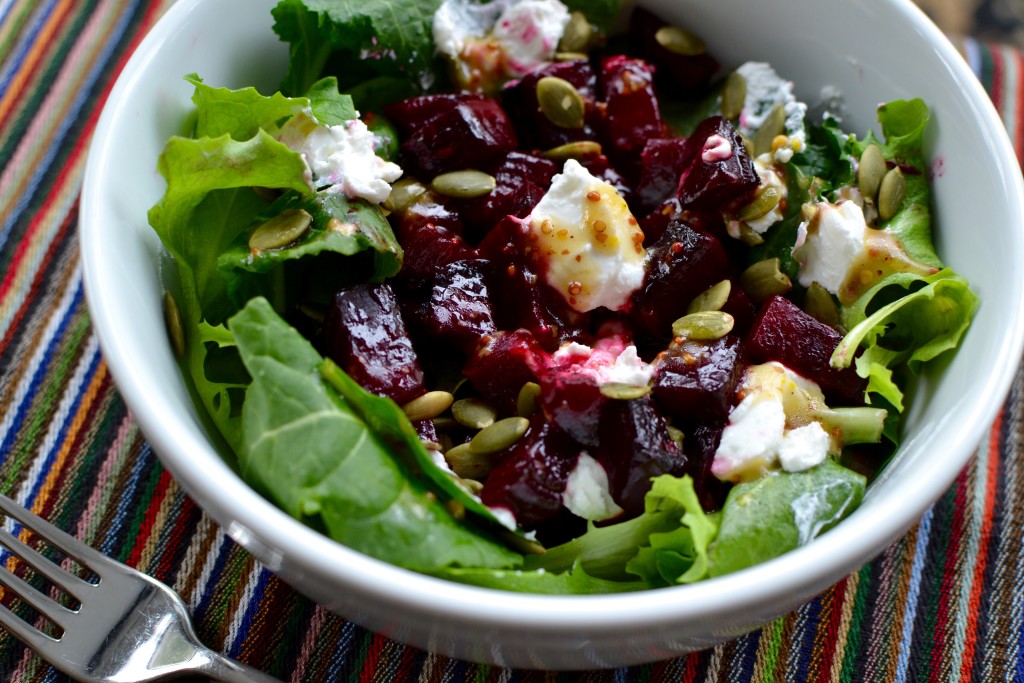 MAPLE MUSTARD VINAIGRETTE
I love that this dressing hits all of the important notes: tangy, sweet, and tart. It is super versatile and goes with almost anything.
2 teaspoons whole grain mustard
2 teaspoons pure maple syrup
2 teaspoons sherry vinegar
2 Tablespoons extra virgin olive oil
1/4 teaspoon salt
1/4 teaspoon pepper
Whisk all ingredients together in a small bowl until emulsified (creamy). Toss with a salad or top on roasted veggies.
Makes about 2 ounces.
BEET & CARROT SALAD
Inspired by Weelicious Lunches cookbook, sweet beets and carrots mix with a punchy dressing that will get your taste buds dancing. This salad makes a sweet-tart crunchy addition to any picnic: pairs well with sandwiches.
2 beets, ends cut off and peeled
3 carrots, peeled
3 Tablespoons rice wine vinegar
1 Tablespoon honey, or more to taste
3 Tablespoons extra virgin olive oil
1/4 cup cilantro, finely chopped
Salt and pepper to taste
In a small bowl, whisk vinegar, honey and olive oil until combined. Season with salt and pepper. Whisk in cilantro. Grate the beets and carrots on the large or medium side of the grater–whichever size you prefer–into a medium sized bowl. Toss with dressing and chill until ready to serve.
DETOX JUICE
Beet and carrot juice have so many nutritional benefits; detoxifying the liver is just the icing on the cake. I just feel healthy when I drink this.
1 large beet, scrubbed well
4 carrots, greens removed and scrubbed well
2 apples, cored
Process in a juicer in the order listed, drink immediately.
Makes about 12 ounces.