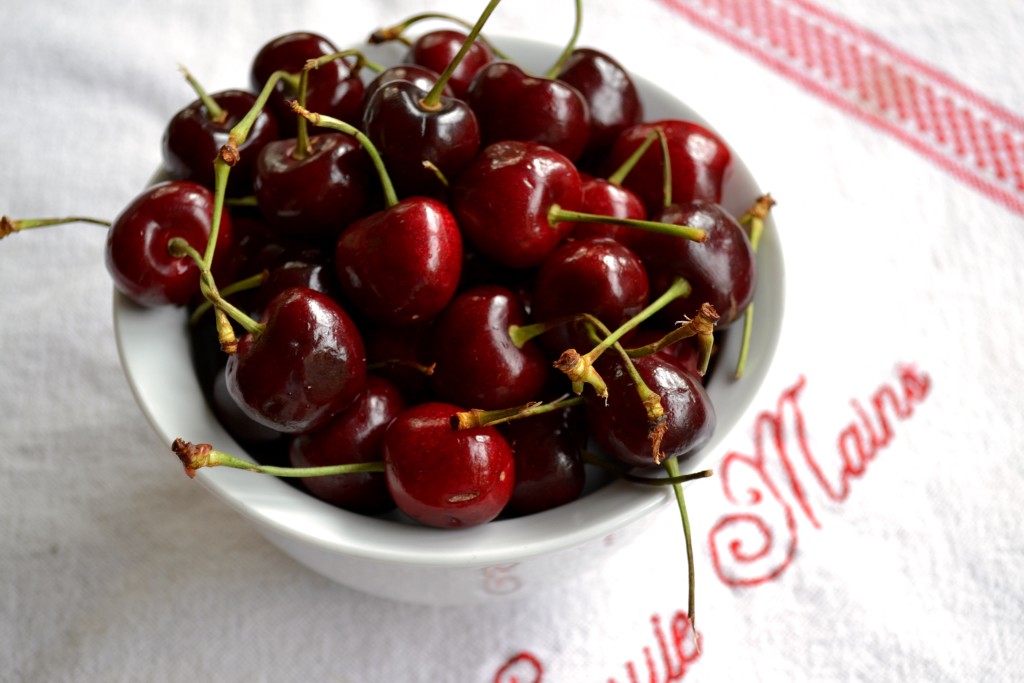 Breakfast is my favorite meal. I love it so much, I make it for dinner–often. French toast, veggie-potato hash, waffles, fried egg sandwiches and pancakes of all sorts make the cut for our evening meal. Paired up with some fruit and sausage or bacon for my guys–and some sausage or bacon-like substitute for me–it is my favorite kind of meal.
As I was strolling through the produce section the other day I saw that cherries are in season; I grabbed the biggest bag I could find. The first thing I thought of making with them is a recipe that has been on my "culinary bucket list" for years–clafoutis. A clafoutis (clah-foo-TEE) is a French dessert that bakes fruit into a custard batter. Don't be intimidated, it sounds fancier than it really is. The ingredients and technique are as simple as can be: whirl up a pancake-like batter in the blender, pour over fruit and bake until slightly crispy on the outside and warm and custardy in the center. While I'm sure it makes a lovely dessert, it sounds more like breakfast to me–it was finally time to cross this dish off my list!
Cherries, check. Next, I needed a recipe to assist me. Who better to go to for guidance than the Master of French Cooking herself, Julia Child. Did you know that it took her and her co-authors eight years to write her two-volume magnum opus–Mastering the Art of French Cooking?! Can you imagine working on a single project for that long? After learning that little tidbit, I had such an appreciation for her dedication and perfectionism; I knew I needed those volumes in my cookbook collection. Julia's clafoutis recipe has many variations; it turns out that while cherries are the most commonly used fruit in this dish, other fruits such as pear, plum, raspberry and blueberry are also a perfect match for this custard base. In addition to the traditional cherry recipe, I also found a cherry-almond version; I knew that would be the one for me–cherry and almond go together like PB&J.
Clafoutis has two elements: the fruit and the custard. There is something so comforting–and addicting–about the creamy egginess of custard: I can't ever stop at one serving. For this batter, I suspected that using almond milk would give my clafoutis an extra almond-y boost: I was right. The combination of the milk, toasted ground-up almonds and almond extract created the most amazing aroma–and that was before it even went into the oven. The intoxicating smell of this batter reminded me of a warm almond croissant fresh from the bakery. I couldn't wait to get it out of the oven.
The end result was as delicious as I had hoped: a thin sugared crust hid the creamy custardy filling bursting with warm, juicy cherries. Dusted with powdered sugar and topped with whipped cream–or even vanilla yogurt–it made the perfect entree for our breakfast dinner.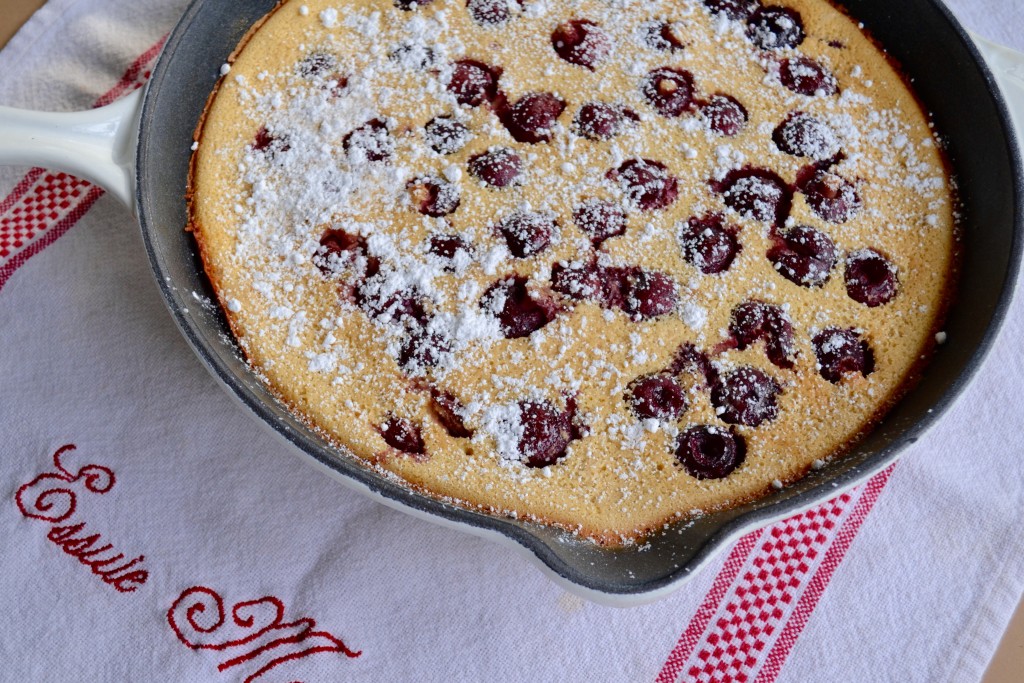 CHERRY CLAFOUTIS
Every kitchen needs a cherry pitter. Not only does it make quick work of pitting cherries, but also it works on olives as well. Be sure to have an apron guarding your clothes as the cherries do spray as they are being pitted. That aside, there is no faster way to prep these beauties for baking!  
3 cups pitted black cherries–if using frozen, thaw and drain
1 1/4 cup almond milk
3 eggs
1/3 cup plus 1 Tablespoon granulated sugar, divided
1/2 cup flour
1 Tablespoon pure vanilla extract
1/8 teaspoon freshly ground nutmeg
1/8 teaspoon salt
Powdered sugar for garnish
For Cherry-Almond version, add:
1/2 cup blanched almonds, toasted and cooled (see note)
1 teaspoon almond extract
Preheat oven to 350 degrees.
Lightly butter a 10 or 12-inch ovenproof skillet and place on burner over medium heat.
Blend almond milk, eggs, 1/3 cup sugar, flour, vanilla, almonds and almond extract (if using) in a blender. Blend on high for one minute.
Pour approximately 1/4 inch of batter in pan over heat and allow it to set, about 2-3 minutes. Place cherries in batter and sprinkle with 1 Tablespoon sugar. Pour remaining batter evenly over the cherries.
Transfer pan to oven and bake in oven. Bake time will depend on the size pan you use:  30-40 minutes for 12-inch; 40-50 minutes for a 10-inch pan. Bake until it is slightly puffed and the edges are golden; a tester should come out clean. Allow to cool for 10 minutes prior to cutting. Clafoutis should be served warm. Dust with powdered sugar.
Note: To toast nuts, heat a dry skillet over medium heat. Add nuts and move around in pan until they begin to brown and you can smell them toasting.
Serves 4 as an entree and 6 as a dessert.