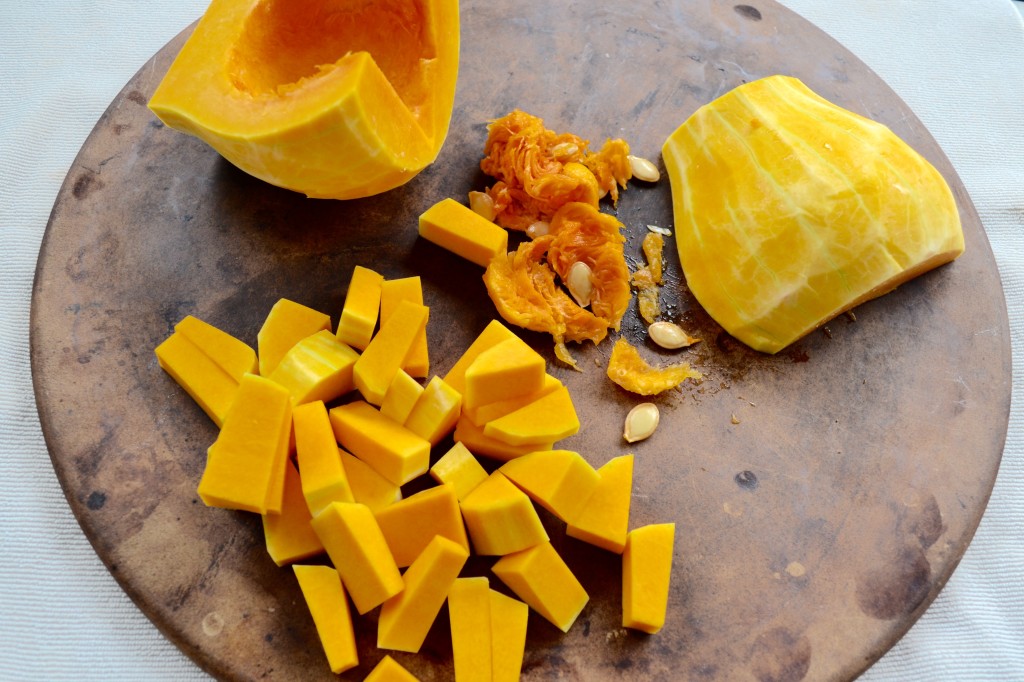 Although we have been getting our share of chilly weather here in Florida, I fear that spring is just around the corner. I don't think we ever have enough "sweater and boot" weather—I get excited when the weather dips down into the 40's and 50's—maybe I'm the only one. But, now as I look around and see my once black front porch covered in yellow oak pollen and the beautiful petite, pink flowers blooming on my backyard tree, I know that my favorite time of year is coming to an end. So, to say goodbye to winter, I'm making my favorite Butternut Squash soup. This soup is the first thing I think of when the fall weather begins and it's the last one I want to make as spring enters.
This soup takes me back to 1994—it was one of the first recipes I put into my "scrap cookbook". At that time, I was really starting to get into food, but cookbooks weren't exactly in my budget. So, I did what any crafty person would do: I made my own. I went through all of the magazines that my Mom was throwing away and I cut out the most interesting recipes. I stuck them into an old photo album with the peel and stick pages and constructed my collection. The book was then divided into "courses" with their respective course written on the side of the page—in dot letters. That's right, dot letters—you remember those, right? Ok, I feel like you may be laughing at me now—for the record, I still have that book and it's super cool! Out of the hundred or so recipes that I so meticulously cut and stuck, I think I only ended up trying out about a dozen.
This recipe for Butternut Squash Soup was one that I actually tried and it ended up becoming one of my favorites—I adapted it from an old Better Homes and Gardens magazine. I will never forget the first time I made this soup: we had family in town and I was feeling ambitious. Once I started reading over the instructions—and after I already committed to making this soup as our main lunch course—I quickly realized that I had no idea how to break down a squash, much less puree it. I did not have a proper knife to cut through that hard winter squash, no stick blender to puree with, and the old blender I did have could barely blend fruit. Somehow, I fumbled my way through with a near-dull knife and a less than average blender–which I don't recommend doing, by the way. Although our meal was an hour late, all of the stress and effort were totally worth it. This simple, comforting soup just warrants a big bowl, a big spoon, and a blanket on the couch to cozy up with while eating it.
I am always surprised at the sweetness the squash lends given the fact that all of the ingredients are savory. If you can wield a chef's knife and have a stick blender on hand–or at least a blender that can break down fruit–you can easily make this soup and enjoy the rest of the winter, for as long as it lasts.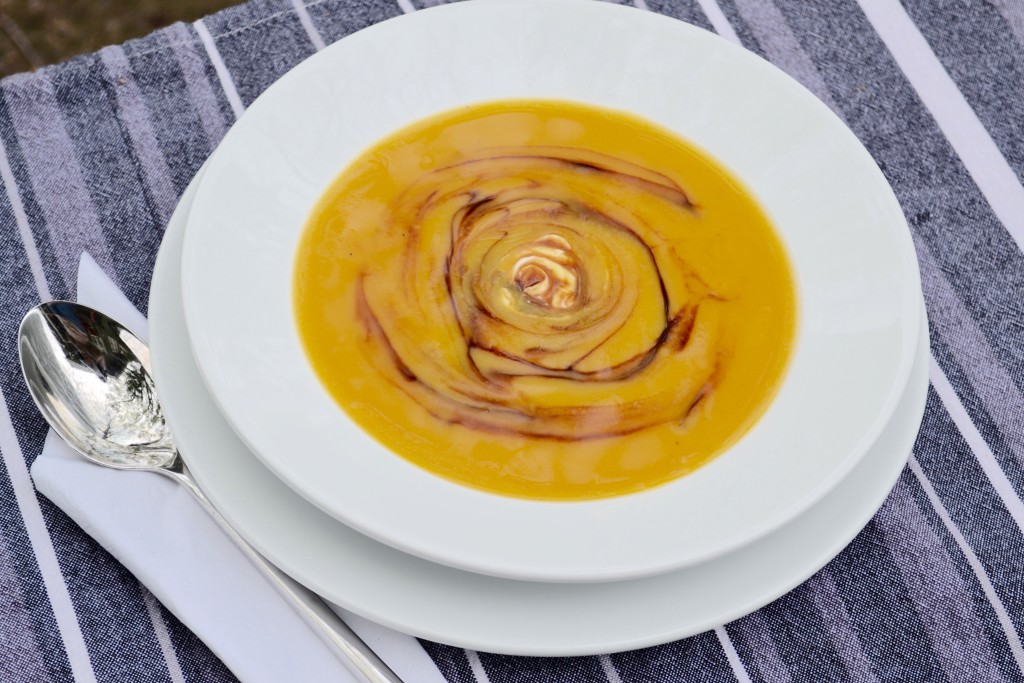 SIMPLEST BUTTERNUT SQUASH SOUP
My Mom recently reminded me that I used to put apples in this soup–if you want to add more sweetness, add 1-2 peeled and chopped Granny Smith or Golden Delicious apples to the pot when the squash goes in. Thanks, Mom!
2 Tablespoons vegetable oil
1 medium butternut squash, peeled, seeded and cubed into 1 inch chunks
1 medium yellow onion, chopped
20 ounces vegetable stock, (I use Swanson's Organic)
1 cup water
1/8 teaspoon dried thyme or 1/2 Tablespoon fresh thyme
2 teaspoons salt, divided
Pepper to taste
Crème Fraiche or plain yogurt, for serving
Balsamic drizzle or pomegranate molasses, for serving
Heat a soup pot or Dutch oven over medium heat. When oil is hot, add onions and 1/4 teaspoon salt and cook until soft. Add squash and 1/4 teaspoon of salt to the pot and stir for 3-5 minutes until pieces begin to brown. Add stock and water and scrape any brown bits off of the bottom. Add thyme, remaining salt, and pepper. Bring to boil over medium high heat. Cover and reduce heat to low. Stirring occasionally, simmer for 25 minutes, or until squash is soft.
Remove from heat and insert stick blender. Begin on low and move blender around to break up large chunks while keeping the head of the blender submerged–it will splash you if it comes too close to the surface. Switch to high and puree until smooth. If using blender, ladle about 1/3 of the soup into blender jar while venting middle section of lid. Puree until smooth. Pour into bowl and complete remaining two batches.
Ladle into bowls and top with a dollop of Crème Fraiche and a swirl of balsamic drizzle. Serve immediately.
Serves 6.