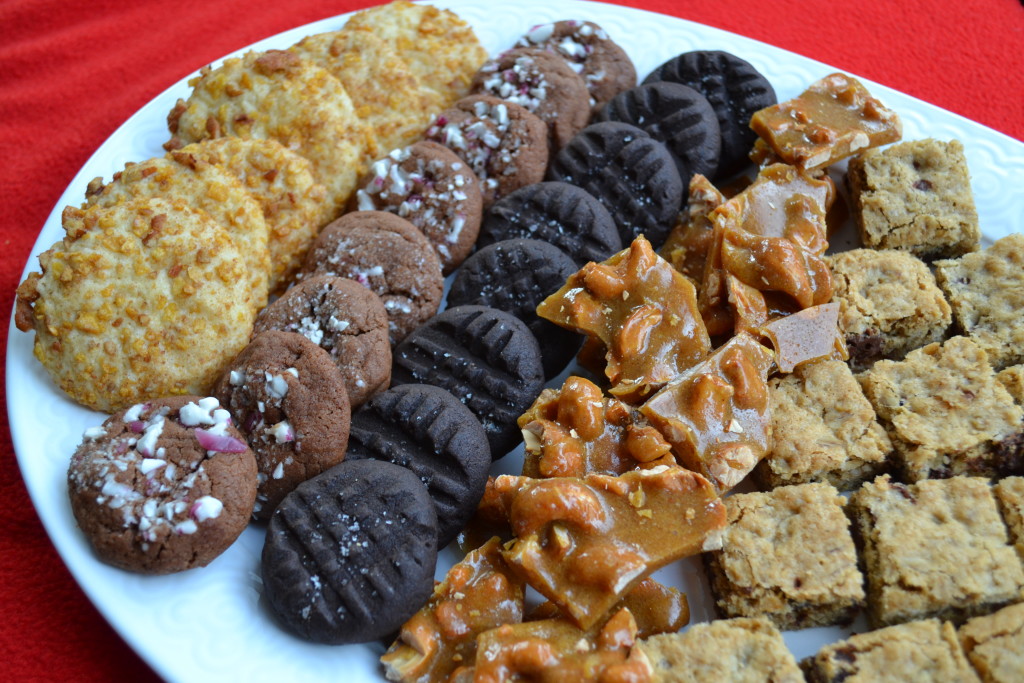 The most important decision I make every year around Christmastime has nothing to do with shopping and everything to do with baking: which cookies will win a coveted spot on my annual cookie platter? Each year, I churn out anywhere from 12-18 dozen cookies for Christmas; it's my favorite holiday tradition. It has been twenty years since I first started giving gifts from my kitchen. Back then, I thought it was genius idea since I had little money for gifts. As the years passed–and I could actually afford gifts–I opted to keep on baking as a little extra something. My family gets excited about our cookie platter every year; the anticipation grows until they get their very own take-home box–it's even more fun to see if their boxes are emptied before they make it home.
How do I choose the winners? After I pore over the pages of my favorite holiday cookie magazines and family recipe cards, I take a potential list to a vote with my husband and son. There is one rule–each of the five cookie "food groups" must be represented: something chocolatey, something oatey, something fruity, something spicy, and something nutty. I usually throw in some kind of candy for fun. Two cookies never up for dispute are my Grandmother's Snickerdoodles–which are unlike any snickerdoodle you've ever had–and Oatmeal Scotchies.
So, after much deliberating, here is the laminated list–insert Friends reference–of winners for the 2015 Ferrer Christmas Cookie vote:
1. Snickerdoodles
2. Oatmeal Scotchies
3. Espresso Biscuits
4. Chocolate Mint Snaps
5. Jam Thumbprints
6. Spiced Cashew Brittle
I suffered a minor setback after I baked my batch of Oatmeal Scotchies. When I cut in to them to take my first taste–as I have for the past twenty years–I saw that the cookies were green inside–yep, I said green. Since there were no green ingredients in these cookies, I narrowed it down to the butterscotch morsels and Googled it; I found out that those chips turning baked goods green is an actual thing. After all, when yellow and blue dyes are used to create that butterscotchy orange color, green is an obvious possibility–although not sure why it had never happened before. Any similar experiences out there? So, while the cookies still tasted fine, I opted to not risk more time and more ingredients with buying another bag, I changed it up to Oatmeal Chocolate Chip Bars instead. My sister and brother-in-law will not exactly be thrilled…
The second batch of oatmeal bars came out just fine, but I still had four more recipes ahead of me and a million other things to do–I had to cross the Jam Thumbprints off the list. After I finished the Snickerdoodles and brittle, it was time to start the new recipes of the year: Espresso Biscuits and Chocolate Mint Snaps–each earned a place on the repeater list.
A word on my favorite snickerdoodles: you will most often see these as a cinnamon-coated butter cookie–simple, but tasty. My Grandmother's recipe puts all of those basic cinnamon cookies to shame. What makes hers so unbelievably fantastic? The secret is Frosted Flakes cereal. Um, yes, you heard correctly–Tony the Tiger would be proud. The cereal gets crushed along with some pecans and cinnamon to make the most amazing coating for these buttery cookies: those two extra ingredients take them to a whole other level. I'm not sure if this recipe is one of my Grandmother's creations, or if she found it somewhere else, but whomever thought to use cereal to coat cookie dough was a culinary genius. These are the first cookies to disappear from my annual platter; EVERYONE loves them–even my pickiest family members.
Want to make some of the winners from my list? The Oatmeal Scotchie recipe is yours for the taking on the bag of Nestlé butterscotch chips–beware the possibility of green cookies; I subbed out an equal amount of chocolate chips for the second batch. My recipe for Spiced Brittle is on my blog, just substitute 1  1/4 cup cashews–or any nut–for the pumpkin seeds. Thank you, Martha, for my new favorite coffee cookie recipe: Espresso Biscuits. For these, I used Special Dark 100% cocoa powder and right out of the oven, I sprinkled a bit of kosher salt on top of each one to complement the sweet, rich, cocoa-coffee biscuit. For a nod to Girl Scout Thin Mints, try Chocolate Mint Snaps, courtesy of Family Circle. My uber special recipe to share today comes from my Grandmother–her Snickerdoodle recipe. There's a big part of me that wants to keep it a secret–but Christmas is a time for giving, right?
As December 25th came to an end, just when I thought I couldn't eat one more Christmas cookie, I found a second batch of Snickerdoodle dough in the fridge–oops! And…woo-hoo! I thought I baked both batches on Christmas Eve; in retrospect, I thought they went faster than normal this year–guess that's because there was only one batch! It looks like my family will get an unexpected surprise when we see them New Year's Day–if they don't disappear first!
Despite the fact that I could not finish this post before Christmas arrived, that doesn't mean that you have to wait until next year to make these cookies–they are perfect any time! Enjoy the traditions that you have with your families–and we will enjoy our cookies. Happy Holidays!!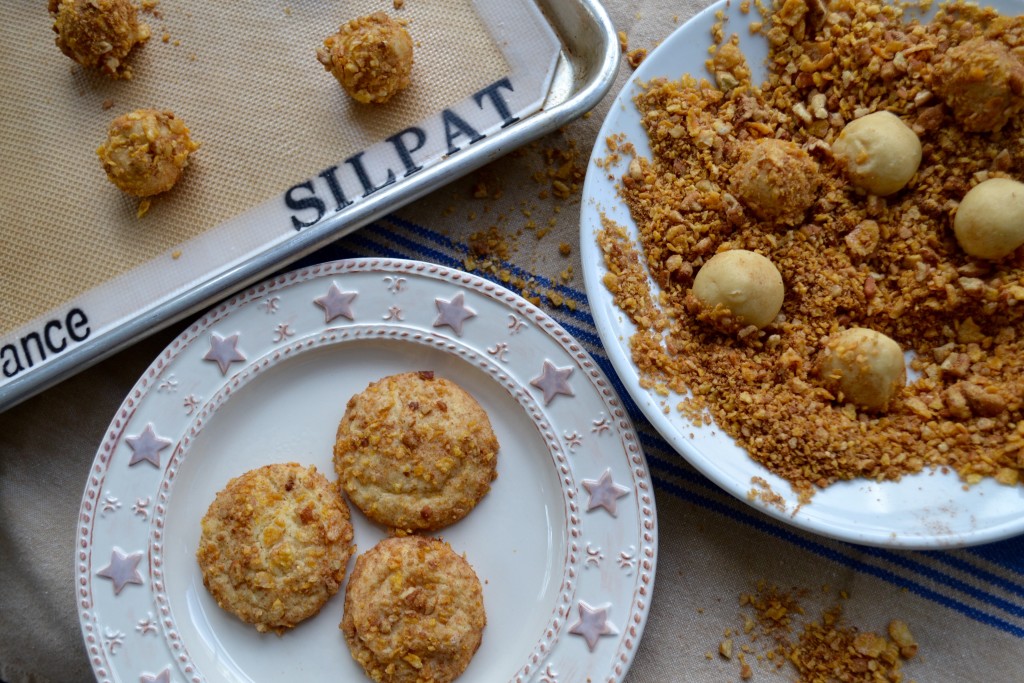 GRANDMA SCHUSTER'S SNICKERDOODLES
You'll never want a standard cinnamon-dusted version of this cookie ever again after tasting these; they are my absolute favorite of all time! My recommendation is to triple the dough recipe; no need to triple the coating–one batch will be enough. The balls of dough may be frozen. 
Dough
1 1/4 cup sifted flour
1 teaspoon baking powder
1/4 teaspoon salt
1/2 cup (1 stick) unsalted butter, room temperature
1 cup sugar
1 egg
1 teaspoon pure vanilla extract
Coating
1 cup Frosted Flakes cereal
1/4 cup pecans, chopped
2 teaspoons ground cinnamon
Preheat oven to 350 degrees.
Sift first 3 ingredients and set aside. In a mixing bowl, cream butter and sugar. Add egg and vanilla; mix well. With mixer on low, add flour mixture until just combined–do not overmix. Refrigerate dough for at least 2 hours.
While dough is chilling, make the coating. Place cereal, nuts and cinnamon into a sealable plastic bag; seal. Crush into fine crumbs with a rolling pin or your hands. Pour into a bowl and set aside.
Scoop 1 leveled Tablespoon of cookie dough and roll into a ball. Roll around in cereal mixture and gently press on crumbs to coat. Place on greased cookie sheet about 2 inches apart. Bake for 15 minutes, rotating cookie sheets half-way through baking time. Remove cookies to cool on rack. Store in airtight container for up to 5 days–but they won't last that long!
Makes 32 cookies.