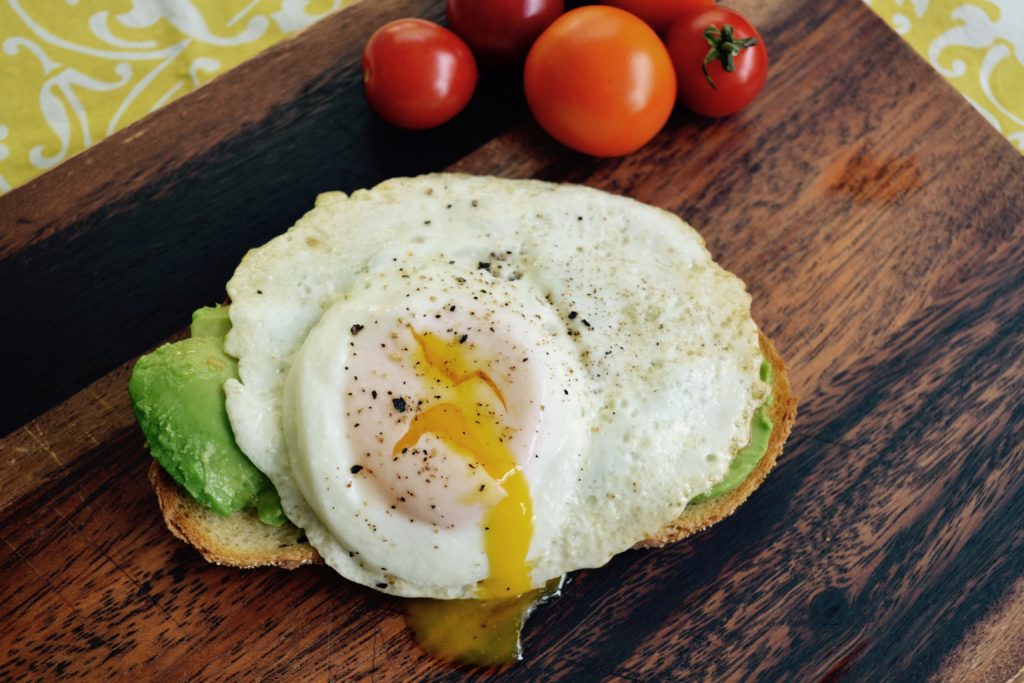 Oh, the simple egg. Used in just about everything, savory or sweet, it is the most versatile food on the planet–and one of those few things I don't think I could live without! Back in my quiche post, we talked about the importance of a good egg; good quality will make all the difference in your dish! Topics on the Table today are the three ways I love eggs: fried, soft-boiled and hard-boiled. Let's break them into sections–I just can't resist a good pun!
Fried
A staple meal in my house growing up was a fried egg sandwich: toasted bread, a generous smear of mayo, and an egg fried hard until the yolk solidified. Years ago, when my husband and I started dating, I made him one of my favorite egg sandwiches. Ed looked at me rather strangely and said, "Just an egg? On a sandwich?" "No, not just an egg," I corrected, "There's mayonnaise, too." Unlike how I ate it as a kid, my grown-up version has evolved with an array of toppings to make it fancier and tastier: tomatoes, avocados, and/or faux meat are the go-to items. The most important ingredient is no longer fried hard, but over easy, with a runny egg that took me years to perfect. Getting the egg white browned on the edges, yet not overcooking the yolk is the challenge. One simple trick made the difference…
Can you believe that a measly teaspoon of water is the secret to attaining that coveted runny yolk? Here's how: Heat a small pan over medium heat; melt 1/2 tablespoon butter; once butter begins to brown add one egg; add one teaspoon of water and cover with a lid or a plate; cook for 2 minutes; remove lid and remove egg from pan. Done. Knowing that trick 10 years ago would have saved me so many overcooked eggs.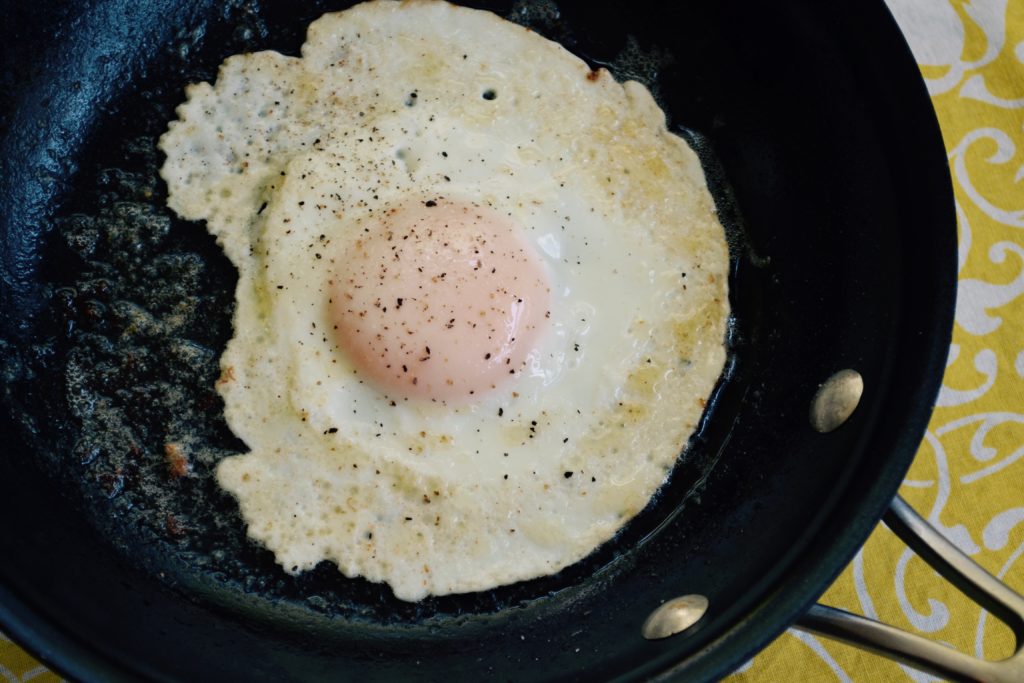 Soft-Boiled
Speaking of runny yolks, soft-boiled eggs take me back to my childhood. How cute are egg cups? My grandmother would often make these semi-soft eggs and I had forgotten how much I loved them–until a trip to West Palm Beach helped rekindle that memory. When my son was two, we found the elusive family-friendly Bed and Breakfast in WPB–Grandview Gardens. For breakfast, the owners asked if we would like soft-boiled eggs along with our other edibles. Memories flooded and I responded a resounding "yes!"
It had been years since I had eaten one; I had never even attempted to make them on my own. I watched as our hosts cooked our eggs for five minutes in lightly boiling water. They snipped off the top for me; dipping my toast points and scooping out the goods were as fun as an adult as I remember it being as a kid. As soon as we got home, I immediately bought myself six egg cups and an egg guillotine–as I call it. I don't always take the time to make myself a proper breakfast, but when I think about how simple these are to make, it boggles the mind why I don't do it more often. Are you ready for how easy this is? In a small saucepan over high heat, bring 3 inches of water to a boil. Just before adding the egg/s, turn heat down to medium. Gently lower eggs into water and cook for five minutes; stir gently after two minutes. Remove with a spoon and place into egg cup. Fit egg topper–aka guillotine–over the top of the egg and squeeze to cut. If you don't have a topper, you can carefully use a serrated knife. Remove top and season with salt and pepper. Dip toast strips, aka soldiers, into egg; scoop out the remaining and serve on larger pieces of toast. Just like Grandma used to make.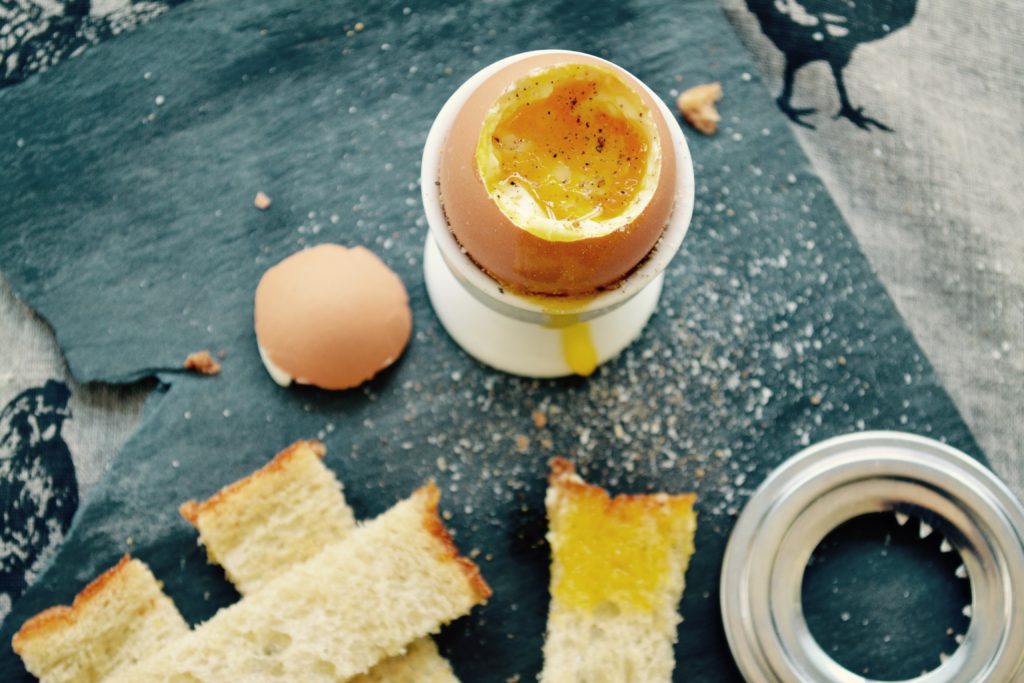 Hard-Boiled
Visiting the other end of the cooking spectrum, hard-boiled eggs are one of those things that you see about twenty different ways to make. Should it sit in boiled water off of the heat for 12, or 13, or 15 minutes? Should you drizzle cold water into the boiling water to gradually cool the eggs or shock them in ice water? Which way is right? I don't think I ever figured it out; mine never seemed to come out perfect. Around Easter, I saw a hack on Food Network that was my hard-boiled game-changer: the eggs are baked? Yep, and they come out perfectly!  Place a whole egg in each individual cup of a muffin pan. Bake at 325 degrees for 30 minutes. Immediately place the eggs into an ice water bath to shock them. Allow to cool; peel.
Now that I have the perfect hard-boiling method, I am ready to make some egg salad! When I think of typical egg salad, I think of the standard barely-yellow spread with far too much mayonnaise, far too little egg and an overly squishy texture. A proper egg salad should highlight the egg and not the mayo. My version is one of the few recipes I have actually concocted from scratch; most of my other go-to's are tweaks of recipes I've found over the years. I'm pretty proud of my egg salad creation: turmeric, egg yolks and yellow mustard give it its golden hue; the pickle lends some crunch; the egg white is chunky enough to avoid the squish factor; and there is just enough mayonnaise to hold it all together. Piled on top of a slice of bread–or toast–with some greens or sprouts; the other piece of toast tucks it all in nicely. Get your napkins ready because it's going to get messy, but I love that my version makes a sandwich that defies the standard rules of egg salading.
When it comes to cooking eggs, the less they are worked the better: minimal effort = big rewards. This seems contrary to how most people prepare them–I've eaten a lot of overcooked egg dishes. Given their versatility, I see another post in the future to cover more–if not all–of the bases. For now, let's just start with the basics and enjoy our beautiful runny yolks and hard-boiled perfection. Happy National Egg Day!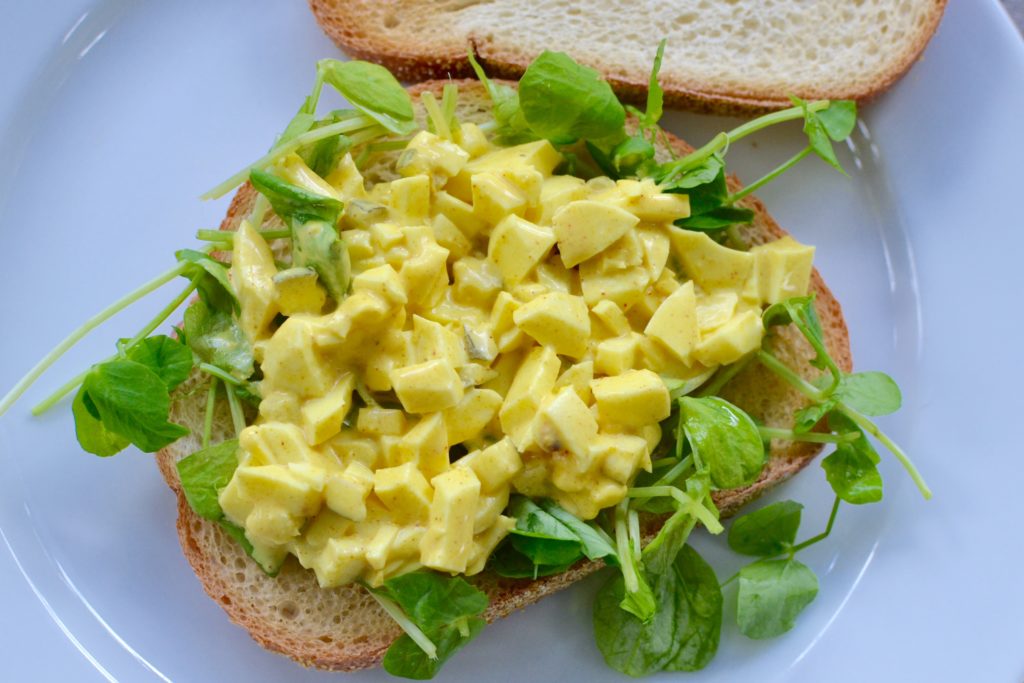 EGG SALAD
Add some celery to the party for more texture and veggies: 1/4 cup–finely diced–should do the trick.
2 hard boiled eggs, yolks and whites separated
1 1/2 Tablespoons dill pickle, finely diced
2 Tablespoons mayonnaise
1/2 teaspoon yellow mustard
1/2 teaspoon pickle juice
1/4 teaspoon turmeric
1/8 teaspoon smoked paprika
Salt & pepper
In a medium bowl, mash the egg yolks with the back of a fork until crumbly. Stir in mayonnaise, mustard, pickle juice, turmeric and smoked paprika until combined. Season with salt and pepper. Gently fold in diced pickles and chopped egg whites into the mayonnaise mixture. Refrigerate until ready to eat.
Makes 2 sandwiches.