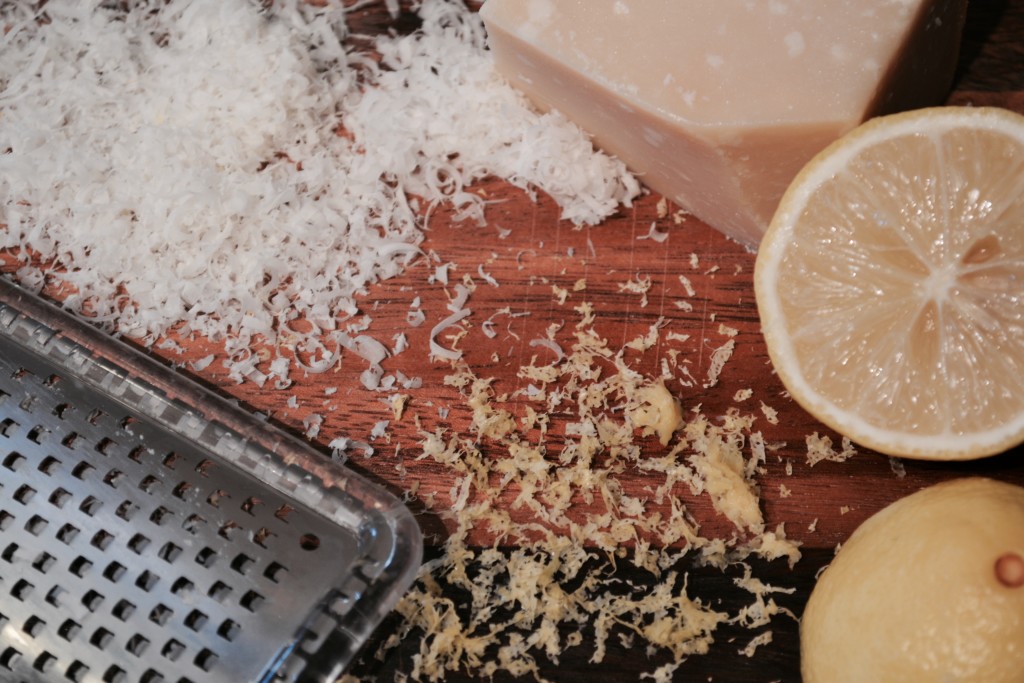 Many months ago, when I was first hatching the idea of starting a food blog, I sat with my friend in her kitchen. While our boys played together, we chatted and baked chocolate chip cookies for the kids. When I told her about my plan, we started talking at length about food. Typically, I could talk about food all day, but then she asked me a question that made me pause: "What is your go-to meal?"
She actually stumped me. Months of dinners began to flash through my mind, as I searched for the answer to her question. I am always trying to switch up our menu at home, so to pick something that I cook regularly enough to be considered my "go-to" was hard…harder than I thought it would be. I'm not sure why it wasn't on the tip of my tongue at the time, but, after some thought, I remembered a meal that I do cook on a fairly frequent basis because it is the epitome of simple and it's just so darn tasty. The dish, as my family calls it, is "Lemon Spaghetti"; the real name, as per Gwyneth Paltrow, is "Spaghetti Limone Parmeggiano".
I first saw the recipe in Gwyneth's first cookbook — My Father's Daughter. The idea of pasta with lemon was intriguing to me, but I thought, "How can you go wrong with lemon and cheese?" Within a week of purchasing her cookbook, I had one of my favorite meals. That was three years ago and I still serve this pasta at least once a month. I really love the tartness of lemon, and for this recipe I've tweaked the original to really amp up the lemon in it. How doesn't it get old? The sauce is extremely versatile: it goes well with any type of pasta and it can be paired with many vegetables. Some of my tried and true favorites to go along with this recipe are sautéed greens, caramelized leeks, sautéed mushrooms, peas, caramelized onions, or any combination of the five stirred into the pasta just before serving. Add some homemade garlic bread alongside and this is the perfect meal.
My husband and 6 year-old are still omnivores, but they are good sports about eating meatless—on occasion. For those nights that they want to revert back, I throw some meatballs, chicken or shrimp into this pasta for them. Protein is often a concern for vegetarians and Barilla PLUS makes my favorite pasta; it is big on protein without that "whole wheat" taste. The ingredients for this dish are staples in my kitchen, so this recipe is often "gone-to" on those nights that I haven't planned anything else or when I'm just plain craving it. So, a special "thank you" goes out to my friend for not only challenging my recipe repertoire, but also giving me the perfect opener for my first blog entry.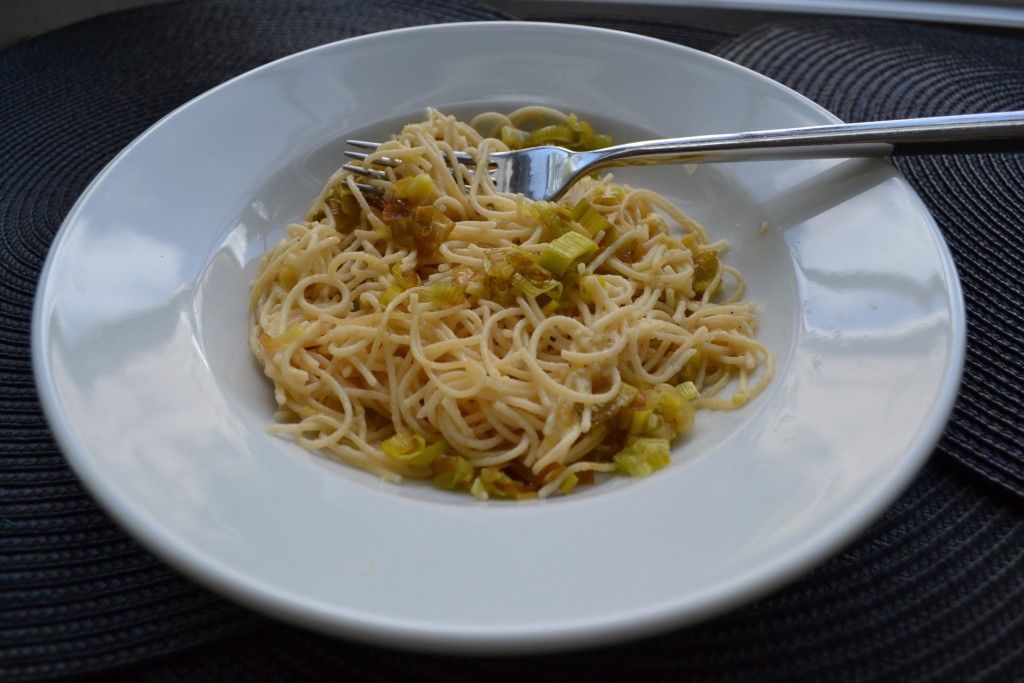 LEMON SPAGHETTI
This is my version of "Spaghetti Limone Parmeggiano" as adapted from Gwyneth Paltrow's My Father's Daughter. A Microplane grater works the best for getting super-finely grated cheese; the finer it is, the better it incorporates into the sauce—it also makes easy work of zesting the lemons. To get the most juice from your lemons, roll them on your countertop using the palm of your hand prior to cutting them.
2 Lemons, scrubbed well
1 cup finely grated Parmesan cheese, preferably vegetarian
2 TBSP extra virgin olive oil
1/2 tsp kosher salt
1/8 tsp finely ground black pepper
3/4 box of spaghetti or angel hair pasta
1/4 cup pasta water from cooked pasta
To make pasta, boil salted water in a large pot. Add pasta and cook according to box directions. While pasta cooks, prepare sauce.
To make sauce, zest both lemons into a medium-sized bowl. Cut lemons in half and juice them directly into bowl, straining the seeds. Add cheese, olive oil, salt and pepper and stir until a paste is formed.  Before draining pasta, collect 1/3 cup of pasta water from pot. Drain pasta. Add small amounts of pasta water to the lemon-cheese mixture and stir to thin out sauce to the desired consistency; you may not need the entire  1/3 cup of the pasta water.  Toss drained pasta in bowl with sauce.
Serves 4 as a main course.