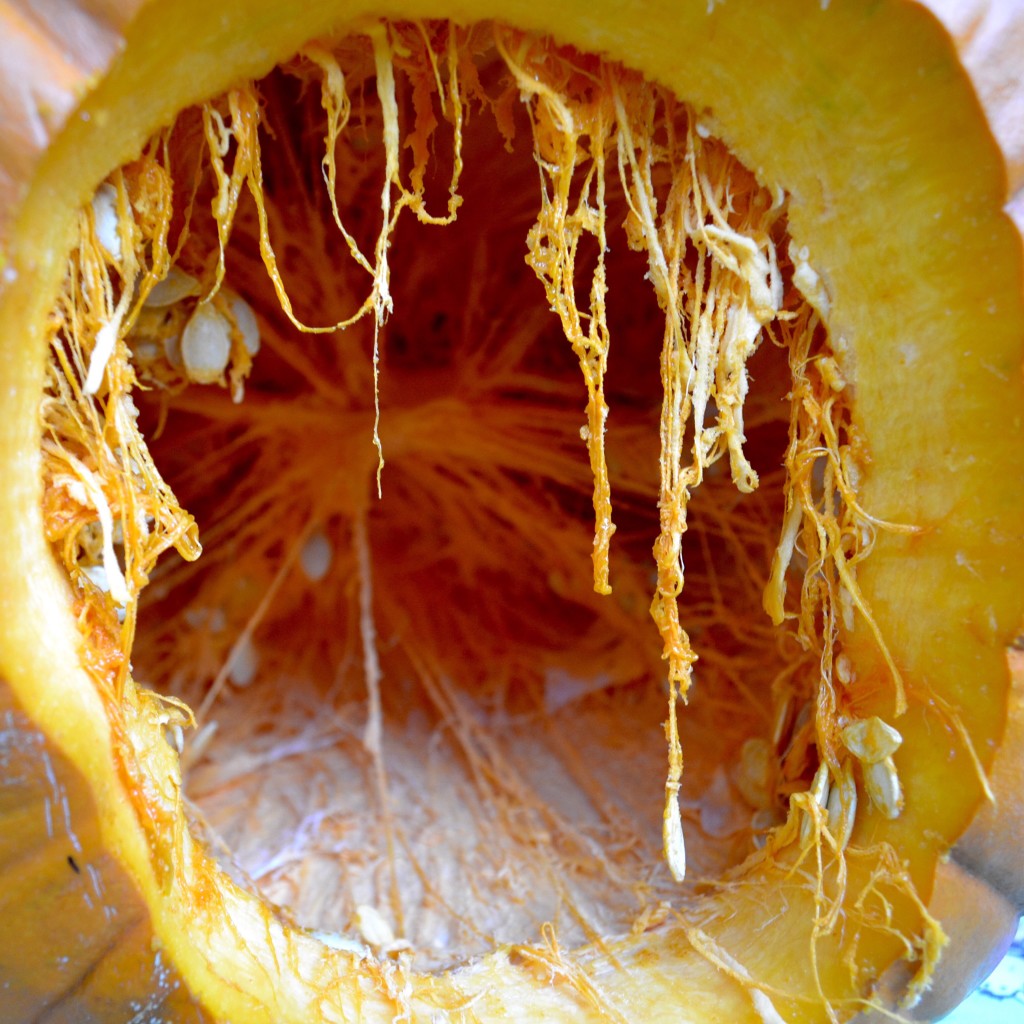 By mid-September, my Halloween decorations are up for my favorite holiday. I suppose the disadvantage of decorating so early is becoming overconfident that everything is ready for October 31st. Imagine my surprise on October 30th when I realized that we hadn't picked our annual pumpkin! So, late that Friday night, after my son's baseball game, we drove to a church pumpkin patch down the road from the ballpark. The pumpkins were barely visible in the dimly lit patch. The typical search for our prized pumpkin is a lengthy process: many are chosen and returned before the winner makes its way to our car. However, this year was surprisingly different. As we approached the pricing table, my son, Everett, eyed one of the biggest pumpkins ever–I could see the cogs turning as he went on his quest looking for its twin. It was as if the proverbial rays of light were shining down from above onto this pumpkin; he walked right up to it and said, "This one!" The search for the Ferrer Family Pumpkin was over in five minutes flat. Fastest. Ever.
Attempting to pick it up was a challenge; my arms weren't able to make it all the way around its middle. If I couldn't even carry it without help, how on Earth was I going to carve this monstrosity? Halloween morning, I carved our 3-inch thick pumpkin with my carving tools and a steak knife; cleaning out the inside felt like a never-ending task. I harvested over 2 cups of seeds: what to do with them? I needed to make sure I didn't waste them; for the past several years, I've meticulously cleaned and saved them…and then forgot about them and into the garbage they went. Not this year! I had some sweet ideas. Because we had so many seeds, I decided to use them for two sweet treats: pumpkin seed brittle and spiced pumpkin seeds.
Collecting dust on my bookshelf is an early Paula Deen dessert cookbook: The Lady & Sons – Just Desserts. All jokes and critiques about Paula aside, The Lady knows how to whip up a mean dessert. I don't bake these cloyingly sweet kinds of desserts that much anymore, but the one thing I do make from this book is revolutionary: microwave peanut brittle. In less than ten minutes you have some pretty amazing brittle. The best part? No babysitting a molten pot of melted sugar with a candy thermometer and an oven mitt! This brittle has often been a staple in the Christmas cookie tin that I make every year for family and friends. I've switched it up with everything from cashews to pecans and even cacao nibs. How have I never tried this with pumpkin seeds? Penciled in on a page of that cookbook is the savory spiced brittle variation that I created; for this batch, I swapped out the savory ancho chile powder to make it a bit more reminiscent of pumpkin pie with hints of cinnamon, mace, ginger, and cardamom. This brittle is buttery, spicy and sweet with just the right amount of crunch from the seeds all wrapped in a caramelized sugar coating.
To complete my Pumpkin Seeds: 2 Ways project, I also spiced some up.  So, I took a walk down memory lane–back to my old go-to cumin and cayenne spice concoction I used to use to toss my seeds in. Except this year, I tweaked it a bit and went for a Halloween theme by creating chocolate spiced seeds. They are sweet from the sugar, slightly bitter from the cocoa powder and carry a hint of savory from the smoked paprika, making them highly addictive.
Since I'm so late in posting these recipes, your pumpkin seeds are probably long gone by now. Fear not…you don't have to wait until next Halloween to try them out! Know that all squash have edible seeds; whether you are using pumpkin, butternut, acorn, or another variety of squash, any can be used as long as the seeds are toasted first. The toasting process for any squash seed is the same: remove the seeds from the squash; separate all the flesh (strings) from the seeds and rinse well–a tedious, but necessary step; spread out seeds onto a paper towel lined cookie sheet; top with another paper towel to aid in drying out the seeds. Once completely dry, toast seeds in a roasting pan or cookie sheet–without the paper towels–at 350 degrees for 10 minutes, stirring halfway through. Remove from oven to cool. Once cooled, your seeds are ready for any preparation. If you want to skip the harvesting and toasting process altogether, raw pumpkin seeds–called pepitas–are sold already shelled. Pepitas are even more versatile as they do not have the tough, outer shell to contend with.
Pumpkin seeds can be used in salads, to garnish soups, or to lend texture to granola bars, trail mix and so much more. During this holiday season, whether you roast squash, make squash soup, or even bake a homemade pumpkin pie, think about those seeds that are often discarded and give them a purpose in your dish–or save them just for dessert!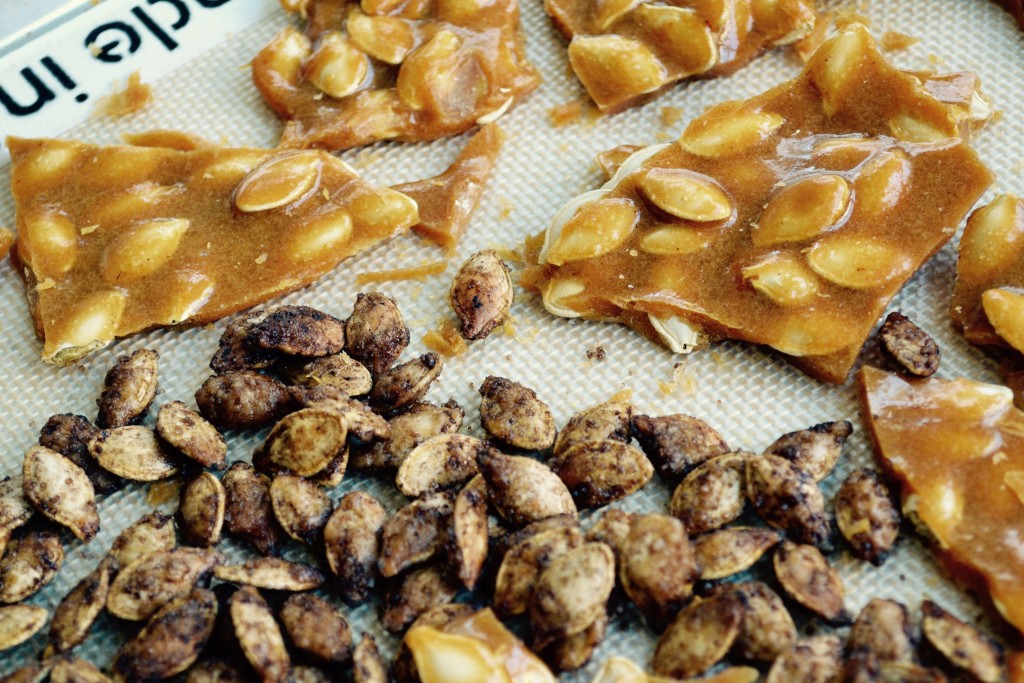 PUMPKIN SEED BRITTLE
This brittle tastes like pumpkin pie candy with a major crunch.
1/2 cup light corn syrup (or 1/4 cup light plus 1/4 cup dark corn syrup)
1 cup granulated sugar
1 1/4 cup pumpkin seeds, toasted (see above for instructions)
1/4 teaspoon salt
1/2 teaspoon ground cinnamon
1/4 teaspoon ground ginger
1/4 teaspoon ground mace
1/8 teaspoon ground cardamom
1/8 teaspoon curry powder
2 teaspoons butter
1 1/2 teaspoons pure vanilla extract
1 teaspoon baking soda
Have a marble slab or cookie sheet lined with a baking mat–or lightly greased–at the ready.
In a 2-quart microwavable dish, add sugar and corn syrup; stir to mix well. Cook in microwave on high for 3  1/2 minutes. Stir in seeds and salt and return to microwave for 3  1/2 more minutes. Add spices, butter and vanilla; mix well–use caution, mixture may sputter. Cook for 1 more minute on high. Remove from microwave, add baking soda and stir well until mixture is light and foamy.
Pour brittle onto marble slab or prepared cookie sheet, spreading as thinly as possible. Allow to cool completely and break into pieces. Store in airtight container for up to one week.
***************************************************************
COCOA-SPICED PUMPKIN SEEDS
This chocolaty recipe is a variation of Martha Stewart's Sweet and Spicy Pumpkin Seeds.
1 cup pumpkin seeds, toasted (see above for instructions)
1 1/2 Tablespoons peanut oil
5 Tablespoons granulated sugar
2 teaspoons unsweetened cocoa powder
1/4 teaspoon salt
1/4 teaspoon ground cinnamon
1/4 teaspoon ground ginger
1/8 teaspoon smoked paprika
In a small bowl, mix 3 Tablespoons sugar, cocoa powder, salt, cinnamon, ginger, and smoked paprika. Set aside.
Heat oil over medium-high heat in a large non-stick skillet. Add pumpkin seeds and remaining 2 Tablespoons sugar. Stir until sugar melts and seeds begin to take on color, about 1-2 minutes. Transfer to a medium-sized bowl and toss spice mixture onto seeds 1 teaspoon at a time until seeds are evenly coated. Seeds may be kept in an airtight container for up to one week.