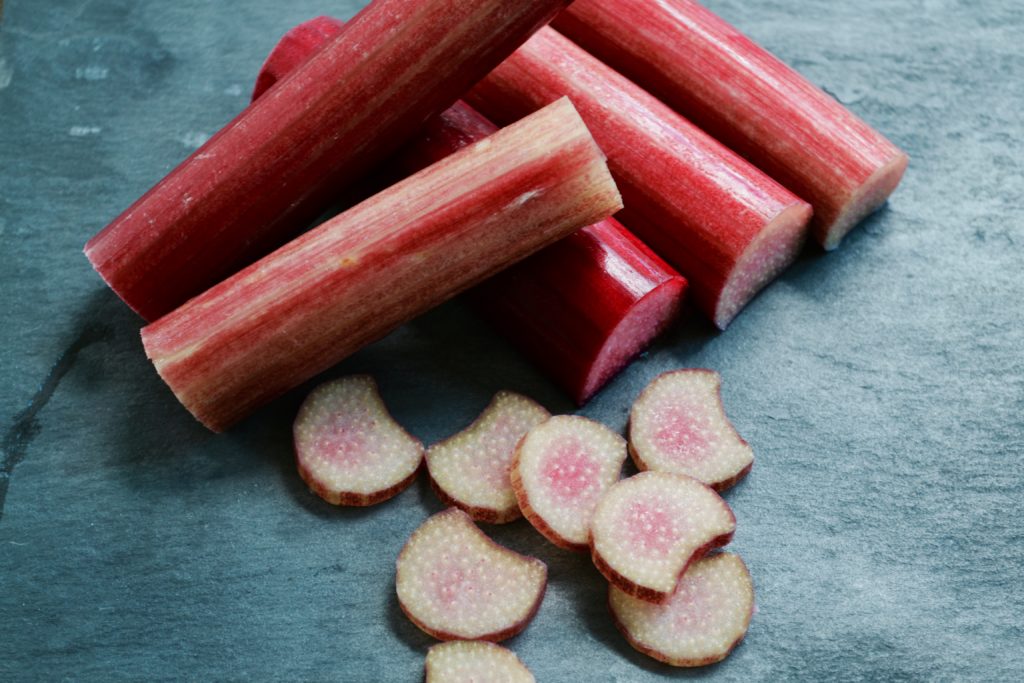 Green rhubarb pies. It's one of the fond food memories I have from living in Pittsburgh as a kid. My friend's mom would pay a visit to her garden and later resurface with a sweet-tart pie that made me pucker with every bite. Since rhubarb was a foreign ingredient in my family's kitchen, her green pies were all I knew. It wasn't until I was in my late twenties before I discovered that rhubarb is most commonly red. About five years ago, I introduced that red rhubarb into my kitchen.
Rhubarb is so beautifully colored, but deceptively fibrous and downright sour. Cutting it feels like an exercise in sawing: imagine if you will, a cross between celery and sugar cane. Once it's cut and cooked down with just the right amount of sugar, all of that coarse bitterness turns into something softer, sweeter, and simply fantastic. Getting my hands on some this season was a challenge; I caught first glimpse at the grocery store in July–after a month, it was gone. That first bunch went into my cart and a flood of nostalgia took me right back to those pies from my childhood.
I wanted to create something similar, but since I'm not the most skilled pie maker, I went to my favorite substitute: puff pastry. Rhubarb tucked into the center of a crispy, crunchy, buttery, layered triangle sounded like the tastiest thing, ever. I needed to come up with a pretty amazing filling to make these turnovers shine.
So, I transformed the simple, one-pot rhubarb chutney recipe that I found in Martha Stewart's Everyday Food magazine into a thick jam, spiced up and studded with raisins and tiny chunks of crystallized ginger. Determined to break out of the default strawberry-rhubarb combination, I opted to allow my star ingredient to stand–and stand out–on its own. A rhubarb turnover sounded akin to my favorite Cuban guava and cheese pastries, which made me think that this creation also needed a similar creamy counterpart. Tangy goat cheese was the perfect complement to the zesty sweet rhubarb. I could eat these for breakfast or a snack–or topped with ice cream for dessert. Enter frozen rhubarb for those times when I need my turnover fix and just can't wait for spring.
Though the insides of these turnovers are not green, the flavor still makes me reminisce about those days of visiting my friend and being treated to a special surprise from her mother's oven. I'm already thinking of my next batch, and this time, there will be icing…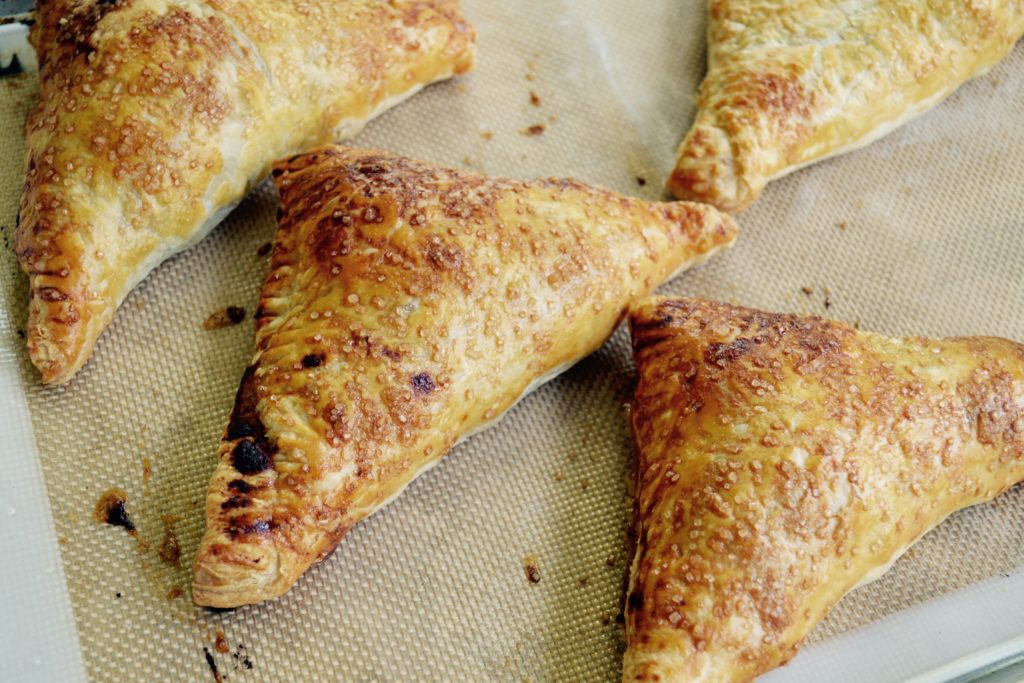 RHUBARB AND GOAT CHEESE TURNOVERS
These are a twist on the guava and cheese pastries that I love so much. The tartness of the rhubarb is tamed sugar and spices with a kick of ginger to boot.
1 sheet of puff pastry, thawed at room temperature for 30 minutes
3/4 cup rhubarb chutney, see below
2 Tablespoons soft goat cheese
1 egg, beaten well
Turbinado sugar
Preheat oven to 400 degrees. Unfold puff pastry on a floured surface; slightly roll with a rolling pin to eliminate creases. Cut into four equal pieces. Spoon three tablespoons of rhubarb chutney into a diagonal line in the center of each pastry. Dot each filling with 1 heaping teaspoon of goat cheese.
Fold a corner of the puff pastry to meet the other corner, forming a triangle. With a fork, press down the edges to seal. Brush each turnover with just enough beaten egg to cover entire surface. Sprinkle with Turbinado sugar.
Bake on a parchment or baking mat lined sheet pan for 20 minutes, or until golden and puffed.
Allow to cool at least 10 minutes.
Makes 4 turnovers.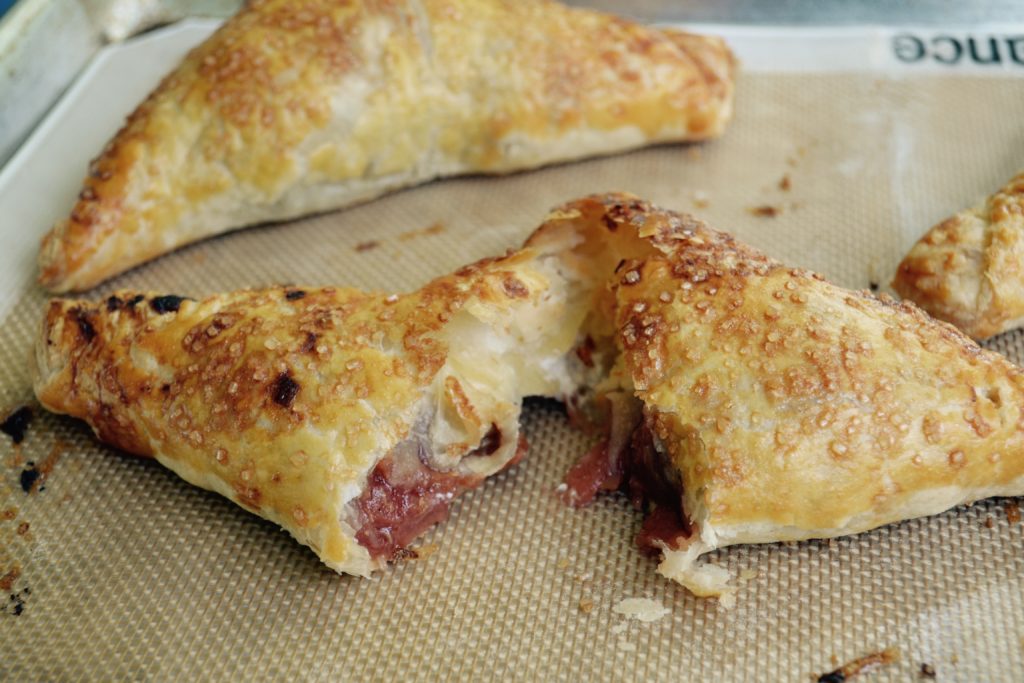 RHUBARB CHUTNEY
This chutney can be used as the base of a pie, a crisp, or many other desserts. Take a purist approach and spread on toast or pour over ice cream.
1 pound (16 ounces) fresh rhubarb, sliced into 1/2 inch-thick pieces, or 1 pound frozen, thawed
1/2 cup golden raisins
1/2 cup packed light brown sugar
2-3 teaspoons grated fresh ginger or ginger paste
1 cinnamon stick
1/4 teaspoon ground mace
1/8 teaspoon ground allspice
1/8 teaspoon Himalayan or Kosher salt
3 Tablespoons water, see Note
1 Tablespoon crystallized ginger, diced
In a medium saucepan, combine all ingredients and stir to combine. Cook over medium heat for 15-20 minutes or until rhubarb is broken down and soft. Remove cinnamon stick. Cool. Refrigerate for up to 1 week.
Note: Frozen rhubarb already contains water; if using, only use the 3 Tablespoons water if mixture gets too thick.
Makes 2 cups.