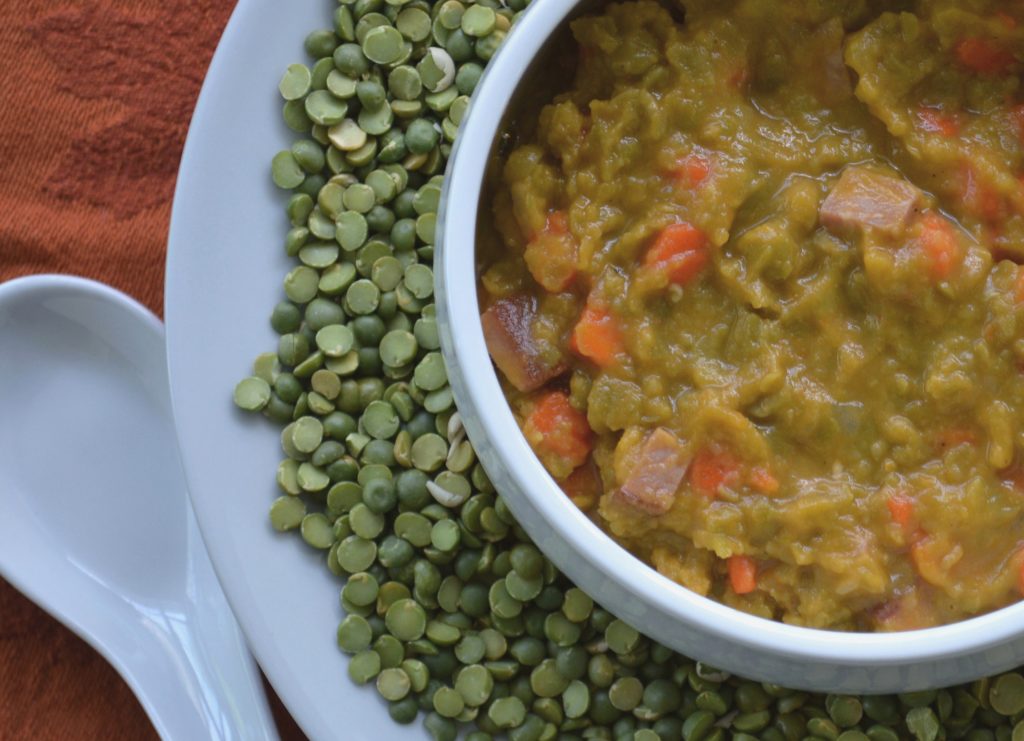 Let's be honest: it's hard to make pea soup look pretty; fortunately, its flavor makes up for any aesthetic shortcomings. Sweet peas, tender carrots–and if you wish to include smoky, salty ham–make for a hearty meal: just in time for sweater weather. Paired with a fresh biscuit or cornbread, you might just feel as though you have been transported to a ski lodge cafe, as you warm your belly and watch the snow fall.
Campbell's Chunky Split Pea with Ham soup takes me back to my childhood; after all, Chunky is "soup that eats like a meal", right? Soup was often a meal for my family; we enjoyed cozying up to a big bowl when winter began to creep in–perfect for a snowy day. Although I have to enjoy my soup sans snow these days, I still love the visions that come flooding back. Food memories are powerful things: they can range from spectacularly good to fantastically awful: you may wax poetically about a particular food for decades or be tainted forever by a bad experience. Food shapes who we become, as do the memories that accompany them.
Now that I've gotten the hang of this cooking without a cookbook thing, I conjure up some of my favorite foods growing up and then challenge my hand at recreating my own version of them–without all of the preservatives of the former. Another challenge on my list is utilizing dried beans and legumes instead of using canned. After a serious Chunky soup craving, dried split peas seemed like the perfect place to start: two birds, one stone.
I was pleasantly surprised how simple the peas were to use: no overnight soaking required. This recipe takes some time, but requires very little babysitting. It is a dump-and-go, stir occasionally, kind of dish–perfect for a lazy weekend afternoon. Reminiscent of the original pound cake recipe–a pound of each ingredient–I created this recipe around using the number one as the base amount of many of the ingredients to help me commit it to memory more easily, (i.e.: 1 cup, 1 teaspoon, 1 ham steak, 1 box). It is one of the simplest recipes in my repertoire to date. My next step is to try this soup in the slow cooker for an easy weeknight meal…it's the perfect dish to test out my new Instapot.
I recreated this dish for the meat-lovers in my life, so to veganize this dish, use diced vegan ham–or omit altogether–and bump up the smoked paprika to 1/4 teaspoon. As with many soups, stews or chilis, the flavor is even better the next day, so save some for leftovers.
The recipes on My Veg Table are my life on a plate: my food memoir. Whether it is something as simple as split pea soup or something as heart-warming as my Grandmother's Snickerdoodle cookies; each one takes me back to a certain place and time. Creating nostalgic dishes in your own kitchen allows you to share a part of your past with someone in your present. Cozy up, share and enjoy!
SPLIT PEA WITH HAM SOUP
This recipe can easily be made vegetarian by substituting vegan ham–or omitting it altogether–and increasing the smoked paprika to 1/4 teaspoon.
2 Tablespoons extra virgin olive oil
1 cup onion, finely diced
1 cup carrot, finely diced
1 teaspoon salt
1/2 teaspoon pepper
1/8 teaspoon smoked paprika
1 8-ounce ham steak, cubed, or 8-ounces vegan ham
1 cup dried split peas, picked through to remove any stones and rinsed
1 (32-ounce) box vegetable stock
Heat a Dutch oven over medium heat. Add oil, onions, carrots, salt, pepper and paprika, sauté for 5 minutes until the mixture begins to soften. Stir in cubed ham and peas and stir to coat. Add stock, stir, and bring to a boil for 2 minutes. Cover, reduce to low and simmer for 1 1/4 hours, stirring every 15 minutes. Remove cover and simmer uncovered for another 15 minutes.
Serves 6.