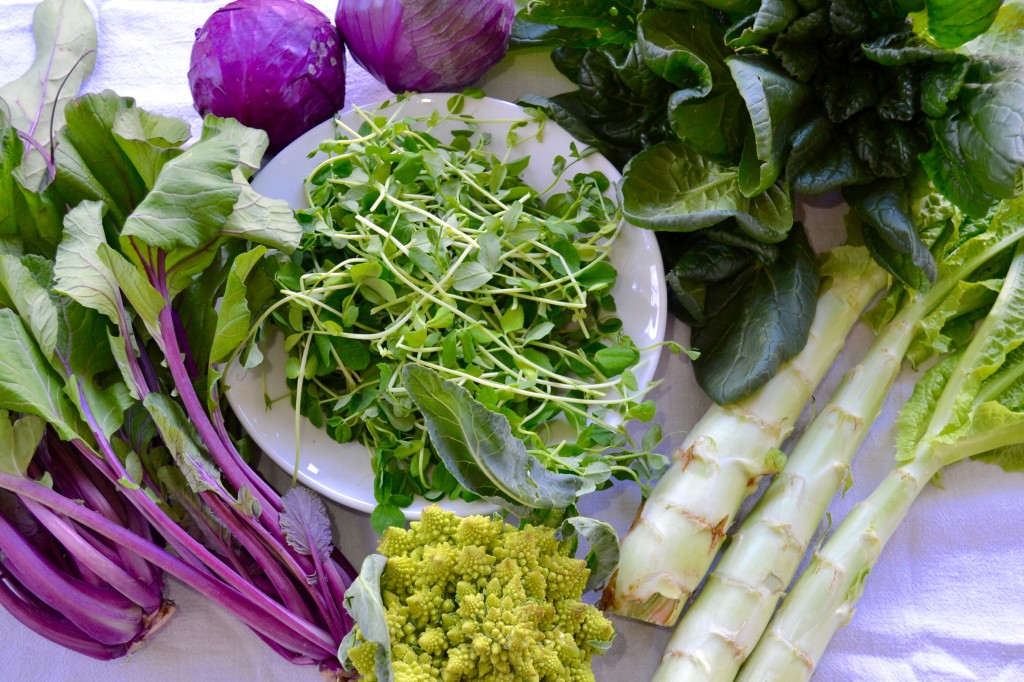 One of the things I love about St. Petersburg is our downtown Saturday Morning Market. Have you been? It's so great to get outside, walk around, listen to the live music, sample new items and stock my kitchen—and my belly—full of delicious finds. I recently found out that getting there early is a really good idea—probably commonsensical—we're just never ready to be anywhere by 9:00am.
Aside from our usual stop at the Pop Craft popsicle cart, produce is the other thing I almost always buy on market day. Shopping for produce at the market is always tricky: there is never enough room in my fridge for all that I would like to bring home. But, last week, I found some unique items that I knew I had to make room for. First, I found some Romanesco, which is just about the funkiest looking vegetable ever. Then, just when I thought I had seen it all when it came to produce, three veggies jumped out at me that I had neither seen nor heard of before: Yukina Savoy, Hon Tsai Tai, and Celtuce. No matter what is awaiting me at the market, it is an ever-changing source of inspiration.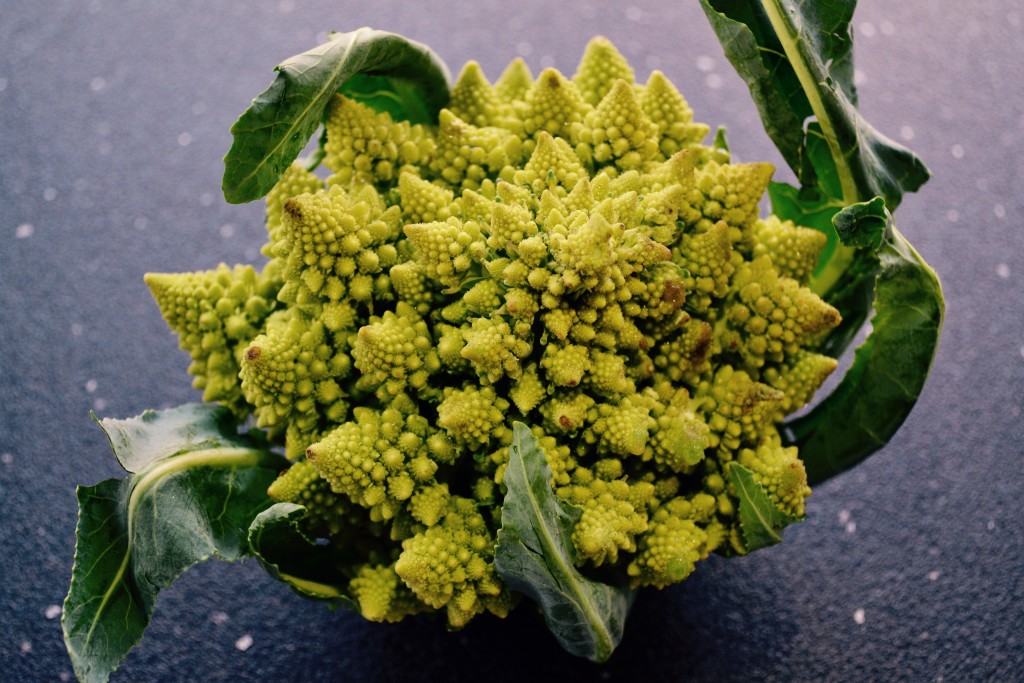 Romanesco…
Ok, maybe you've seen this one before. This spiny, spiraling, architecturally amazing, bright green vegetable looks like some kind of alien tool or a medieval torture device. I assure you it's not dangerous. In fact, it is a cousin of broccoli and cauliflower and can be prepared in many of the same ways that its family members can: raw, roasted, sautéed, baked, or boiled. Instead of roasting it, I ate this as a crudité with a little garlicky dip on the side. Romanesco may look like a cross between broccoli and cauliflower, but the taste is more reminiscent of the latter with a mild peppery kick at the end.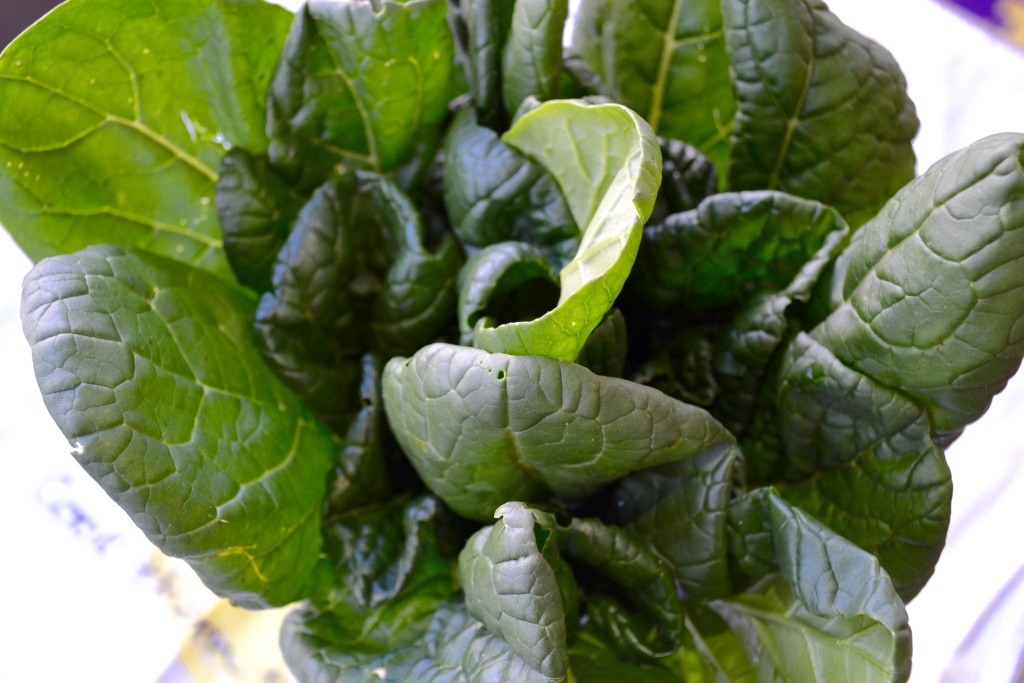 Yukina Savoy…
How pretty is this? This deep green, crinkly-leafed veggie looks like it belongs in a vase with some flowers as opposed to stacked at a produce stand. Yukina Savoy is a member of the broccoli, kale and cabbage family. These firm leaves and hearty stalks were great in a stir-fry with a little olive oil, a lot of garlic and a splash of vegetable stock. Yukina is on the bitter side and would pair well with something sweet or creamy, such as a sweet potato or in a quiche.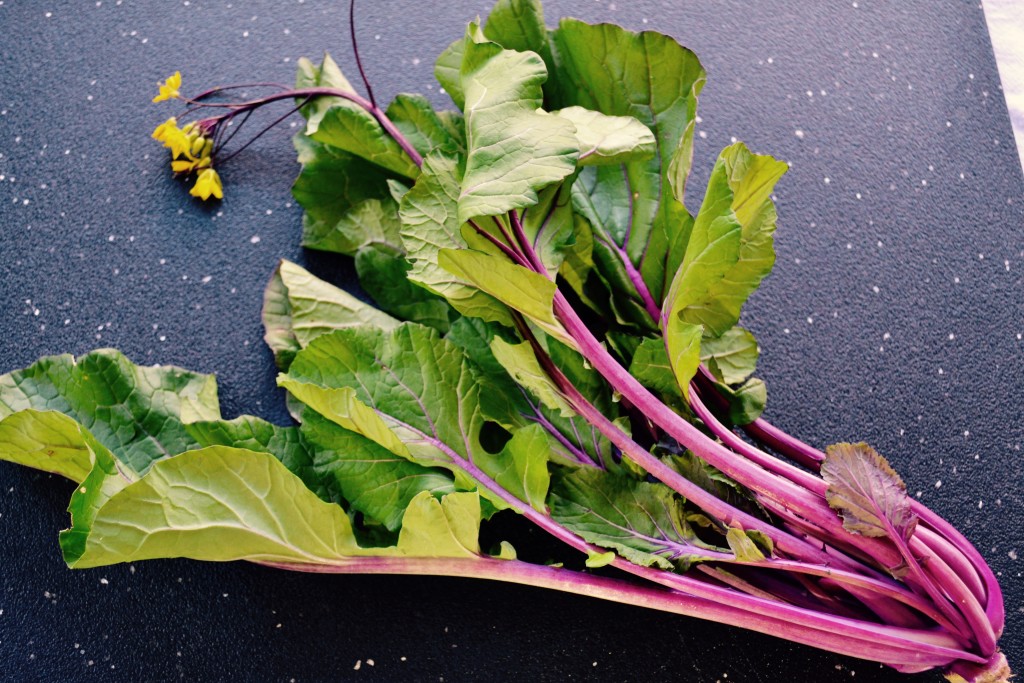 Hon Tsai Tai…
This also looked entirely too pretty to eat, though it is entirely edible. The vibrant purple stalk and the bright yellow flower blooming from its center made me worry about cooking it: I feared that all of those lovely colors would fade away—they darkened, but didn't fade. This Chinese green is very versatile and can be cooked in a number of ways such as stir-fried, braised, and baked. It can also be eaten raw in salads. Since I was in a rush, I simply sautéed it with garlic and olive oil for a tasty side. Next time, I think it would go well in a soup. While Hon Tsai Tai has a taste similar to broccoli raab, it does have a bit more sweetness that allows it to stand on its own as a side dish.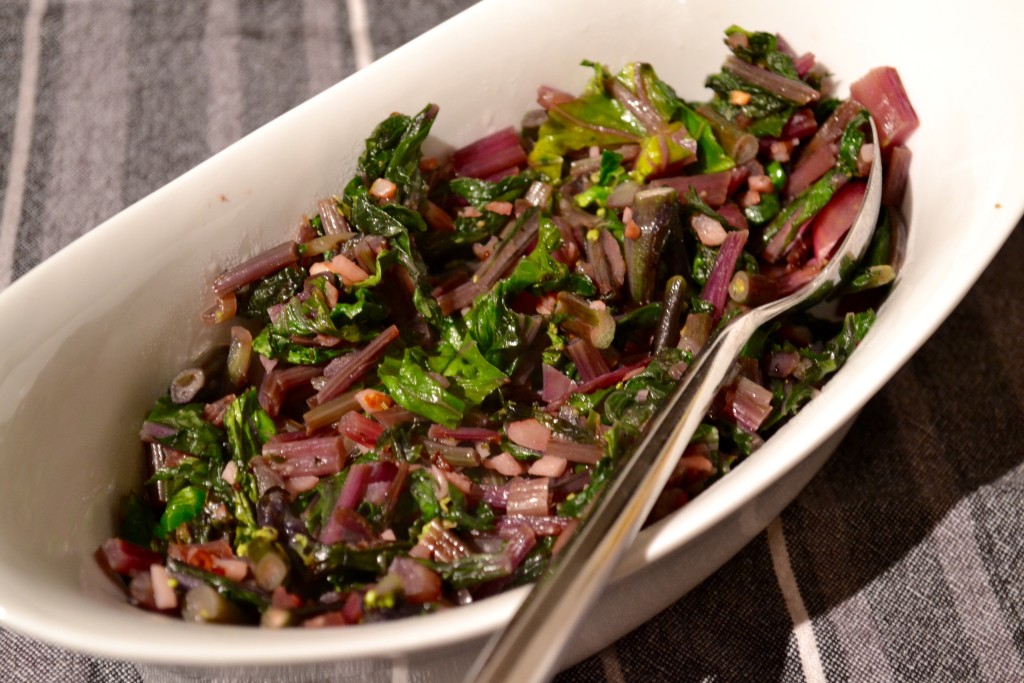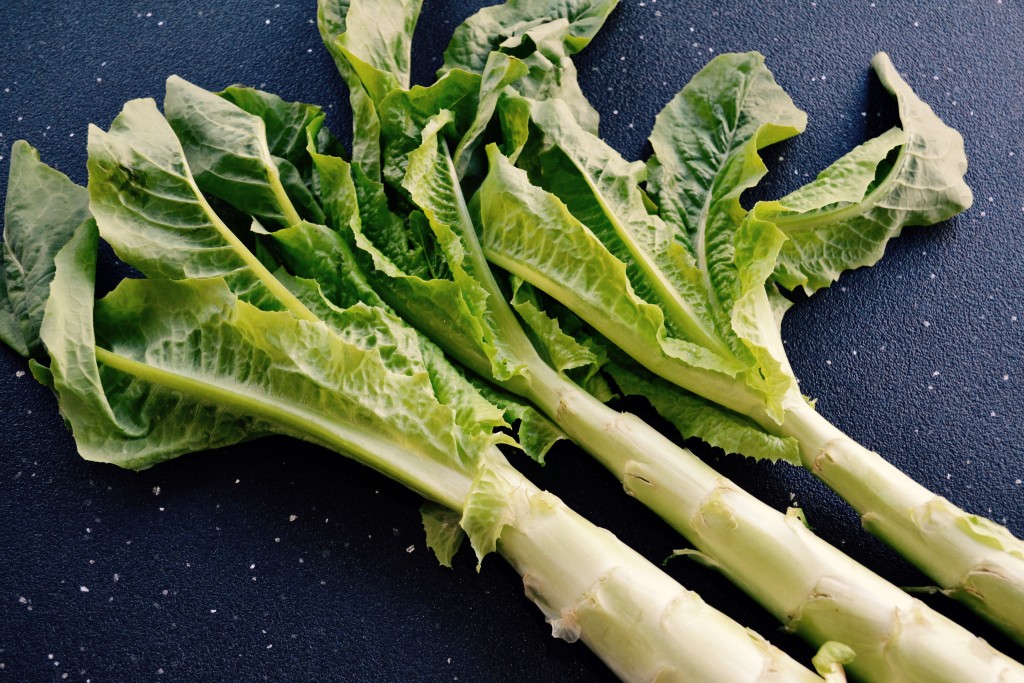 Celtuce…
From the sounds of it, celery and lettuce had a baby—but it's not really celery and it's not really lettuce. While this gnarly looking vegetable's leafy top is reminiscent of romaine, the stem looks more like pale broccoli. Cut off the top and set leaves aside for a "leafy" purpose: an interesting tossed salad or my Celtuce Waldorf—see below. Remove all of the tough, white outer peel from the stalk—it is very fibrous and difficult to eat. What's left will be a bright green interior that looks a lot like a peeled broccoli stem. But, what to do with this thing? I researched it—just to make sure it is safe to eat raw—and to see other suggestions. Turns out, eating it raw is ok, and it can also be stir-fried. Of course, the self-proclaimed "roasting queen" had to try and roast it with some olive oil, salt and pepper—just to see what it would taste like. I sliced it long-ways into four pieces per stem; the crisped, caramelized parts were a bit nutty and the texture held up well to roasting. It had the taste of broccoli stems, only sweeter. I used the rest raw for a riff on a Waldorf salad. It was crunchy, flavorful, and I tasted some celery notes as well as that broccoli stem flavor. It meshed well with the mustard in the dressing. I was out of apples at the time, but adding some to the salad would give it a nice texture as well as some additional sweetness.
The moral of this story is don't be intimidated by unusual things at the produce stand. These days, ancient crops are being revived and new hybrids are being created all the time. Check out your local farmer's market or even your supermarket—you just might find your new favorite!
CELTUCE WALDORF SALAD
If you are a Waldorf traditionalist, you can add 1 cup peeled, diced apple to the mix. If making ahead of time, only toss apples in and mix well 1 hour prior to serving.
1 cup (about 2 stalks) celtuce, peeled and diced (diced celery or peeled and diced broccoli stems can be substituted)
3/4 cup celtuce leaves, chopped (chopped celery leaves or romaine can be substituted)
1/4 cup parsley, chopped
2/3 cup dried cranberries
2/3 cup toasted walnuts, chopped
1/4 cup mayonnaise or Veganaise
1 Tablespoon Dijon mustard
Juice from 1/2 lemon
Salt and pepper, to taste
In a small bowl, whisk together mayonnaise, mustard, and lemon juice. Season with salt and pepper.
In a large bowl, combine celtuce, celtuce leaves, parsley, cranberries and walnuts. Stir to combine. Add 1/2 of the dressing to large bowl and stir to coat. Add more dressing as needed to evenly coat salad.
Refrigerate one hour to allow favors to blend. Can be made one day in advance. Serve on its own or with crackers.
Serves 4.