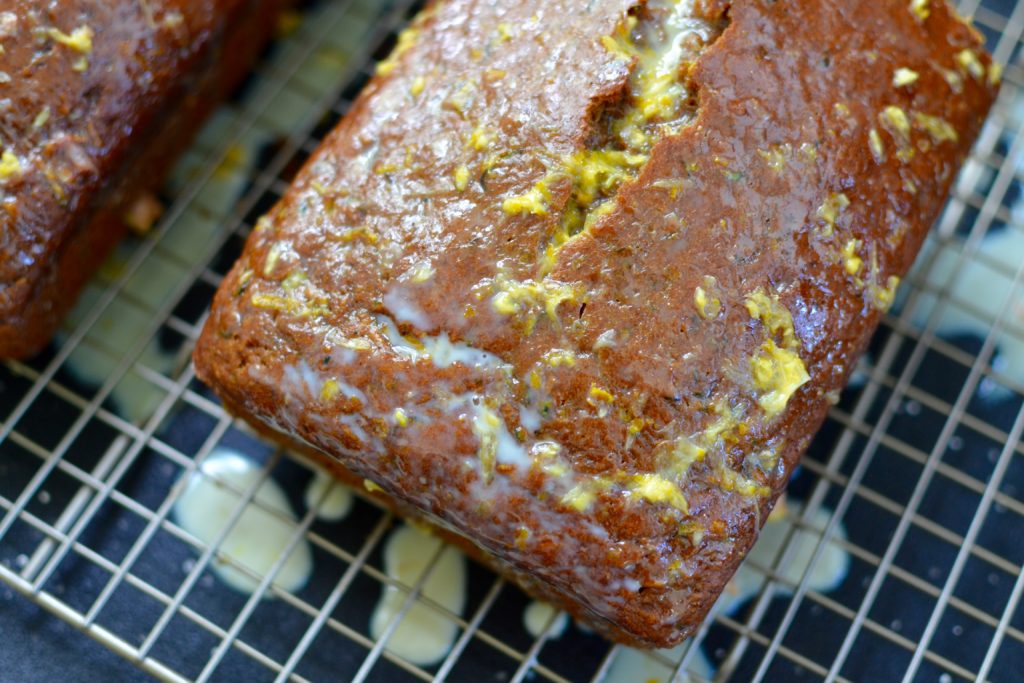 Today is National Zucchini Bread Day! It is a great excuse to discuss my least favorite vegetable–which is technically a fruit: zucchini. I'm not exactly sure who designates these national food holidays, but given the fact that summer squash is starting to pop up everywhere, it makes perfect sense why today's feature would highlight a way to use up the overabundance of zucchini that we will be seeing in the upcoming months.
Why don't I like zucchini? Well, in a word, it's bland. When it is cooked, its texture is nothing short of mush. Despite its lackluster qualities and the fact that few chefs do it justice, it's amazing to me that zucchini has been crowned king of the token ingredients used in vegetarian dishes on soo many menus. Blah…
I have big plans for zucchini; I want to find more ways to make it palatable, maybe even cravable. Despite my gripes, I need to give zucchini the proper credit: it is one of the most versatile ingredients. This squash can be eaten raw, roasted, fried, or grilled; it can be baked into breads and muffins; it can even be pureed into a soup. My favorite zucchini recipes cover the gamut from savory to sweet.
Zucchini Orange Bread
Number one on my favorites list is zucchini orange bread. Twenty years ago, when Food Network was just TV Food Network, Mrs. Fields–the cookie queen–had a baking show. As she baked, the recipe would be displayed on the screen. I recorded her show–on the VCR–any time it was on and would play it back in slow motion. I meticulously wrote down each recipe and started a color-coded "recipe book" on index cards; each color was a different category–yeah, I'm that person. The card for this zucchini bread is bent, smeared, and stained: a testament to how many times it has been used. The bread is sweet, citrusy and moist; my version is more spiced then the original. If you didn't see the green flecks from the zucchini, you might never guess the main ingredient.
Charred Lemon Zucchini
Next to tofu, cooked summer squash is just about the most boring food on the planet. Unless it's marinated or coated in a punchy sauce like pesto or chimichurri, it's not worth even making. Rewind fifteen years or so, I saw a recipe for sautéed zucchini that was different. This time, two zucchini were sliced about 1/4 inch thick, tossed into a screaming hot pan over medium high heat with 2 teaspoons of olive oil. The pieces are flipped after a 1-2 minutes, or when they become translucent and browned on one side; the other side is then sautéed until browned. A half of a lemon was squeezed onto the squash during the last few seconds of cooking and tossed to coat; salt and pepper to taste finishes the dish. The result was a charred, slightly crisp, lemony version that actually brought out the mild flavor of the zucchini.
Zucchini Pancakes
When my son was small, I was looking for ways to increase his veggie intake and was on a quest for recipes that met our fruit and vegetable quota for the day. Ina Garten's Barefoot Contessa at Home cookbook featured zucchini pancakes. Her books always show food at its simplest; I knew these would be a hit. Similar to the potato pancakes that I grew up eating, the grated squash is mixed into an easy batter with grated onion added for flavor. The lemon zest I threw in gives that little somethin' somethin' that was previously missing. If I don't have the time to make the aforementioned zucchini bread, I will make these pancakes to use up my squash.
Zucchini Pickles
Most recently, I read a hack about pickle juice; this time it wasn't about saving it for your martinis. It was about pickling–or rather re-pickling: save leftover juice and add cleaned and peeled veggies for a quick, no-fuss pickle. I peeled a zucchini, cut it into 8 equal pieces and threw them into my Claussen pickle brine. As an aside, I love pickles in the refrigerator sections at the grocery store; they are more crisp and flavorful than their cooked and shelf-stable counterparts. After forgetting about them for about a week, I sampled one and they were perfect–and tasted very similar to their cucumber cousin. Easiest hack ever. So, now I need to throw some other things into that jar and see what happens…
When a fruit or veggie doesn't come with many bells and whistles, it presents a challenge for any cook. Herbs, spices, seasonings and citrus are ways to coax out and/or add flavor to any food; different methods of cooking finish out the process. As I continue to experiment in the kitchen and rely less and less on recipes for inspiration, I hope to find even more ways that can make zucchini shine–maybe even turn it into something I can't live without.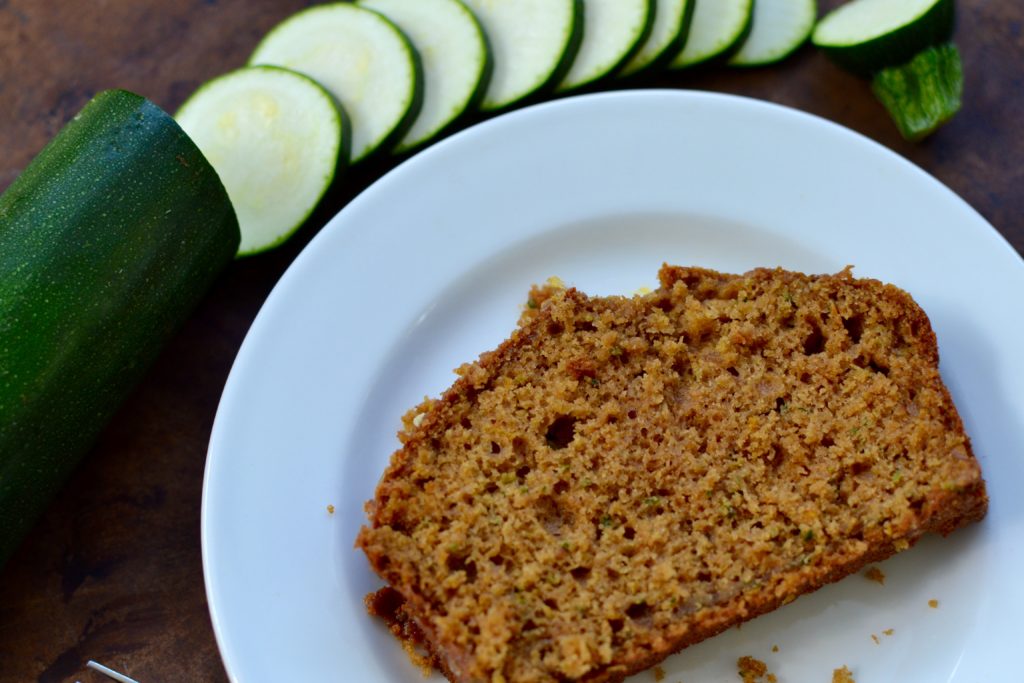 ZUCCHINI ORANGE BREAD
Great for breakfast or a snack, this recipe is a tasty, one-bowl wonder. Mix it all together and voila!
Bread
3  1/4 cups flour
1  1/2 teaspoons baking powder
1  1/2 teaspoons baking soda
1 teaspoon kosher salt
2 teaspoons cinnamon
1/2 teaspoon ground cloves
1/2 teaspoon ground ginger
1/2 teaspoon mace
4 eggs
1  1/2 cups sugar
3/4 cup vegetable oil
2/3 cup freshly squeezed orange juice
2 large zucchini
2 teaspoons orange zest
1/2 cup chopped pecans, optional
Glaze
Option 1 – makes for a thicker glaze
1 cup powdered sugar
2 Tablespoons freshly squeezed orange juice
2 teaspoons orange zest
Option 2 – makes for a thinner, creamier glaze
4 Tablespoons sweetened condensed milk
3 Tablespoons freshly squeezed orange juice
2 teaspoons orange zest
Preheat oven to 350 degrees. Prep 2 – 9x5x3 loaf pans: butter bottoms of loaf pans only.
Clean and scrub zucchini with a vegetable brush and dry–do not peel. Cut off tops and bottoms. Grate on medium area of box grater into a colander placed into the sink; allow to drain while you prepare the rest of the ingredients. If you have a fine mesh bag–aka nut milk bag–grate zucchini directly into bag-lined measuring cup; hang on faucet and allow to drip into the sink. Do not squeeze out excess liquid.
In a large bowl, whip eggs until light and lemony in color. Add sugar and whisk until incorporated. Beat in orange juice, oil and zest. With a spatula, stir in all dry ingredients–except flour and nuts.  Stir in flour a bit at time until completely incorporated. Fold in zucchini and nuts.
Divide batter evenly into prepared pans. Bake for 40-45 minutes until a tester comes out clean, rotating pans half-way through cooking.  Allow to cool in pan on a rack for 20 minutes.
In the meantime, make glaze. Mix orange juice, zest and either powdered sugar or sweetened condensed milk together in a small bowl until smooth.
Remove bread from pans and top with glaze. Wrap in foil and keep at room temperature. Will keep for up to four days.
Makes 2 standard loaves or see below for other options:
* 4 small loaves – bake for 25-30 minutes
* Mini muffins (fill 2/3 full) – bake for 16-17 minutes
* Regular sized-muffins (fill 2/3 full) – bake for 25 minutes
* Jumbo muffins (fill 2/3 full) – 25 minutes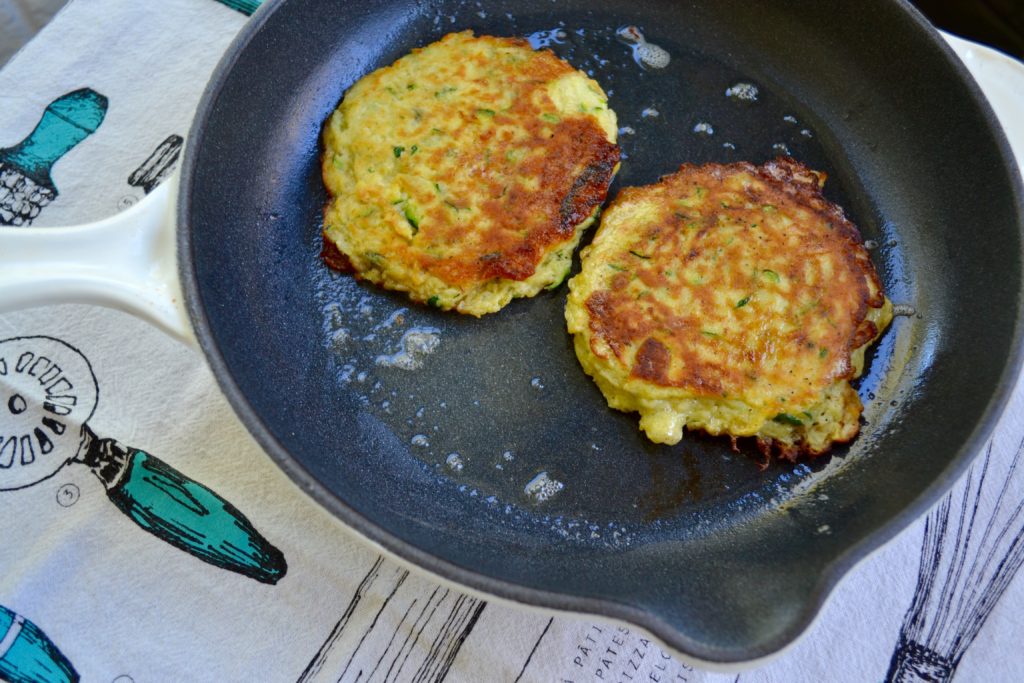 ZUCCHINI PANCAKES
Adapted from Ina Garten's Barefoot Contessa at Home recipe. Delicious as a side dish or as an entree, you could even eat them for breakfast and top them with maple syrup.
2 medium zucchini, scrubbed well
2 Tablespoons sweet yellow onion, grated
2 eggs, lightly beaten
6-8 Tablespoons all-purpose flour
1 teaspoon baking powder
1 teaspoon kosher salt
1/2 teaspoon freshly ground black pepper
Zest of 1 lemon
2 Tablespoons butter, divided
2 Tablespoons olive oil, divided
Preheat oven to 250 degrees.
Using the large holes of a box grater, grate zucchini and onion into a large bowl. Add eggs and stir well. Mix in 6 Tablespoons flour, baking powder, salt, pepper and lemon zest. If the mixture is too watery, add remaining 2 Tablespoons of flour and mix again.
In a large sauté pan over medium heat, melt 1 Tablespoon each butter and oil. Using a 1/4 cup measuring cup, scoop pancake batter into hot pan–you should have room for four pancakes. Cook until brown on underside, about 3-4 minutes. Gently flip and cook until brown, about 2-3 minutes more.
Remove from skillet and place on pan in oven to keep warm. Add remaining butter and oil to the pan and repeat pancake steps with leftover batter.
Makes 8 pancakes.