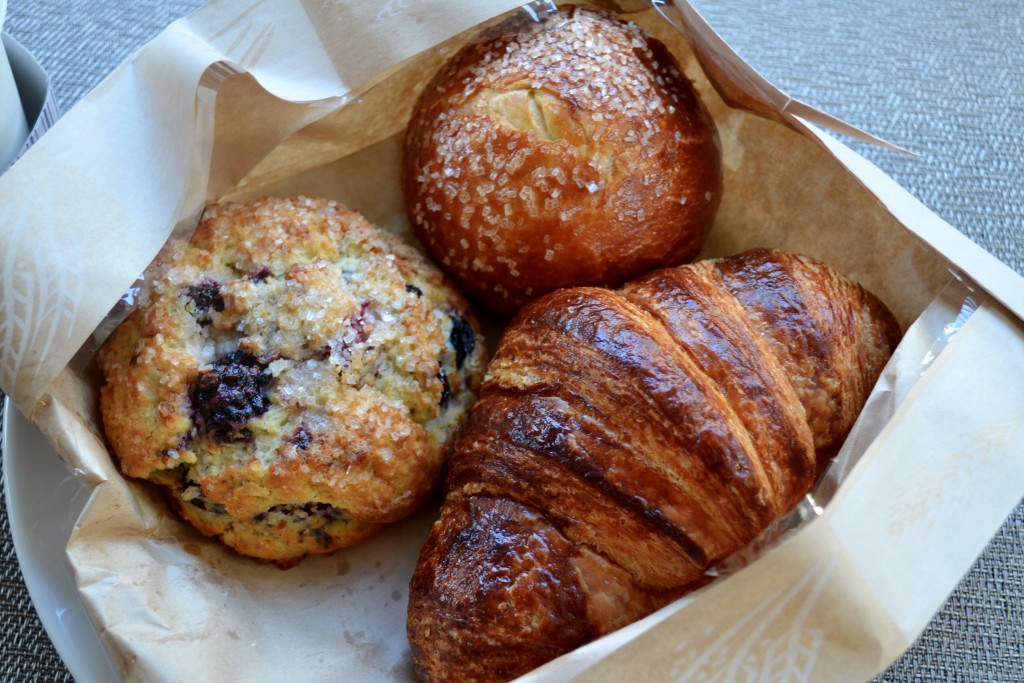 My husband, Ed, and I are not your typical schmoopy Valentine's Day couple: no candlelit dinner with roses and wine, no balloons and definitely no stuffed animals. There's really no acknowledgement of this commercial holiday except a "Happy February 14th" to one another and take-out for dinner. Why wait until this one day of the year to celebrate with the obligatory masses when we could celebrate any other day? On any given day–no occasion needed–he may bring me a special treat: Vosges chocolates or cookies from Alessi Bakery are especially exciting.  If it's a really special day, he might bring me my favorite–a croissant. I wrote this piece unbeknownst to Ed, and this morning, I awoke to freshly squeezed orange juice, a cafe au lait, and a package of warm croissants, brioche and a scone from my favorite bakery. Apparently, I spoke too soon. Is this his way of breaking our non-Valentine's tradition? Or is he just teaching our son, Everett, the ins and outs of this lovey holiday?
No matter the reason–and really, why question it?–I will never turn down my favorite pastry. Croissants, and namely the butter inside of them, are one of the three reasons veganism will never be on my horizon–the other two reasons are cheese and honey. I just can't get enough of this flaky, crispy, uber-buttery (but not greasy), golden pastry. Not all croissants are created equal, and that's a shame. I've sampled some that are too bready, some that are too greasy and some that are undercooked in the center. Finding the perfect version of this delicate pastry is a tough job, but someone's got to do it–that someone might as well be me. When we travel, my sights are always set on finding the best local croissant; Le Marais in San Francisco tops the list for the best I've found to date. So. Stinking. Good. I can only imagine the day I can sample my way around Paris on a quest for the perfect Parisian croissant. But, for now, the award for the best croissant in my town goes to Cassis Bakery in Downtown St. Petersburg, Florida.  Perfectly toasted, crisp on the outside, ethereally light on the inside, and buttery all the way through: this croissant is perfection.
There is a very important process in picking the perfect croissant. First, choose one that is medium to medium-dark brown in color. No butter or jelly necessary–or advised. Twist off a crunchy end and inhale the buttery aroma before taking your first bite: there is nothing like the smell of butter in pastry. What? You don't smell your food before your eat it? Well, you should–it's all part of the experience! Try to resist the urge to consume it in less than two minutes–it will be difficult. As you take your next piece, watch the croissant begin to unfurl in your hands. When you get to the center, it should be light, flaky and tender–not doughy–if you are lucky, it will still be warm. I had one such lucky day…
One morning, I went to Cassis for my weekly croissant. The fog was just starting to burn off of the buildings downtown and the sun had begun to peek through the clouds. My son was in pre-K at the time and I had one whole hour before pick-up time. My favorite outside table overlooking the marina was available; I stepped inside the bakery. Good fortune shone down on me as I was advised that my favorite pastry had just come out of the oven. The layers practically melted in my mouth, prompting me to immediately take another bite, and another, and another. That newly baked croissant was so delicious that I immediately regretted how quickly I inhaled it. As an aside, my editor-in-chief, aka Ed, advised me that my narrative is crossing the line into food porn. To that I say, "Don't all foodies think this way when they eat?" Maybe it's just me, then. At any rate, never again have I been fortunate enough to arrive at just the right time, but each time I go, I am overly optimistic. If you do not get there at that prime moment, have the staff warm your croissant. While it is not the same as fresh-out-of-the-oven, it is the next best way to enjoy it.
So, you have just witnessed my brain on food; waxing poetic for three paragraphs on the beauty that is a croissant–and apparently bordering on the indecent–suggests that I may have issues. It's the little things in life that make life worth living: croissants from Cassis–given to you by your Valentine–definitely make it count!  And now, on to address our potentially new Valentine's precedent…