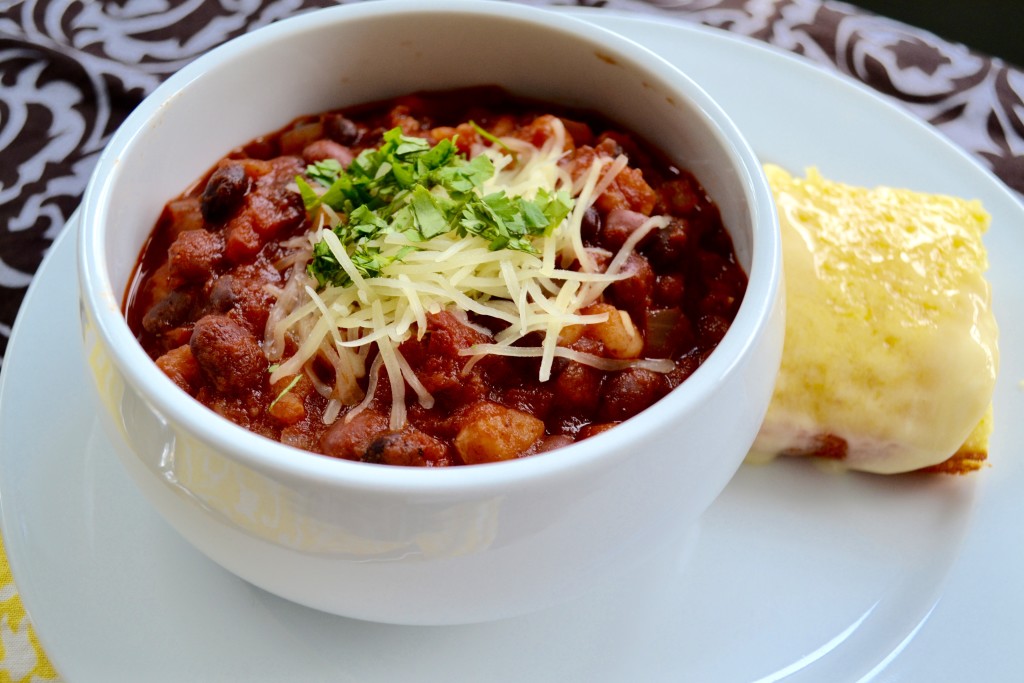 Aside from desserts, one of the first things I remember cooking for other people is chili. I learned how to make my Mom's "dump and stir" version–there wasn't much to it. The recipe was exactly this: one pound of browned ground beef; one can Hunt's "chili-ready" tomatoes; one can tomato sauce; and one can kidney beans. I made it often and people loved it–until one night I had friends over to my dorm room for dinner and I got busted by the RA. "No plug-in electrical skillets!" she scolded. Well, that was the end of my first dinner party era.
Over the years–after the dorm days–it was my go-to recipe: it couldn't have been easier to make. Slowly but surely, the "chili-ready" tomatoes became harder and harder to find. The more experience I gained cooking, I started adding sautéed onions and garlic for extra flavor. I eventually traded the beef for turkey. When the canned tomatoes became extinct, I had to figure out a way to mock the seasonings that came in that can. "A little of this, a little of that" was the method for years and the chili was different every time I made it. After I gave up meat, I added an extra can of beans to the mix. These days, I like hominy thrown in for good measure. This recipe of mine is the one that has evolved the most over time–I think I have come to a place where I am finally satisfied with it. Feel free to swap out whichever beans suit your fancy; you can also add one package of ground soy crumbles after the onions if you want a meatier texture.
It doesn't have to be cold outside to enjoy a nice, hot bowl of chili. Hearty and satisfying, this recipe can be ready in as little as 30 minutes and can be customized based on what you have on hand. Chili is one of those tried-and-true comfort foods that is as varied as the cooks that prepare it. This is my version; I hope you enjoy it.
VEGETARIAN ONE-POT CHILI
Serve this chili with some garlic bread or warm cornbread topped with honey butter.
2 Tablespoons olive oil
1 medium onion, diced
2 large cloves garlic, finely chopped
1 (28 ounce) can crushed tomatoes
1 can black beans, drained and rinsed
1 can kidney beans, drained and rinsed
1 can hominy, drained and rinsed
1 Tablespoon tomato powder (see note) or tomato paste
1/4 teaspoon smoked paprika
1/4 teaspoon ground cumin
1/4 teaspoon garam masala
1/2 teaspoon dried oregano
1 teaspoon kosher salt
2 teaspoons chili powder
Finely chopped cilantro
Grated cheddar cheese
Heat a large Dutch oven over medium heat. When pot is hot, add oil. Add onions and sauté until translucent, about 4 minutes. Add garlic and stir for one minute. Add tomato powder or paste, smoked paprika, cumin, garam masala, oregano, salt and chili powder to pot and stir to toast the herbs and spices for one minute. Pour in tomatoes and stir well. Add beans and hominy and mix well.
Reduce heat to low and simmer for 20-30 minutes. To serve, garnish with grated cheese and cilantro.
Serves 4-6.
Note: Tomato powder is made from dehydrated tomatoes. I first found it at Savory Spice Shop and it is now a staple. I can't begin to guess how many half-empty cans of tomato paste I have wasted over the years; now, I only use what I need and the rest of the powder keeps indefinitely in the fridge. Based on how much water you use to reconstitute the tomato powder, you can make your own tomato paste, tomato sauce, or even tomato juice; it's worth seeking out.