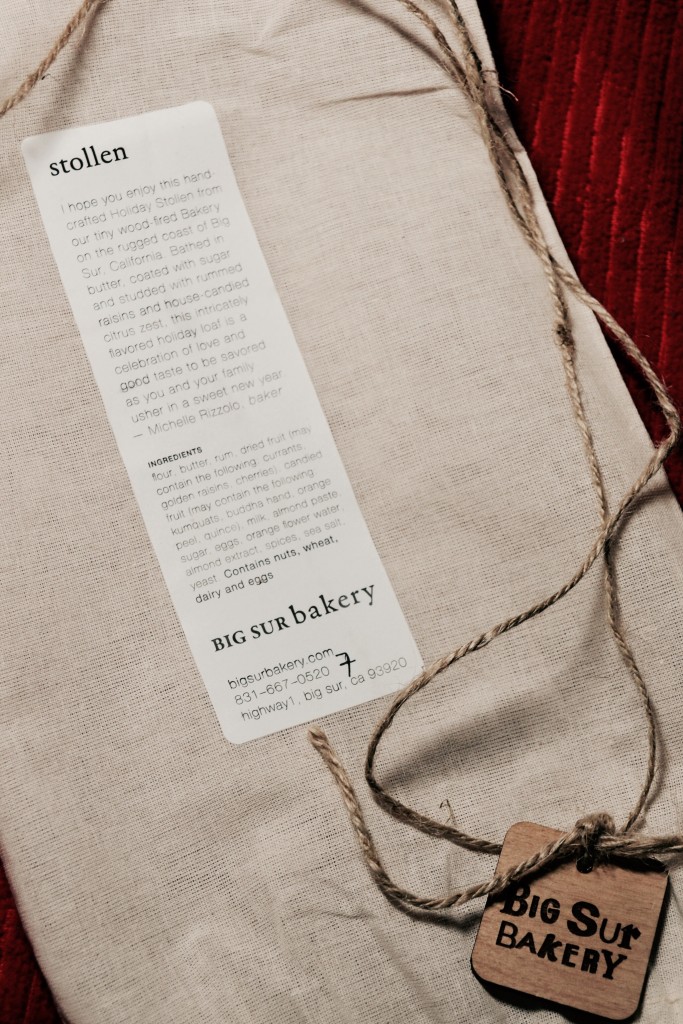 A box arrived via UPS today and I figured it was just another Christmas present that my husband ordered from Amazon; except that the sender was Big Sur Bakery. Our friends live in Napa, CA and were just married in Big Sur, CA in August. Their reception was held at Big Sur Bakery and Café. The wedding was lovely, the scenery was amazing and the food was fantastic. So, we ripped open the box to find a loaf of sorts in a cloth bag tied with string. It was a stollen: the topic of today's Tidbit. Stollen is a German sweet bread that contains nuts, fruit, and/or raisins. The label read that it was brushed in butter and coated in sugar–and I do mean coated. I had envisioned a cloyingly sweet "fruitcake-like" bread. After cutting into it, I was pleasantly surprised. It was more bread than cake, and despite the copious amount of sugar on the outside, there was a subtle sweetness.  The rum soaked raisins lent just a hint of rum and the candied citrus gave a "pop" to nearly every bite. There were no nuts in this version.
My mother's side of the family is German, and I'm pretty sure that when we lived in Pittsburgh, we had some version of stollen around the holidays. My Grandmother seemed to always have something sweet in the kitchen from the bakery. Although, when I think back, I'm remembering a version with only raisins and covered in thick white icing–icing that I couldn't wait to strip off and leave the "dull" bread behind. While I love the memories that accompany that icing-covered stollen, I am enjoying the one that was waiting at my door a bit more. I guess I'm all grown up now…sigh.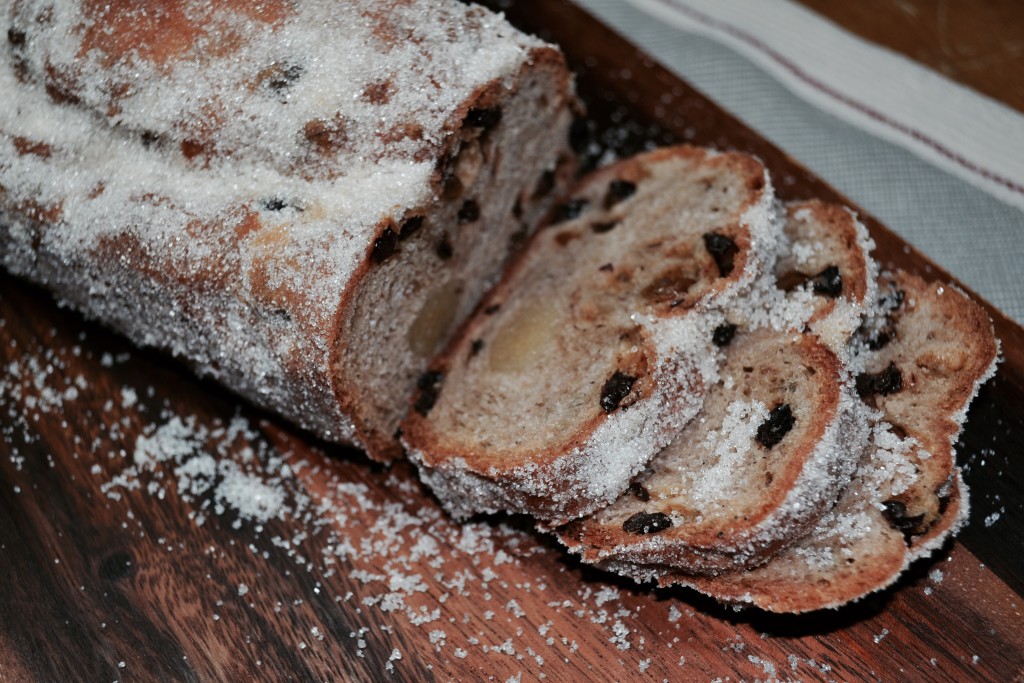 I always love scanning through my Dean and Deluca, Williams Sonoma, and Zingerman's catalogs: I am constantly on the look-out for new and interesting foods. I have often bought edible gifts for friends and family, but sadly, I myself had never been on the receiving end–until today! A special thanks to our California friends for this tasty new experience.
When I texted them a huge "Thank You", our friends advised us that stollen typically has a long shelf life: between 4-12 weeks. I'm going to guess that we will not be able to fully test the longevity of this tasty holiday bread–I give it a week! Happy Holidays, everyone!