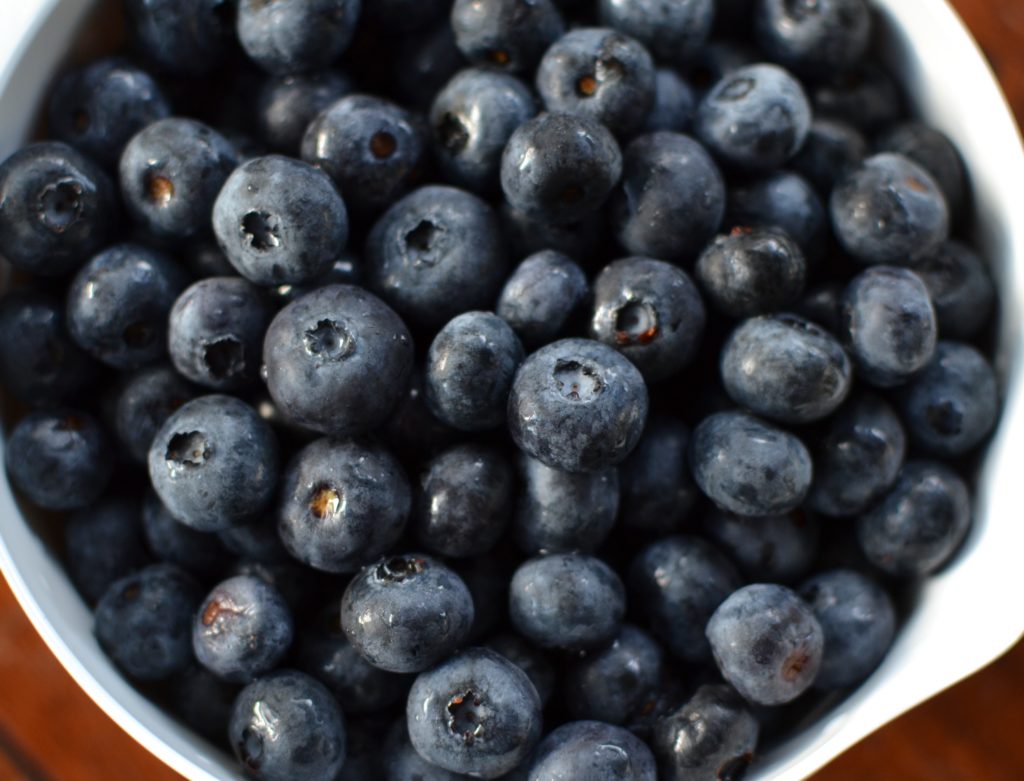 Ok, so maybe a bunch of blueberries: maybe even a truckload. Since it pretty much feels like varying degrees of summer all year 'round in Florida, I rely on produce to tell me when summer has officially arrived: corn, cherries, melons, and stone fruit are in abundance. Best of all, it's finally time when organic berries don't cost an arm and a leg for a half-pint. Florida's strawberry season comes sometime between December and February, but summer is when blackberries, raspberries and blueberries come into their own here. Last month, I found an entire pint of blueberries for $3.99…I bought two. I should have bought four. I went back to Publix a couple of weeks after and they were $3.00…I bought six. Six pints of blueberries; that's about 14 cups! I laughed as they practically filled an entire shelf in my fridge. I was feeling so ambitious, I didn't want to freeze a single one. And so the baking commenced!
So many choices: pancakes, scones, pie, crisp, cobbler, slump, hand pies, grunt, bread, jam…well, you get the point. My first stop–muffins. I revisited one of my favorite blueberry muffin recipes from Gwyneth Paltrow's first cookbook, My Father's Daughter. Blythe's Blueberry Muffins have been a repeat success in this house, but this time, I wanted to put my spin on them. My rule of thumb with recipes is to follow the original precisely the first time to know what it's supposed to taste like: a cooking baseline. Then, once I've mastered it, it's time to make it my own. These muffins were missing something–that something was a bit of lemon. Ok, a lot of lemon. There is nothing better than light, puckery lemony treats during the summer; I would pick lemon desserts over chocolate ones any day of the week. So, taking these muffins to the next level meant adding lemon to the batter. And not just to the batter, but slathered on top as well.
In addition to scads of the aforementioned muffins, I used my surplus blueberries in pancakes, smoothies and ate them just plain out of a bowl. In the end, I reluctantly froze a few pints because I ran out of time before our road trip to North Carolina. Now that we are back from the mountains, I thought that a pie would be tasty; however, I have yet to master the pie. That brings us to a galette, or as I call it: cheater's pie. A galette is a rustic tart with all the best qualities of pie with none of the work; you don't even need a rolling pin! Using a pre-made crust, the prepared fruit is poured into the center and the crust is partially folded up around it. This was so easy to throw together, my seven year-old helped with all of the steps–except the baking part. I just happened to have some nectarines around that were so perfectly ripe, they needed to be in this dish. Nectarines pair so well with blueberries, this galette recipe practically created itself.
With my fridge stacked with more blueberries than I knew what to do with, I had my work cut out for me. Sometimes, having so many options makes it difficult to decide what to make. With a little inspiration from one of my go-to cookbooks and some of my own creativity, I utilized (most of) my supply—almost to the point of blueberry-ing myself out! So, this galette will close out berry season 2016—and my 50th post! Until next year, blueberries!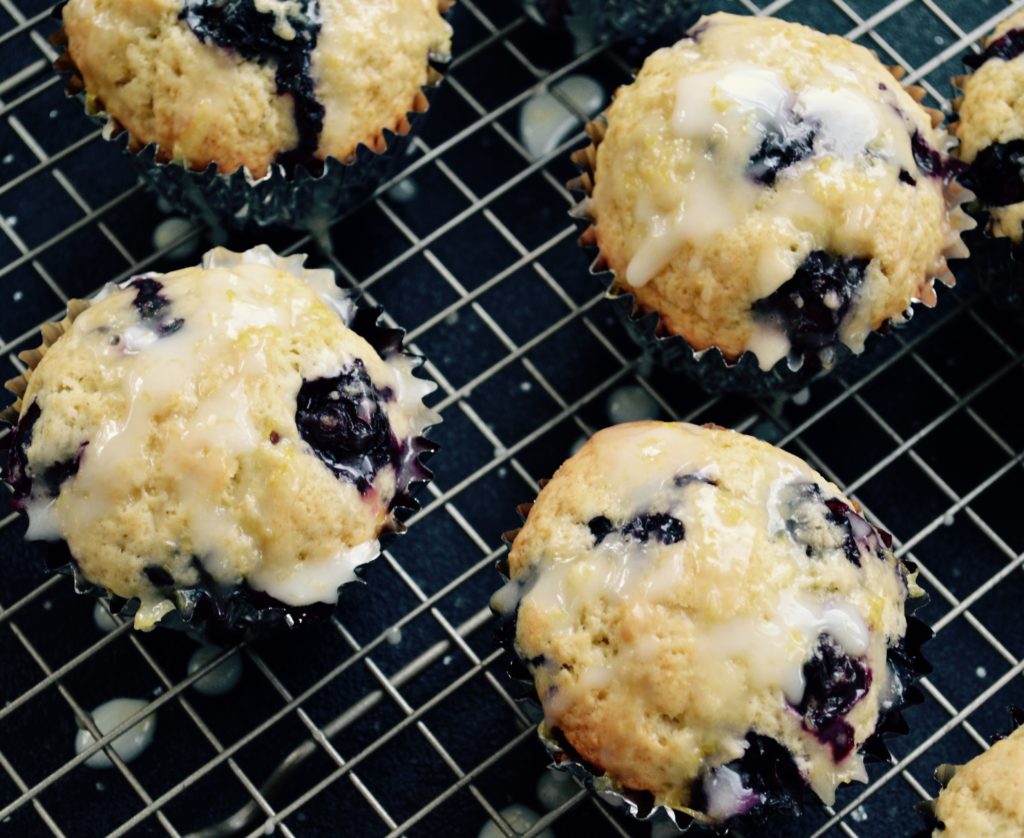 GLAZED LEMON BLUEBERRY MUFFINS
These muffins are moist, fresh, and taste like summer. This recipe was inspired by Blythe's Blueberry Muffins from Gwyneth Paltrow's My Father's Daughter cookbook. I love the puckery lemon glaze.
Muffins
2 cups all-purpose flour
3/4 cup granulated sugar
2 teaspoons baking powder
1/2 teaspoon salt
1/4 teaspoon ground cardamom
1 stick of unsalted butter, melted and cooled
2 large eggs, room temperature
1/2 cup buttermilk
Zest and juice of one lemon, separated
1 dry pint of fresh blueberries, about 2 cups
Glaze
1 cup sifted confectioner's sugar
Zest and juice of one lemon, separated
Preheat oven to 375 degrees. Line two 12-cup regular muffin pans with 16 baking papers.
In a medium bowl, whisk together the flour, sugar, baking powder, salt, cardamom and lemon zest. Set aside.
In a large bowl, whisk the melted butter, eggs, buttermilk, and lemon juice until combined. Stir dry ingredients into wet ingredients with a spatula; batter will be thick and sticky. Fold blueberries in carefully.
Using an ice cream scoop, fill muffin cups 3/4 full with batter. Bake, rotating pan 1/2 way through baking, until a tester comes out clean and the tops have started to brown, 20-25 minutes. Remove muffins from pan to cool on rack.
While muffins cool, make glaze. In a small bowl, mix confectioner's sugar and lemon zest until combined. Add lemon juice one Tablespoon at a time, stirring after each addition, until glaze is smooth and slightly thick. Drizzle over muffins while still warm. Once cooled, keep in an airtight container for up to two days–if they last that long.
Makes 16 muffins.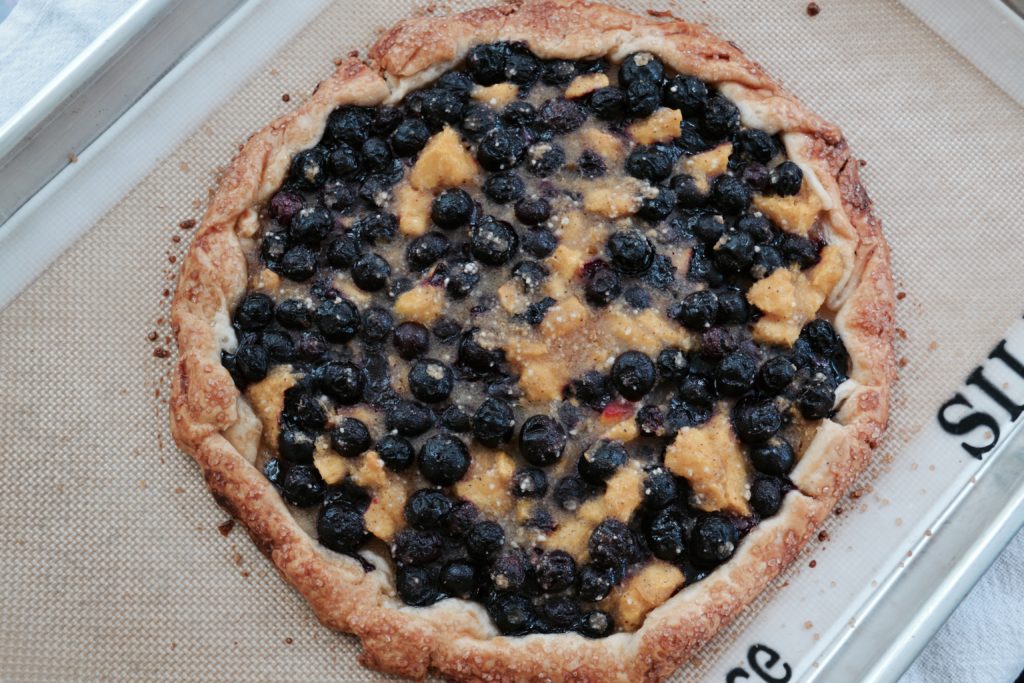 BLUEBERRY NECTARINE GALETTE (CHEATER'S PIE)
This galette is so easy to make; have your kids help out! My son especially liked folding over the crust and sprinkling it with sugar. In addition, there is only a small amount of sugar in this pie; it could even be eaten for breakfast!
1 refrigerated prepared pie crust
1 1/2 cup fresh blueberries
2 ripe nectarines, skins removed and diced
Zest of 1/2 lemon
1 Tablespoon freshly squeezed lemon juice
1 Tablespoon all-purpose flour
1 Tablespoon instant tapioca
1/2 teaspoon ground ginger
1/2 teaspoon ground nutmeg
3 Tablespoons sugar
1/4 teaspoon salt
1/2 teaspoon pure vanilla extract
1 egg, beaten well
1 Tablespoon half and half
Turbinado sugar
Preheat oven to 350 degrees. Remove pie crust from refrigerator and allow to sit at room temperature for 10 minutes. Unroll pie crust onto parchment paper or Silpat lined baking sheet. Prepare the filling.
Pour blueberries and diced nectarines into a large mixing bowl. Add lemon zest and lemon juice. Set aside.
In a small bowl, mix flour, tapioca, ginger, nutmeg, sugar and salt until well blended. Sprinkle in flour mixture while stirring fruit to evenly coat. Stir in vanilla extract and allow to sit for five minutes.
Repair any cracks in the pie crust with a wet finger. Spoon filling into center of pie crust, leaving a 3-inch border. Gently roll or fold crust up to meet fruit. Lightly press crust down all around.
Whisk half and half into beaten egg and brush all around crust. While wet, sprinkle Turbinado sugar onto crust.
Bake for 35-45 minutes until crust is evenly browned. Allow to cool a minimum of 15 minutes prior to cutting.