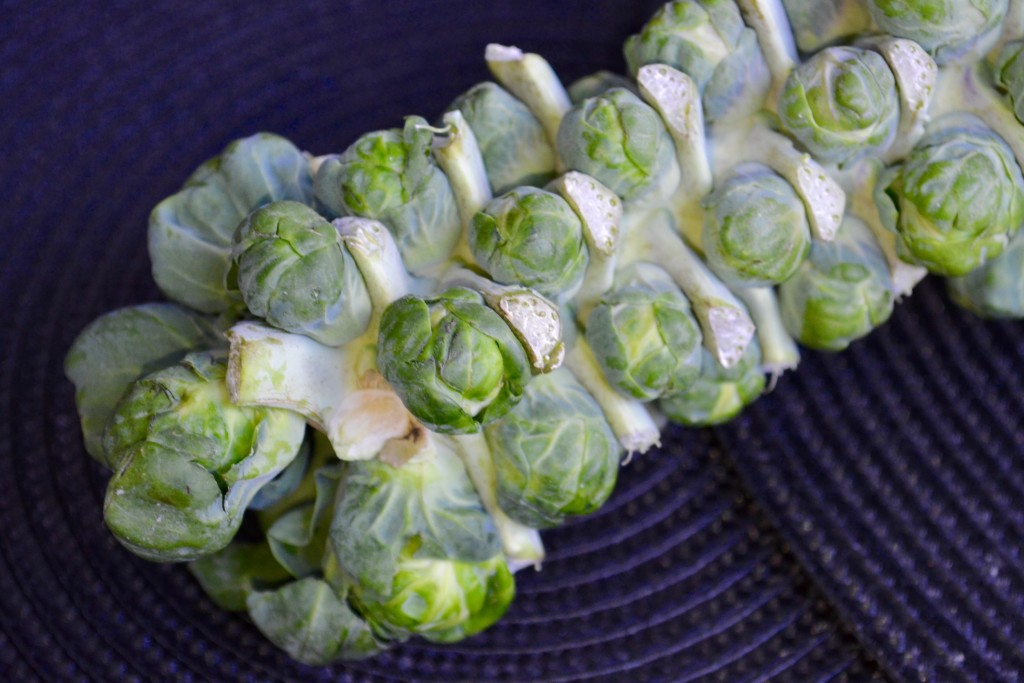 What do you see when you look at this picture? The vertebrae from an unknown species? A tree from a Dr. Seuss book? Some kind of flower bud? Actually, it is a cluster of Brussels sprouts; yep, this is how they grow!  Unless you've seen them in a garden, chances are, you've never seen them still attached to their stalk. I get so excited when I find these towers of sprouts: they are a rare find in grocery stores–your chances are better at finding them this way at the farmer's market. They taste fresher than their loose supermarket counterparts because much of their moisture is retained via the stalk. So, yes, there is a bit of knife work needed to liberate them from their spire, but it's not enough to deter me from buying them this way. The cashier at Trader Joe's told me that his sister takes the whole stalk, oils it up and throws it right on the grill. Note to self: it's time to deviate from my default roasting habits and try something new–I'm taking this enormity to the grill!
When I came upon TJ's Brussels sprout display, I picked a bright green stalk that had no discolored leaves. I was taken aback when I went to pick it up: it must have weighed at least four pounds–I could've probably used it to crack a baseball. But instead of just tossing it into my cart, I found myself carrying it–practically cradling it–as cautiously as I would carry a dozen eggs. As I found out, there was nothing to fear; these Brussels are so firmly attached to their stalk that even a rough ride home in a grocery bag filled with other items was not enough force to shed one single sprout from its trunk-like support.
Once I got it home, I washed it, coated it generously with olive oil and fired up the grill. I grilled it over medium heat for about 40 minutes, turning occasionally. When the outer leaves were mostly browned, I pulled it from the heat and cut off the sprouts. Another little drizzle of olive oil and some salt and pepper and they were ready for the table.  My grilling experiment only half-worked: some of the larger sprouts could have used a bit more cook time–maybe a quick blanch in boiling water before the grill could ensure a bit more even cooking next time. That will be my mental note for the future, as these Brussel-y bundles are no longer setting up shop in Trader Joe's–I guess I wasn't the only one excited to find them. A sure fire way of preparing these tiny cabbages is to remove them from the stalk, cut them down the middle, drizzle them with olive oil, season with salt and pepper and roast in a pan at 400 degrees for 25 minutes, stirring halfway through. The insides will be consistently cooked with this method–guaranteed. For a recipe on roasting Brussels, check out my version with grapes and walnuts.