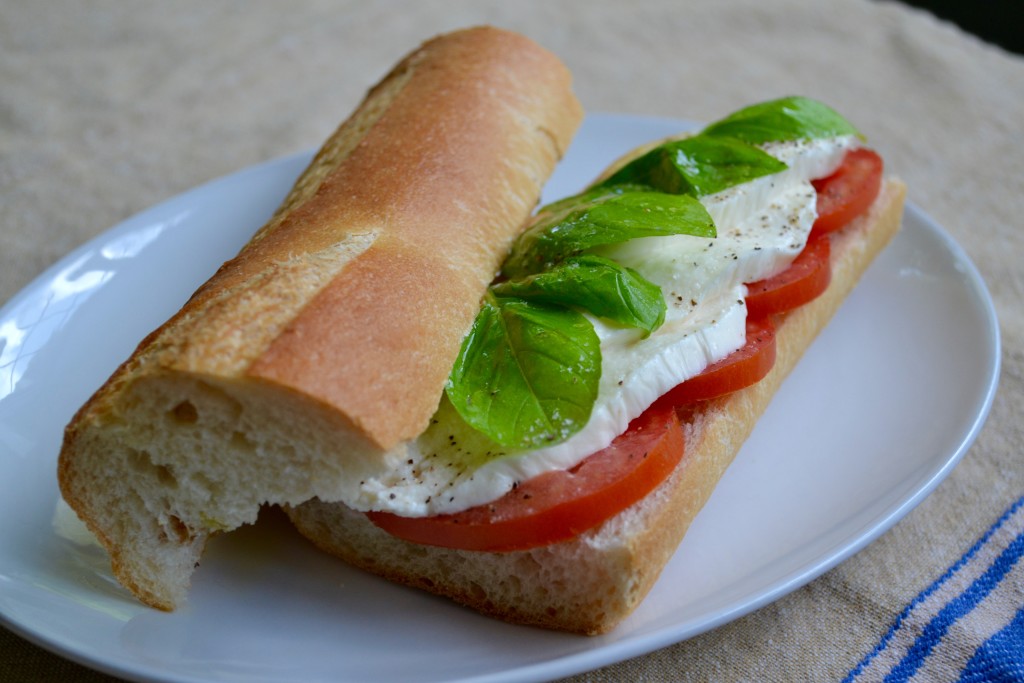 As promised in my You Say Tomato post, a word–or several hundred–on Caprese sandwiches.
My first Caprese sandwich did not come easily. Our first two hours in Rome consisted of the following: getting our backpack stuck in the overly crowded subway doors; arriving too early to check-in to our hotel; Ed being bitten by a horse; and receiving a scolding from an Italian policeman–not the best way to start out a ten-day stay of my first trip abroad. Once we found out our hotel room wasn't ready, we dragged our luggage to the first cafe we could find and grabbed a "Caprese" sandwich to-go. I wasn't exactly sure what was on that sandwich; after the long flight and crazy subway ride from the airport, all we wanted to do was sit down and eat it. Apparently the horse we walked by thought Ed was offering it up and decided to go for a bite…he took a bite of Ed's arm instead. Yep, that actually happened–fortunately, it did not break the skin, just bruised him pretty badly. After that we headed to the Spanish Steps, sat down and happily began to unwrap our sandwich–and then a policeman began yelling at us. Apparently, you are not allowed to eat on the Spanish Steps. O-kay… Starving, grumpy and a little disenchanted, we found a spot to sit and–legally-eat our food. We opened our sandwich to see what was inside. The sandwich was simple with only a few ingredients: mozzarella cheese, sliced tomato, and fresh basil on crusty bread. Finally getting to taste that sandwich negated all of the crazy things that had happened in the two hours prior. I thought that if the rest of the food on this trip was this good, our visit was going to be unforgettable–and it was.
We found this Caprese combination all over Italy in both sandwich and salad form. Although it has been fourteen years since our trip, fresh mozzarella and tomato sandwiches have been a long-standing favorite of ours. When you have such a simple sandwich, the quality of the ingredients that you use is incredibly important: the ripest tomatoes, freshly baked bread, fresh mozzarella cheese and fresh basil are the keys to making this sandwich memorable. Can it be made with regular sandwich bread, packaged mozzarella and dried basil? Of course, but it will not be the same. The cheese is the most important element of this sandwich–this brings me to Mazzarro's Italian Market.
Mazzarro's is THE market in St. Petersburg, Florida for all things Italian. Among other things, they have an exceptional cheese department and they make their own mozzarella every day. This hand-pulled cheese is delicate yet flavorful and soft with a bit of chew–it is unlike any mozzarella I have had before. When you pick up your ball of cheese, it is slightly warm. Do not even think about refrigerating it first…you will be sorry, I promise you. PS. Go early–they often sell out of this stuff around lunch time. Pick up a stick of Italian or French bread, some ripe tomatoes, and some fresh basil. I assume you have extra virgin olive oil and balsamic vinegar already in your pantry, don't you? If you don't, pick some of that up as well; you will quickly realize why these are such classic staples!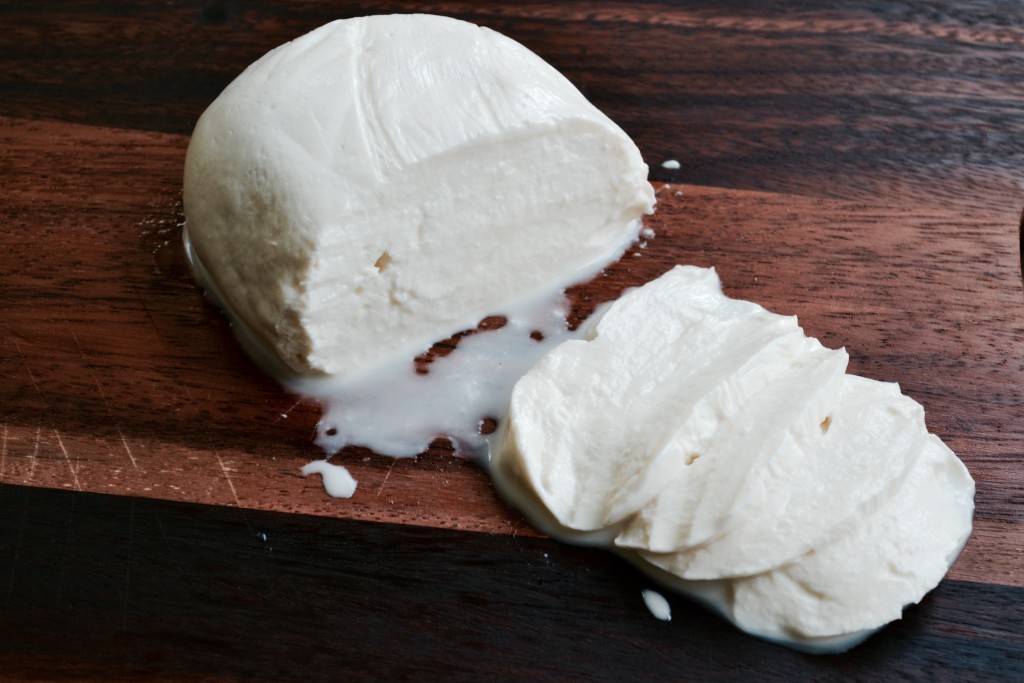 There is no recipe per se, it is a process; the process is as follows: slice and layer the oozingly delicious, room temperature cheese with sliced tomatoes and fresh basil on the cut bread. Season with salt and pepper. Drizzle some extra virgin olive oil on the other side of the bread along with a drizzle of balsamic vinegar. Try and make it to the table without devouring it on the way. Simplicity at its best. The end.
A few important things to note:
Note #1
: Sadly, the leftover cheese will need to be refrigerated. While it is still tasty after refrigerated, the cold does firm up the texture as well as change the consistency. It is not as flavorful after it is refrigerated, but, you can't eat the entire mozzarella ball in one sitting. Ok, you
can
…and you'll really
want
to…but you really
shouldn't
!
Note #2
: If you do not live near St. Petersburg, seek out a local cheese shop or Italian market that makes its own mozzarella and proceed as above.
Note #3
: If you are not local and you cannot find a cheese shop near you, there is a store-bought alternative sold at most grocery stores. Look in the cheese section for a ball of mozzarella that is either packaged in water or shrink wrapped: both should be specifically labeled
fresh mozzarella cheese
. While this option does not give identical results, it is still a pretty darn good sandwich. The remainder of the ingredients should be as fresh as possible to really maximize this sandwich's potential.
Note #4
: Minus the bread, these ingredients can also make a delicious salad. Either slice or chop the cheese and tomatoes, toss with torn or chopped basil and dress with olive oil and balsamic vinegar.
Buon Appetito
!