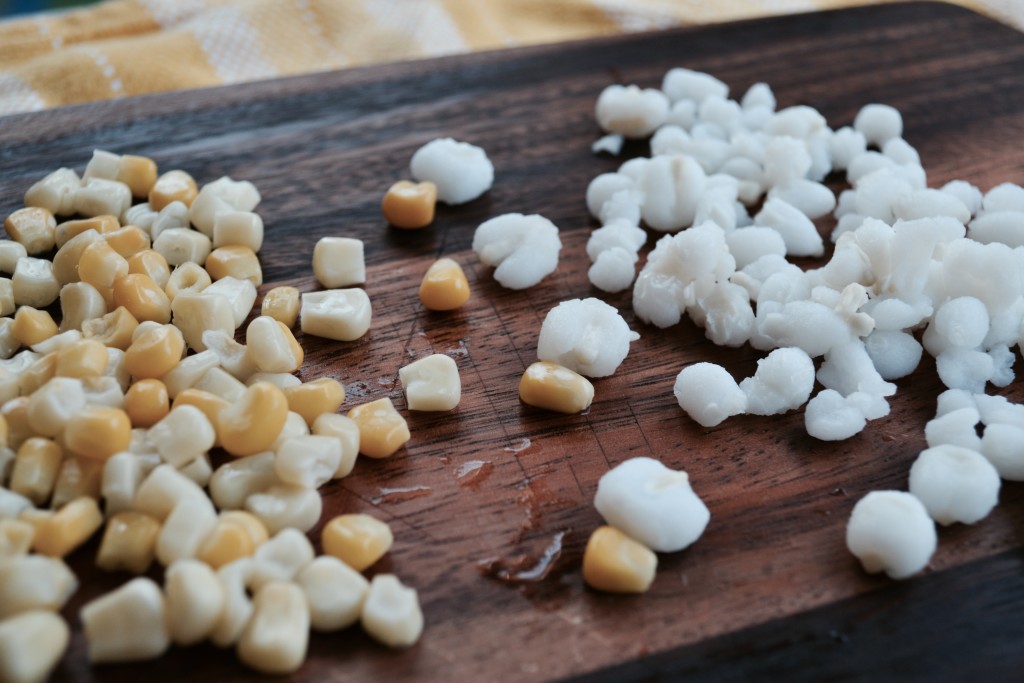 Today, my son says, "I don't like corn anymore". To which I respond, "Everett, you just had corn the other day". His facial expression tells me that that is irrelevant. Lately, we seem to be in an aversion cycle that changes almost daily: yesterday tomatoes and today corn—who knows what will be on the list tomorrow! Today's Tidbit is all about the loophole I have discovered to get around his newfound dislike of corn–Hominy! As my husband always jokes, "How many?"
So, what is hominy? Hominy is corn that has been specially treated to soften the kernel. This is done by using a lye or lime solution to strip the kernel of the tough outer and inner portion. The corn we eat today was not the same variety that was prevalent hundreds of years ago–that breed was quite tough and required this process to render the corn digestible. The end result of this process causes what's left of the kernel to swell up to around twice its normal size. The outcome is a puffy, chewy, hearty nugget of corn that is versatile in many dishes.  The kernels can be ground after treatment to create masa, which is used in the dough to make corn tortillas. Grits are made from coarsely ground hominy. So, even if you've never heard of hominy, you've probably been eating it most of your life–in another form. See, you learn something new every day!
Hominy can be made with either yellow or white corn. The canned variety is readily available at most supermarkets. I prefer the yellow–it tastes a bit sweeter than the white. Lately, I have only been using the white: the yellow has become difficult to find locally. Dried hominy is available online and is prepared the same way you would prepare dried beans: soak and cook.
Most people think of traditional Southern food when hominy and grits are mentioned. Their roots actually stem from Mexico, hundreds of years ago. Hominy takes me back to when I was a kid in Pittsburgh, PA—definitely not the South. My Gram ate it as a child and she introduced it to me. When I was young, she would fry it up for me—in an obscene amount of butter—and we would eat it just like that. These days, being more health-conscious, I cook down some onions and sauté the hominy in a small amount of oil and butter. It holds its shape very well, so it can stand up to soups and stews.  It is a must in my tortilla soup and chili. Hominy can also be used in fresher preparations such as salads and ceviche. When it's called hominy, my son will eat it with no problem…for today, at least.
The following recipe is one that I have been making for years. It is adapted from the Bobby Flay Cooks American Cookbook–it is creamed corn on a whole new level. The heat from the chipotle adobo sauce is tempered by the cream. I wouldn't recommend omitting it altogether–it adds a necessary kick.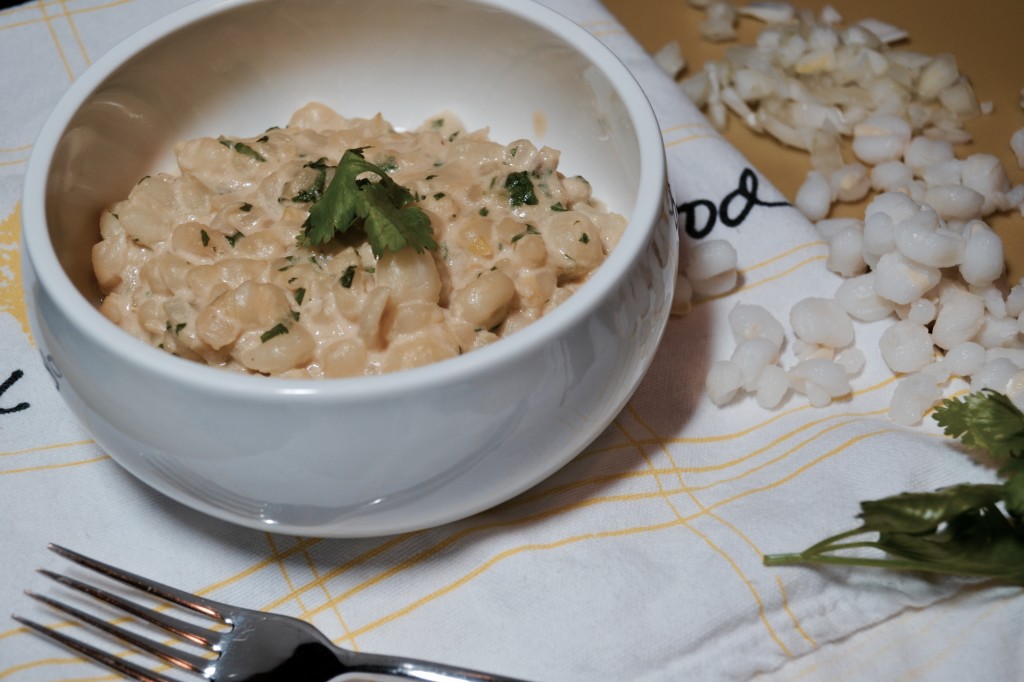 CREAMED HOMINY
This recipe is flavorful, but not too spicy. I have gone easy on the heat because I am making it kid-friendly. To kick it up, take the entire can of chipotle peppers in adobo and puree it. Start with 1 teaspoon of the puree–instead of just the adobo sauce–and increase to suit your palate. The remaining puree can be stored in the refrigerator for up to 6 months.
2 cans hominy, drained and rinsed
2 Tablespoons olive oil
1 cup onion, finely diced
2 cloves garlic, finely chopped
1 cup half and half, plus extra as needed
2 teaspoons adobo sauce (from can of chipotle peppers in adobo)
Kosher salt
1 Tablespoon honey
2 Tablespoons finely chopped cilantro
Heat sauté pan over medium heat. Add oil to pan. When the oil shimmers, add the onion and sauté until translucent. Add garlic and cook for one minute. Add the hominy and stir for 1-2 minutes. Pour in half & half and the adobo sauce and stir to combine. Turn heat down to low and simmer for 10 minutes until cream has been absorbed. If it appears too dry, add up to 1/4 cup more of half & half until creamy. Season to taste with salt and stir in honey. Remove from heat and stir in cilantro. Serve immediately.
Serves 4-6.