If I had a nickel for every container of hummus that we have gone through in the past year, I could probably buy myself a few cups of coffee from Kahwah. I say "we" loosely, but what I really mean is my husband, Ed: the quantity of hummus he consumes on a weekly basis borders on addiction.
It wasn't that long ago that Ed and I were discussing his "problem" and he suggested that given how much hummus he eats–and the fact that each carton costs around $4.50– maybe I should be making my own. I started questioning myself and why I had never attempted homemade hummus before. It wasn't out of lack of interest–I bought tahini with the intent to make hummus at least four times–and then I didn't…and the tahini expired every time. Tahini is a sesame seed paste that is an integral ingredient in hummus making.
I'm quite certain that one of the reasons has to be that hummus actually isn't my favorite–I find it bland and kind of boring. I'm pretty sure that hummus-haters are uncommon in the vegetarian universe. In fairness, I have tried dozens of different kinds hoping to find a favorite, but I keep coming up empty-handed. So, as Ed and I were talking about making my own, he brought up our friend George, who always makes his hummus from scratch. This guy can really cook, so I thought, if I try his version and I still don't like it, then I will finally come to terms with the fact that hummus and I won't ever be friends. So, I felt motivated and reached out to George. He kindly shared his recipe with me and then, after all these years, I actually did it: I made my own hummus! And it was really good! And I think I could actually eat this on a regular basis! Seriously, what took me so long to try this? It's not like it was difficult, and all of the ingredients are staples in my pantry–assuming I don't let the tahini expire.
For being a basic, non-"flavored" hummus recipe, it is really quite flavorful. The lemon and garlic and paprika all seem to work together to complement the chickpeas as opposed to masking the flavor of the bean. It is a great baseline recipe for the seemingly endless possibilities of add-ins–I know roasted red pepper will be an upcoming experiment.
I tested this recipe with both canned and dried beans. The dried/reconstituted version was slightly creamier, but I didn't detect any difference in taste. If you opt to use dried chickpeas, see my note below for preparing them. Know that using dried beans take quite a bit of time to soak and cook before they are ready for the food processor. If you want some immediate gratification, canned is the way to go.
So, now it's your turn to stop spending money on store-bought hummus; homemade is so much better…and cheaper…and it's easy! If you don't have a food processor, a high-powered blender will work as well. Think of all the new shoes I could be wearing with all the money I would have been saving had I done this sooner. So, if you will excuse me, I 'm off to shop…this revelation warrants it. Thank you, George!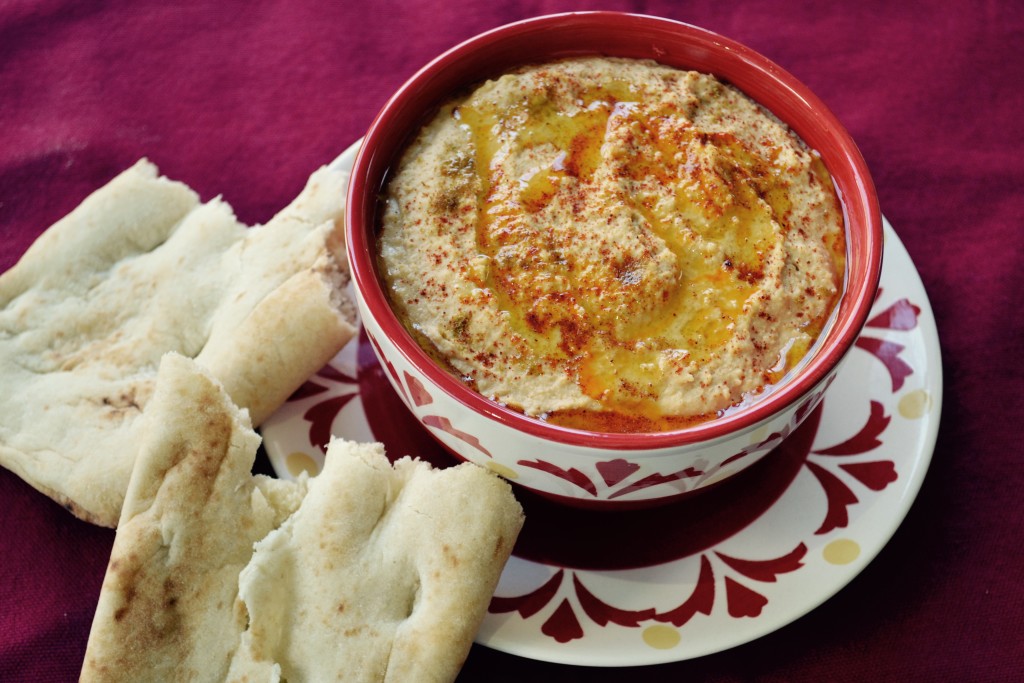 GEORGE'S HUMMUS
George's original recipe calls for regular paprika only. I love smoked paprika so much that I had to add some to the mix–it's my signature spice. If you don't have it on hand, just increase the regular paprika to 1/2 teaspoon.
1 (15 oz) can chickpeas, drained and rinsed OR 1 3/4 cup reconstituted dried chickpeas (see NOTE below)
1/4 cup tahini
Juice from 1/2 large lemon
1 large garlic clove, crushed
1 Tablespoon plain Greek yogurt
1 Tablespoon good quality olive oil, plus more for garnish
1 teaspoon kosher salt
1 teaspoon ground cumin, plus more for garnish
1/4 teaspoon smoked paprika, plus more for garnish
1/4 teaspoon regular paprika (increase to 1/2 teaspoon if you do not have smoked paprika), plus more for garnish
2-3 Tablespoons filtered water (if needed)
1/2 cup tomatoes, seeded and diced (optional)
Crudités and/or pita for dipping
In a food processor, combine tahini, lemon juice and yogurt. Process for 2 minutes. Scrape the sides and bottom of bowl then process for 30 more seconds. Add half of the chickpeas to the food processor then process for 1 minute. Scrape sides and bottom of bowl, add remaining chickpeas and crushed garlic. Process for 1 to 2 more minutes or until thick and smooth, stopping to scrape down sides of bowl as needed. While processing, add cumin, salt, smoked paprika, paprika and 1 Tablespoon of olive oil through the chute of the food processor. Scrape down sides again to incorporate all seasoning.
If the hummus is too thick or still has tiny bits of chickpeas, slowly add 2-3 Tablespoons of filtered water while machine is running, until preferred consistency is achieved. Scoop into serving bowl and garnish with a sprinkling of cumin, paprika, a drizzle of olive oil and top with tomatoes if desired.
Makes 1  1/2 cups.
NOTE: If using dried chickpeas, reconstitute by soaking 1 cup dried chickpeas in 4 cups of water overnight. Drain, add chickpeas to a pot and pour enough fresh water in to cover beans by 2 inches. Add a 2×2 inch piece of kombu to the pot–kombu is a seaweed that not only adds flavor to dried beans, but also softens the chickpea and helps decrease the gaseousness affiliated with beans–it is not necessary, just an added bonus. Turn heat to high and bring to a boil. Reduce heat to simmer, cover and cook for 2 hours or until beans are soft. Drain and proceed with the hummus recipe.