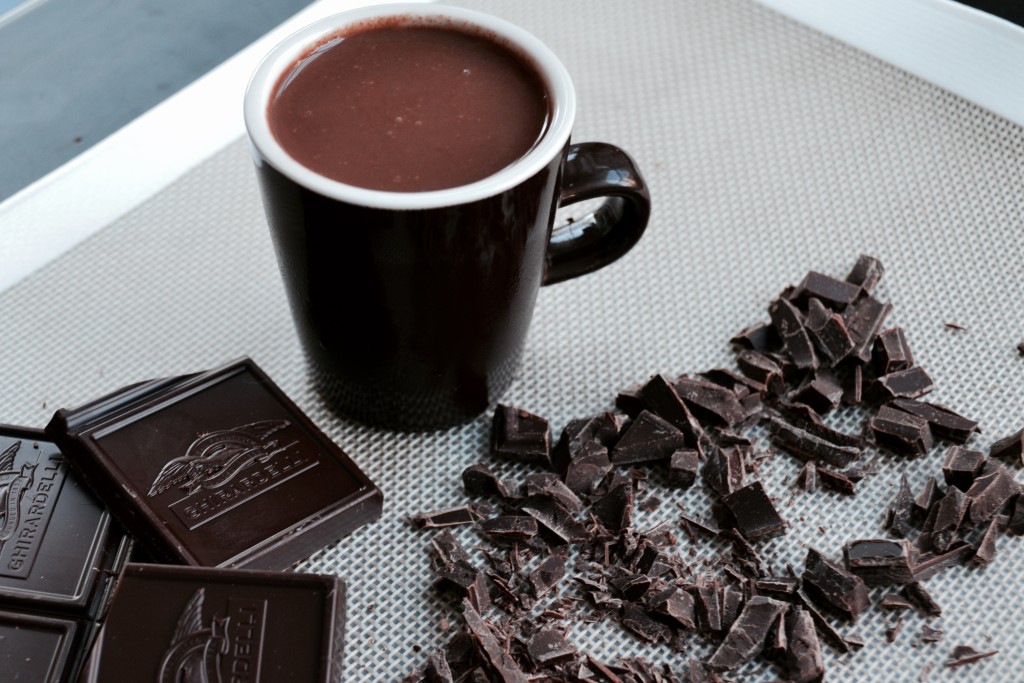 Now that the weather here in Florida is finally getting colder, it makes me want to go to my kitchen, grab a mug, and brew myself up something piping hot. My first choice is always tea–my tea selection rivals that of Teavana–coffee falls in as number two, and a close third is hot chocolate. I just love a steamy cup of hot chocolate with mounds of whipped cream or a dollop of marshmallow fluff floating on top. I grew up adding Ovaltine to my milk–to this day, it is still a staple in my pantry. When I want something extra special, I make myself a cup of drinking chocolate.
My first sip came a year ago, when our travels took us to Santa Fe, New Mexico. We stumbled upon a tiny little adobe that was home to Kakawa Chocolate House. This shop is not only renowned for its homemade artisanal chocolate, but also for its authentic, historic drinking chocolate. Drinking chocolate is hot chocolate's more sophisticated uncle. Its proportions are very different from its milky nephew–instead of mostly milk with a bit of chocolate; it is mostly chocolate with a little milk. This ratio gives the drink a thicker consistency, similar to ganache. This concoction is so rich, in fact, that the standard serving size is 2 ounces.  It is meant to be sipped, not gulped. It is pure chocolate nirvana.
The notion of "hot chocolate" dates back to Montezuma in the 1500's. Legend has it that this Aztec ruler would drink around fifty cups per day of liquefied, bitter cacao nibs blasted with a healthy dose of chile peppers for strength, courage and wisdom. Neither sugar nor milk was added to his drink of choice–the sweeter versions were later born in Europe. The drinking chocolate that is trending now is closer to Montezuma's elixir than it is to what we think of as our traditional hot chocolate.
Back on that cold December day in Santa Fe, we kept warm by sampling all fifteen varieties on Kakawa's menu—each was a unique blend of chocolate, herbs and spices. The flavors ranged from mild to spicy, bitter to sweet, and fruity to floral. All of their drinks were mixed with almond milk instead of regular milk, which lent nuttiness to their creations without weighing them down.
Kakawa's blends are truly unique and many other chocolatiers are blending up their own versions. While buying from these purveyors is a special treat, it is unbelievably simple to make your own drinking chocolate at home. The basic recipe is decadent on its own, but if you are feeling adventurous, try adding one of the spices or spice blends I've listed below. So right about now you are probably thinking, "Chili pepper, curry, and chai in a chocolate drink?" Trust me on this and try something new—I was feeling inspired by Vosges Chocolates: their line infuses exotic spices and flavors into their chocolate.
Now that I've said the word chocolate about fifty times, I know that you are feeling compelled to walk to your kitchen—as soon as you finish reading this, of course—and make yourself a cup of this seemingly sinful treat. With the portion size so small, you won't even have to share! Enjoy!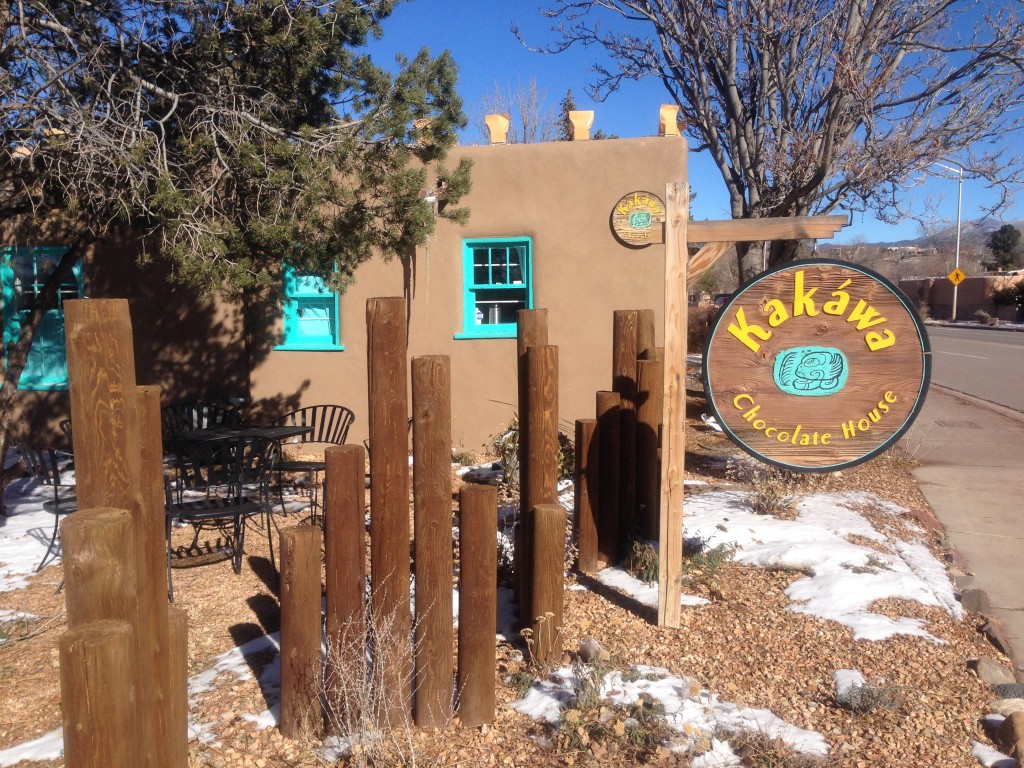 MONTEZUMA'S GIFT
You can control the amount of sugar in this recipe by using an unsweetened non-dairy milk and a chocolate with a higher percentage of cacao—70% or higher has little to no sugar added. For my taste, this recipe is the perfect balance between bitter and sweet.
4 Tablespoons good quality chocolate, chopped (I use Ghirardelli 60% bittersweet)
4 ounces vanilla almond milk (or milk of your choice)
Individual stir-in options:
1/4 teaspoon ground cinnamon (optional)
1/4 teaspoon pumpkin pie spice (optional)
1/8 teaspoon ground cayenne pepper (optional)
1/8 teaspoon ground chipotle pepper (optional)
1/4 teaspoon ground pasilla pepper (optional)
1/4 teaspoon ground ancho chile powder (optional)
1/4 teaspoon curry powder (optional)
Chai mixture (use all three of the following):
1/4 teaspoon ground cardamom
1/4 teaspoon ground ginger
Scant 1/4 teaspoon finely ground black pepper
Heat milk in a small saucepan until it is steaming. Do not boil. Add chopped chocolate, and spice/s if using, to heated milk. Remove from heat and whisk until smooth.  Pour into 2 ounce cup and enjoy.
2 servings.