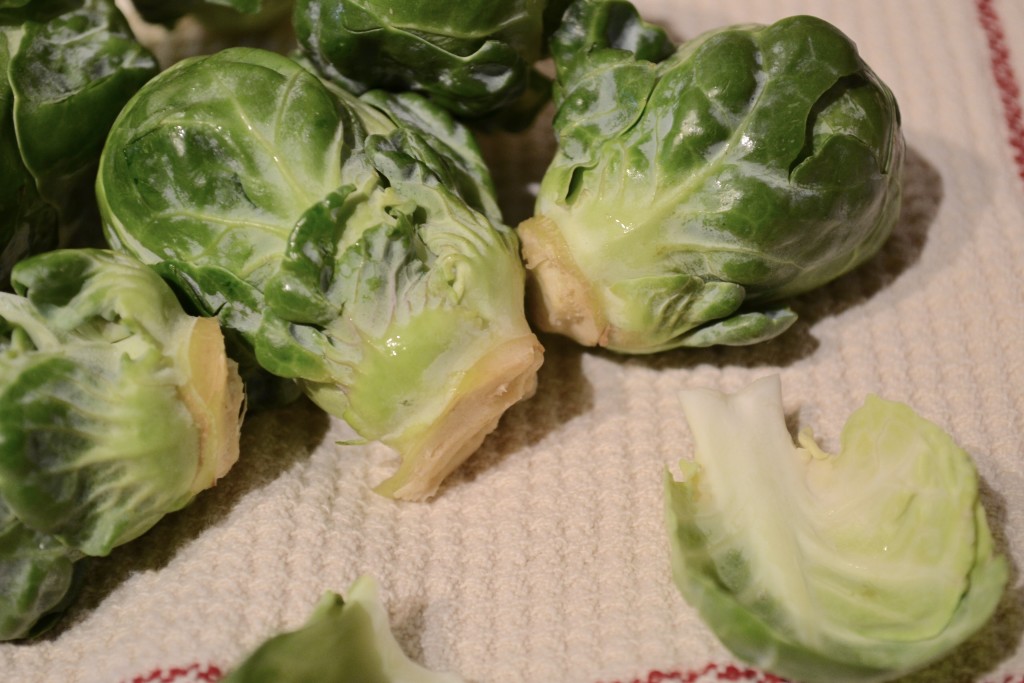 Well, we've made it to post #13 and I am guessing that by now you are thinking, "OK, Michelle, where are all of the vegetable recipes on My Veg Table?" Thus far, I've introduced many of my favorite recipes to you and most of them haven't had a speck of a vegetable in them. Fear not, the wait is over! Now I get to share one of my favorite veg recipes that receives the most skeptical looks: Roasted Brussels Sprouts and Red Grapes with Walnuts. That's right; the grapes are roasted in the oven alongside those tiny cabbages. Did you just raise your eyebrows, too? Trust me on this: if I can take a table full of the pickiest people I know and get them to not only taste this, but also agree that it's good, well, I think that I just might convert a few of you as well.
Remember in my Tradition post, when I told you how the three of us alternate families for Thanksgiving dinner? Well, this past year was the year with my in-laws. We often eat out for Thanksgiving with them; it's just easier. But, this year, Ed and I agreed that we should have dinner at our house. This was a challenge for me–this crew is really picky and not very experimental. So, I made some of their favorites–cornbread and mashed potatoes–and some of our favorites–carrot soufflé, my Grandmother's stuffing and these Brussels with grapes. Of course, only a few were game to try my sprouts. Ed had to pressure the rest of them into at least tasting them. Everyone at the table tried them and the consensus was that they were good! On second thought, maybe they were just being nice?? Seriously though, with this group, they have no qualms about telling it like it is, so I trust their feedback. Now, not many of them took heaping spoonfuls to their plate, but the point was for them to try something new!!
I agree that this dish has an unusual flavor combination, but if you think about it, it just works. The bitterness of the sprouts combined with the sweetness of the grapes and the added crunch of the toasted nuts are then highlighted with a drizzle of sweet and tangy reduced balsamic syrup–it hits all of your taste buds at once. Roasting is one of the easiest ways to bring out the most flavor in your food. Ed was very clear the first time I made roasted Brussels sprouts for him that he didn't eat those. Well, he did, and now they are one of his favorites. Even my son, Everett, claimed these guys to be his favorite veg for several years running! So, now it's your turn to try something new!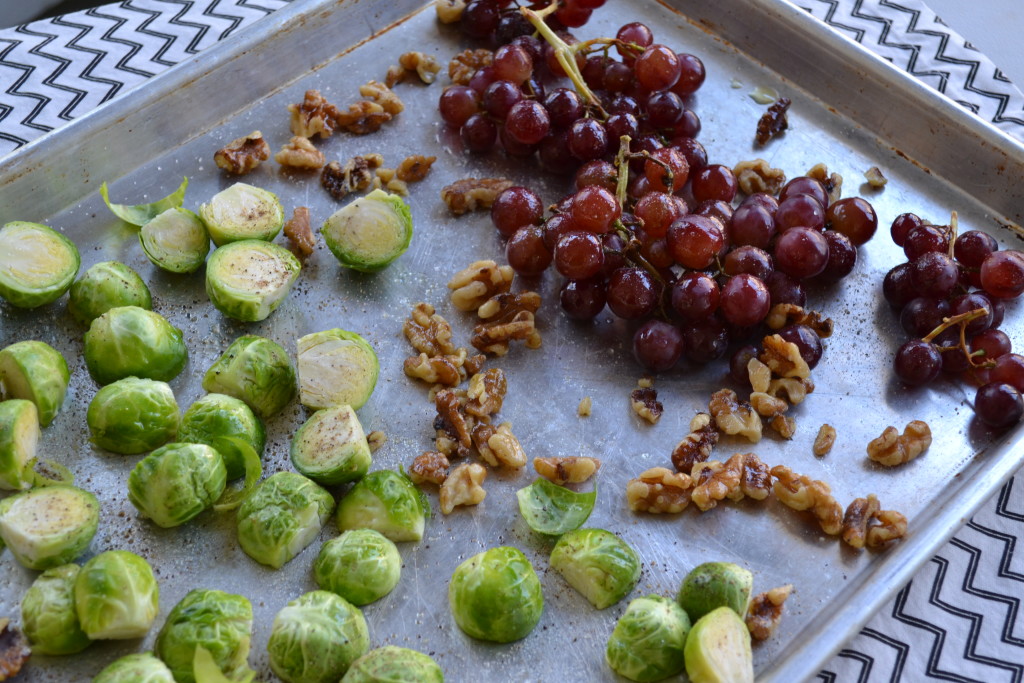 ROASTED BRUSSELS SPROUTS, GRAPES, AND WALNUTS WITH BALSAMIC DRIZZLE
The leftover Balsamic syrup can be poured on top of vanilla ice cream for a special treat–now you're really thinking I'm crazy, right?
1 pound Brussels sprouts, ends trimmed and outer leaves removed
2 small bunches of red grapes, washed
1/2 cup walnut halves
2-3 Tablespoons Olive oil, divided
1/2 teaspoon salt, divided
1/2 teaspoon freshly ground pepper, divided
1 cup balsamic vinegar
Preheat oven to 425.
Start Balsamic syrup. Add Balsamic vinegar to a small saucepan over medium heat. Cook the vinegar down until it reduces to 1/4 cup, about 25 minutes. Remove from heat.
While vinegar is reducing, cut Brussels sprouts lengthwise and add to a large bowl. Toss with 2 Tablespoons of the oil, 1/4 teaspoon of salt and 1/4 teaspoon pepper until evenly coated. Dump contents of bowl onto a sheet pan. Separate sprouts on pan so that they are not touching, reserve half of the pan for the grapes. Place Brussels in the oven for 10 minutes.
As sprouts are roasting, pat grapes dry and add to same bowl. Add remaining 1 Tablespoon oil, remaining salt and pepper and walnuts. Toss gently to coat.
Once Brussels have roasted for 10 minutes, stir sprouts and add grapes and walnuts to the pan.
Roast for another 15 minutes. Remove from oven, transfer to serving bowl and drizzle with balsamic glaze, (you will not use all of the glaze). Serve immediately.
Serves 4.