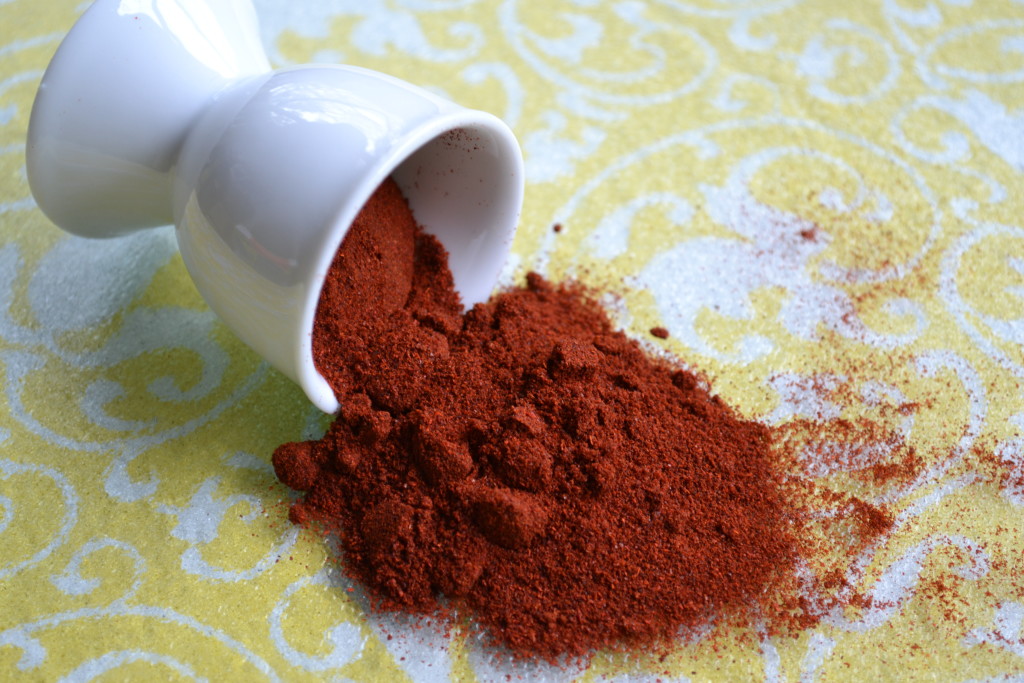 What is your favorite spice? For me, the award goes to this crimson beauty: smoked paprika. It's interesting because growing up, paprika had only one purpose as far as I knew: topping the cream cheese-stuffed celery boats that my Grandmother used to make. I remember it not having all that much flavor, but it made that little crudité look fancier and definitely more colorful. I always thought paprika was one of those spices that you should have on hand–you never know when you'll get a hankering for celery boats–but despite having it, I rarely used it. My attitude towards paprika changed when I discovered its smoky cousin.
Years ago, I read in Bon Appétit that the new it spice was smoked paprika: chefs were using it for everything from meats to desserts. I really questioned how this boring, lackluster spice could be causing such a commotion; I needed to see what all the fuss was about. They were right. The smokiness imparted into that ordinary ground sweet red pepper paprika was just the boost that this underused spice needed. It enhanced my eggs, soups, hash, guacamole, cheesy dishes, and so many other things with not only a beautiful deep red color, but also that hint of rich smoke that brought my food to life. I often use it to season along with salt, only not quite as liberally–a little of this stuff goes a very long way. Start with just a sprinkle and increase to suit your taste.
I used to be a BIG barbecue fan. Being a vegetarian, I find that I am often craving that smokiness that is so unique to barbeque–and I have yet to find offerings of smoked tofu or tempeh slathered in sweet or vinegary sauce. On the daily drive to my son's school, I open the windows just so I can inhale the smoke emanating from the BBQ joint on our route–cue the salivating. Using this paprika adds that smoky element back into my now meat-free cuisine. Here are some of my favorite recipes that taste extra special because of smoked paprika: tortilla soup, purist's guacamole, chili, and gazpacho. Give this spice a try to add a little pop of flavor–and smoke–to almost anything!
Because smoked paprika has a fairly short shelf life, I would recommend purchasing it from a spice store where you can buy small amounts at a time–after all, who knows how long spices have been sitting on the supermarket shelves! Two of my favorite spice stops are Penzeys and Savory Spice Shop: both provide spices that are fresh to order. When your smoked paprika begins to dull from a vibrant, brick red into a ruddy brown, it's time for a new batch. The fresher it is, the less you will need to liven up your food.