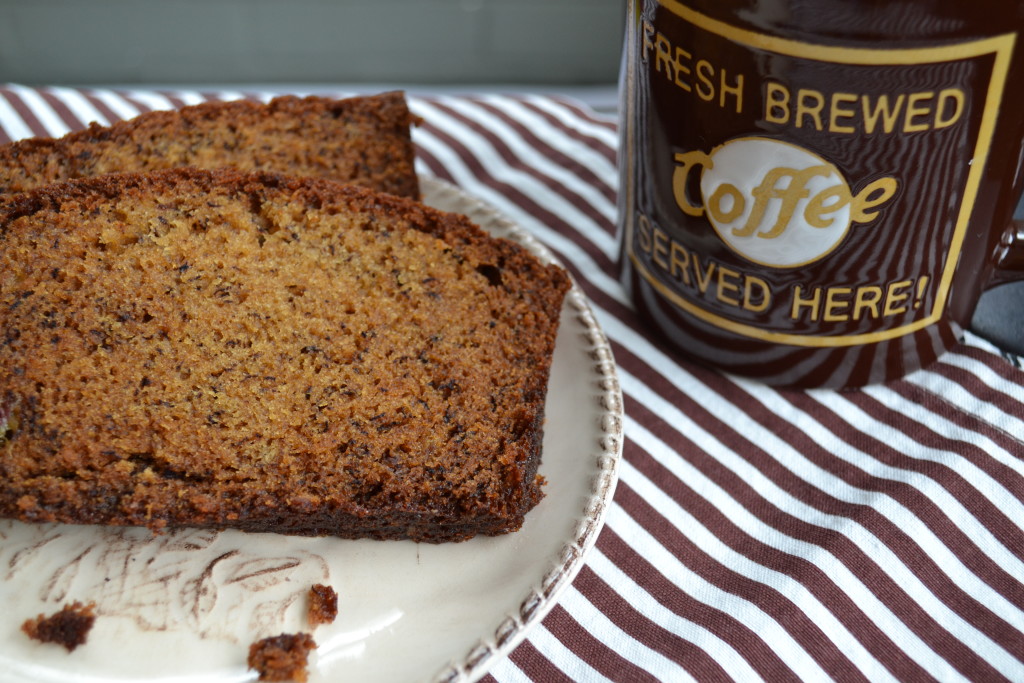 Let me just start out by saying that I don't like banana things; by things, I mean "things" made from bananas. I like bananas straight from the peel or in smoothies, but that's about it. When I eat banana things, there is almost always an artificial banana-y quality about it that my palate immediately rejects. My husband, Ed, doesn't understand it. In addition to eating a banana every day–yes, EVERY DAY–he loves all things banana.  This brings me to my story of the infamous banana bread and the recipe that made me a convert.
Years ago, when Ed and I first started dating, his mother would always bring him a loaf of banana bread…and then she started bringing me one, too. She is just so sweet, I didn't have it in my heart to tell her how I cringe when I smell that smell, and I certainly would not be eating it—my better-half happily took mine.  When we honeymooned in Hawaii, we were armed with our Maui Revealed–The Ultimate Guidebook by Andrew Doughty & Harriet Friedman as we traveled around the island. Ed is quite the researcher and read that book from cover to cover before our trip. Out of everything that Maui has to see, he read about "a lady at a stand…who makes the best banana bread on the planet." He wanted to drive to Kahakuloa Village to see if we could score ourselves a loaf. That one little sentence in a 300 page book took us on one of our most memorable adventures. I was a bit skeptical, but what was I going to tell my new husband, "No, sorry, I'm not about to meander around this island looking for one random woman at a stand that may or may not even be there."? So, off we went.
It was a white-knuckle ride as we drove around the dangerously narrow and steep roads of Maui–with my motion sickness in full effect–on a quest for bread. Finally, we drove around a corner and saw an unmanned stand. There was a lone loaf of bread carefully wrapped in plastic wrap sitting on the perch of this wooden "storefront" and an empty jar sat next to it. We assumed this was an honor stand—we had seen some others on the island—but there was no sign. So, we looked around and saw no one, put our $5 bill in the jar and drove off with our prize. Was this the banana bread that we sought? Ed hoped that it was. He ripped the wrap from one end and took a bite. "You gotta try this!" he prodded. Being more civilized, I took the plastic knife I had waiting and sawed off the tiniest sliver for myself. The smell still did not tantalize me, but, we drove this far, right? Besides, Doughty & Friedman loved it enough to put it in their book, so, I tried it.   It. Was. Fantastic!   Between the two of us, that loaf lasted all of six hours. We tried to save some for the next day, but our willpower was on vacation as well.
For the next twelve years–literally–I tried recipe after recipe trying to recreate what we found on Maui that day. No dice. Some were more tolerable than others, but overall, none of them had me going back for more. Ed–always my guinea pig–gladly ate all of my experiments.
One day last year, I was reading through my Bon Appetit from March 2013 and came upon an article called "A Slice of Paradise" by Andrew McCarthy–yes, Andrew McCarthy, the actor.  For the record, two of my favorite movies from the 80's are Mannequin and Pretty in Pink–I really had a thing for him. Andrew had a home in Maui years ago and his story was about his quest for the banana bread that gave him such warm memories of his time on the island. He drove around and sampled many different loaves, but in the end, the bread he found at "Julia's" stand–in the village of Kahakuloa!–was the one he was longing for. While I wanted to tear into the kitchen and immediately bake us up a batch, I had to wait for our bananas to really ripen–that was the longest four days ever. When the bananas were just spotty enough, I made the best banana bread that I have had since 2001: it took us right back to our honeymoon. The crazy thing is that the recipe is so simple: it has only seven basic ingredients; however, there is beauty in its simplicity. It is moist, rich, and banana-y, without that artificial taste that usually has me running for the hills. The bread has a firm texture without being dense: it doesn't crumble to pieces as you eat it. It is best when it is warm from the oven and it's even great the next day–if it lasts that long.  Since discovering this article, I have made this bread no fewer than two dozen times. I have played with the recipe a bit for fun; I have only made a couple minor tweaks. I have created a pumpkin version that totally beats most pumpkin breads I have eaten, but I only seem to make that variation when I have no bananas.
It's hard to know for sure if "Julia" was the baker behind our bread all of those years ago–although there's a pretty good chance she was. What I do know for sure is that Ed and I are eternally grateful to Andrew McCarthy for giving in to his craving, flying back to Maui, consuming mass quantities of this regional specialty, meeting the famous Julia, recounting his pilgrimage to Maui in the pages of BA and ending our seemingly futile search for the banana bread recipe that made me love banana bread. As a final note, it is important to state that this remains the only banana bread that I will eat and this is how it earned the title of My Favorite 'Sweet' Recipe of 2014.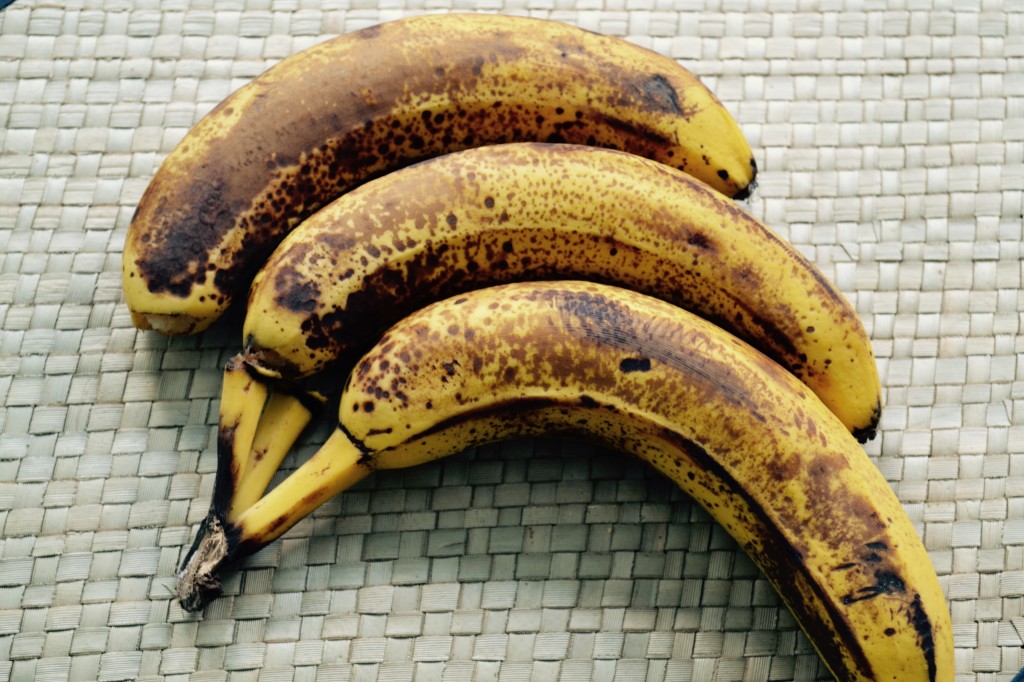 BANANA BREAD WORTH DRIVING AROUND A CLIFF FOR
Two bowls and a loaf pan are all you need to make this simple, amazing bread. Note that the original recipe does not call for vanilla, but I am a big believer in the fact that vanilla makes all baked goods better…feel free to omit it.
1  3/4 cup all purpose flour
1  1/2 teaspoon baking soda
3/4 teaspoon kosher salt
3 large eggs
1  1/4 cup sugar
1 cup mashed, ripe bananas (about 3-4 large)
3/4 cup vegetable oil
1 teaspoon pure vanilla extract
Preheat oven to 350 degrees. Spray a loaf pan (9x5x3) with non-stick cooking spray. In large bowl, whisk together the flour, baking soda, and salt. In another bowl, whisk eggs, sugar, banana, oil and vanilla until smooth. Add dry ingredients to the wet ingredients. Stir until just combined and you no longer see any flour. Pour batter into prepared loaf pan. Tap pan down on counter once to even batter. Bake 60-75 minutes, rotating pan halfway through baking, until a tester comes out clean. Allow bread to cool on wire rack for 15 minutes. Take a knife and run it around the pan to release the bread. Invert pan onto a rack to remove the bread. Flip bread back right side up and allow to cool—can be eaten warm if you can't wait. Once completely cool, wrap in plastic wrap and store at room temperature for up to 4 days.
PUMPKIN BREAD VARIATION
If bananas are not on the top of your favorites list, try this pumpkin variation.
Substitute 1 cup pumpkin puree, (not pumpkin pie mix), for the banana. Add 3/4 teaspoon cinnamon, 1/2 teaspoon nutmeg, 1/4 teaspoon ground ginger, and 1/4 teaspoon ground cloves to dry ingredients.
Proceed as per above instructions.