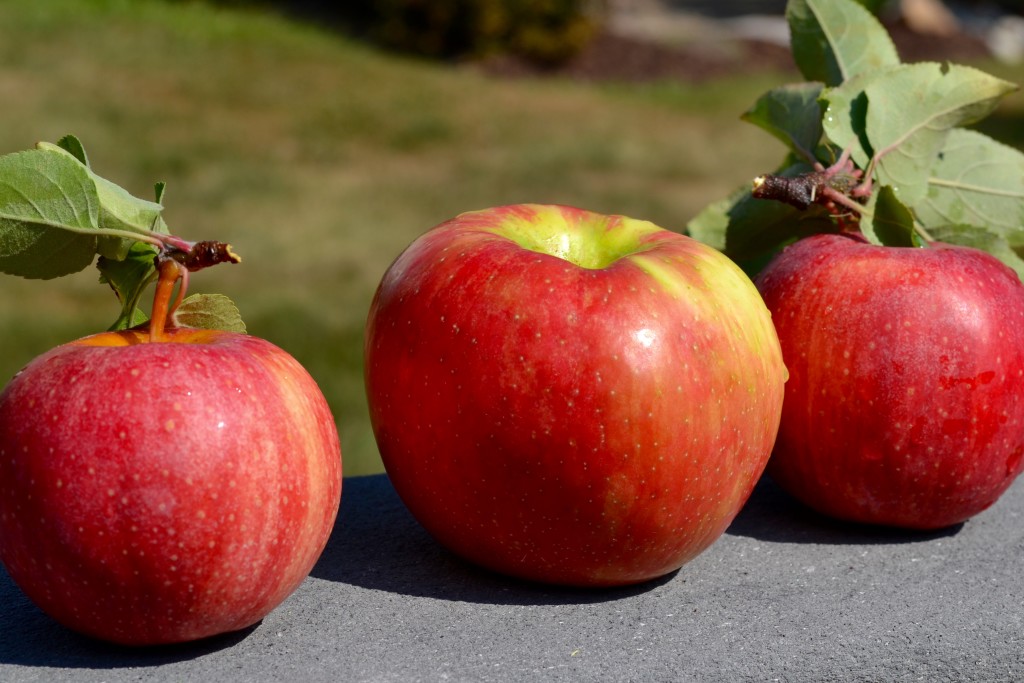 I know what you're thinking; you don't even have to say it: "Breakfast again?!" It is said to "write what you know," and I know breakfast foods–oddly enough, I rarely eat them in the morning. So much so, that when my son was younger, I made eggs for breakfast one morning; he promptly told me, "Mommy, eggs are for dinner, NOT breakfast!" This isn't a post about breakfast per se; it is about apples–and lots of them.
Every Labor Day weekend, I get away solo to see family in Pennsylvania: a true vacation from my duties as a stay-at-home mom. On this last visit, I got to pick my first apple from an orchard; it's just one of those little things that Floridians don't get the luxury to do. My three previous visits took us to the Jersey shore, but my 2015 trip had us traveling west to Gettysburg and Lancaster. Although I was born in Pittsburgh and lived there until I was ten, we never ventured out to either of these cities–I was excited to check them out!
Seeing Gettysburg was amazing; the history in this post-battle town was palpable and impossible to see in only one day. We crammed as much as we could into 24 hours: took the auto tour of the city with my Uncle serving as the ultimate tour guide; checked out quaint shops; drank some local beer; and walked around the city at night on a ghost tour. No trip for me would be complete without buying a piece of art; I picked up an original watercolor from a local artist that sets up his easel outside Mr. G's Ice Cream shop.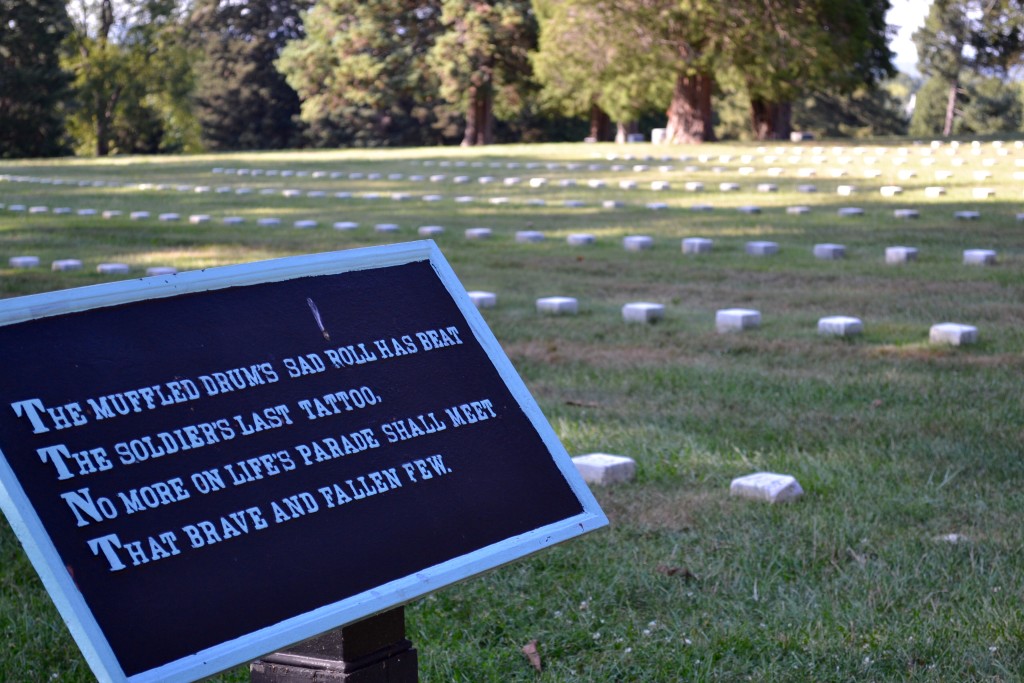 On our way back east, I wanted to stop and see Lancaster. In recent years, I have grown to have such an appreciation for how things come to be and the essence of simplicity. I wanted to see life without all of the technological "norms" that today's society can't seem to live without. While Lancaster has become quite the shopping mecca, there are still Amish residents who go about their day driving horse-drawn buggies, maneuvering horse-drawn plows through their fields, and hanging their clothes out to dry on clotheslines that seem to stretch for miles. While we were making our way through the shopping village, I saw a table lined with baskets of fresh peaches and apples. I bought some peaches to bring back to Florida and then my aunt mentioned that she had an orchard near her home in Downingtown. I knew right then what we would be doing during the last day of my vacation: apple picking!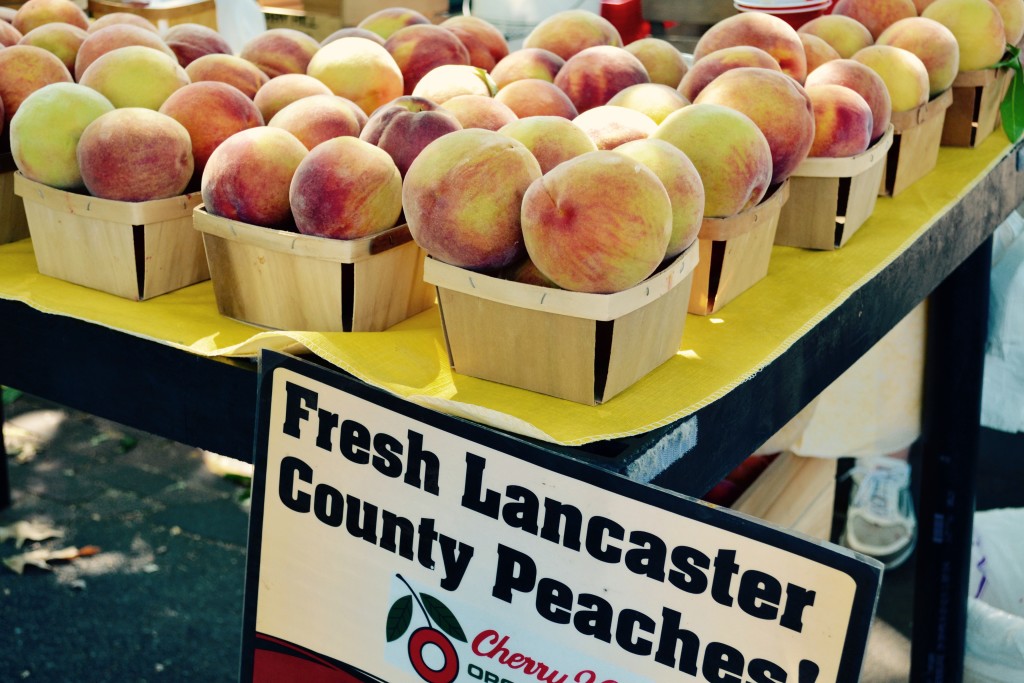 That next day, she and I harvested over 20 pounds of apples on our picking adventure; I was able to bring home close to ten pounds in my carry-on–thank goodness for rolling suitcases! Now, what to do with all of these apples? The Honeycrisps did not pose a problem: they would be for snacking. The Galas would be the ones to cook/bake with…enter my conundrum.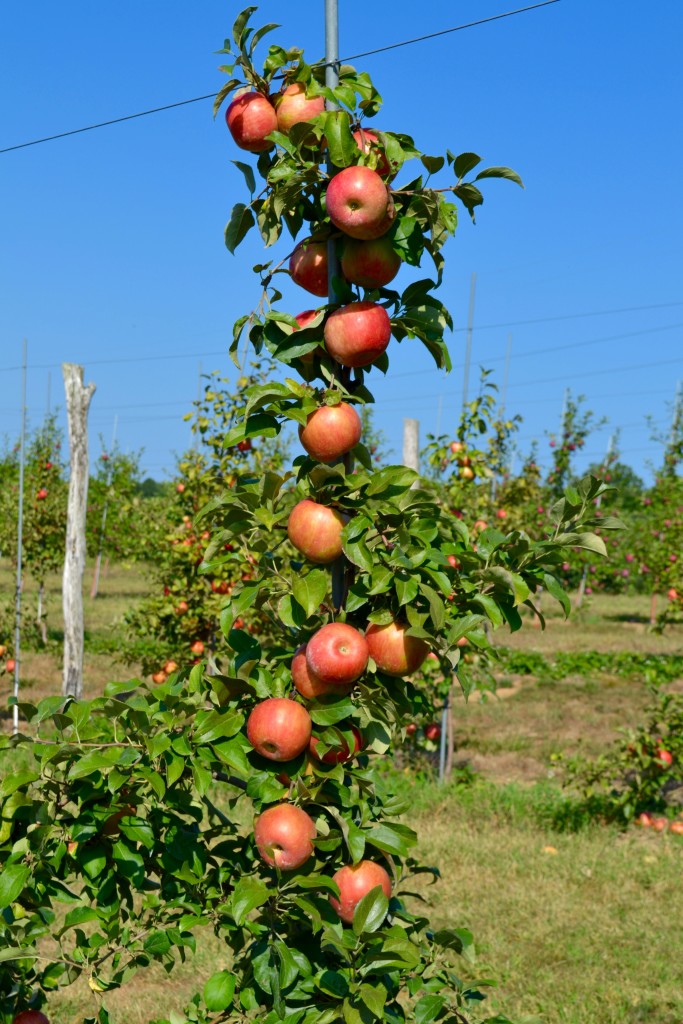 I wanted to make something that was both simple and highlighted the apples. My husband would quickly chime in, "Make a crisp!", but I've done that so many times, it seemed overdone. Then I remembered a dish I love to bake that would really allow the apples to shine: a Dutch baby. This recipe and I go back decades; I discovered it in my Better Homes and Gardens Pancakes & Toppings cookbook–and it is virtually foolproof.
A Dutch baby is a skillet-sized pancake that is prepared in the oven and puffs up to gravity-defying heights as it bakes. It is finished off by pouring cooked fruit into the center, garnishing with whipped cream or powdered sugar, and slicing and eating as it deflates. Cherries, nectarines, plums, peaches, or bananas can also be used to make this tasty, humble dish, but something about apples cooked in butter and spices makes me feel like I'm eating pie for breakfast–or dinner.
There is some debate over how this dish got its name; there is no clear history of it being of Dutch origin, but rather German. The Germans call it Apfelpfannkuchen–"apple pancake". The consensus seems to be that the word Dutch actually comes from word Deutsch–meaning German; somehow, over time, the proper pronunciation was lost. I found no research addressing the baby part of the name, so that is anybody's guess!
Want to impress your guests? This dish is all about the presentation. But, know that timing is of the essence. Once it reaches its maximum height, it will begin to slowly deflate; your fruit should be at the ready the second the pancake comes out of the oven. You can either move the pancake to a plate and then add the fruit or keep it in the pan, add the fruit and slice from there–the choice is yours.
Even after twenty years of making this recipe, I've always attributed it to being a sweet dish. As of late, I have been seeing savory Dutch babies popping up all over–a true testament to the flexibility of this pancake.  I've seen cheese variations and some filled with veggies and cheese; both sound so tempting that they will be next on my experimentation list. But, for now, my affinity for sweet breakfast foods continues to trump the desire to switch things up. When I discover a savory version worthy of sharing, you all with be the first to know…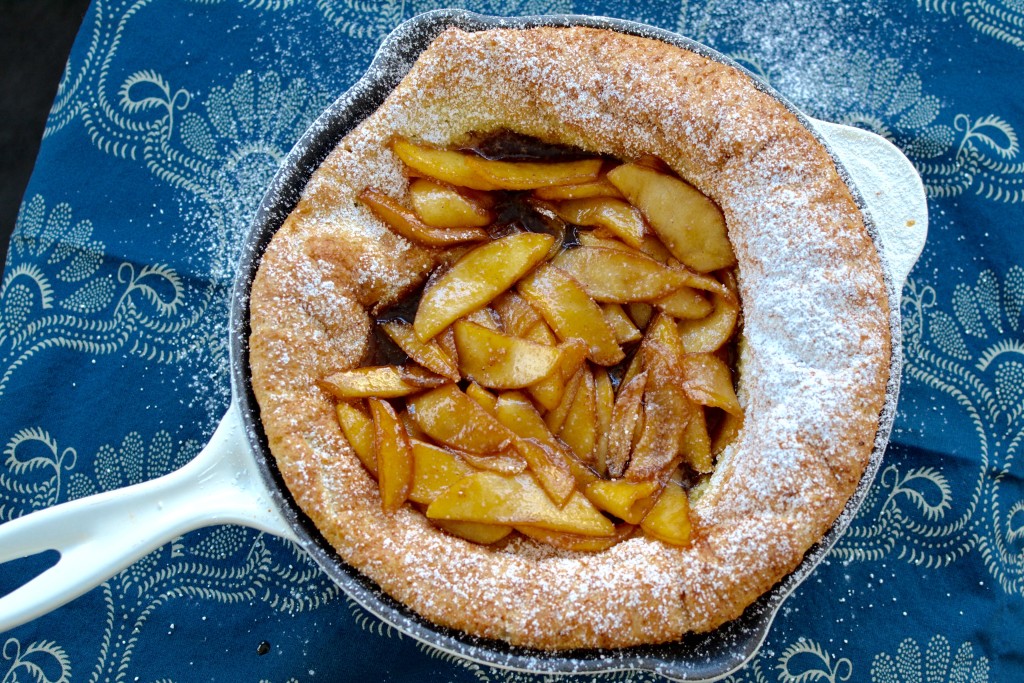 BROWN BUTTER SPICED APPLE DUTCH BABY
The best apples to cook with are Gala, Granny Smith, Fuji, and Pink Lady. As much as I love saving Honeycrisps for snacking, they work really well with this recipe, too!
Pancake
3 eggs
1/2 cup all purpose flour
1/2 cup almond milk, or regular milk
2 Tablespoons butter, melted
1/4 teaspoon salt
Filling
2 Tablespoons butter
1/3 cup packed brown sugar
2 medium cooking apples, peeled, cored and thinly sliced
1/4 teaspoon ground cinnamon
1/4 teaspoon ground mace or nutmeg
1/8 teaspoon ground ginger
1/8 teaspoon ground cloves
1/8 teaspoon kosher salt
1 Tablespoon fresh lemon juice
Powdered sugar or whipped cream for garnish
Preheat oven to 450 degrees.
In a mixing bowl, beat eggs until foamy. Whisk in flour, almond milk, salt, and 1 TBSP of the melted butter until smooth. Set aside.
Heat an 8-inch ovenproof, non-stick skillet, preferably cast iron, in preheated oven for 5 minutes. Add remaining butter to skillet and swirl to coat pan. Pour batter into hot pan. Bake pancake in the oven for 18-20 minutes until puffed and golden.
While pancake is baking, make filling. Melt butter in large skillet over medium heat. As butter begins smell nutty and you see brown flecks the bottom of the pan, add apples and stir to coat. Once apples begin to soften, add brown sugar, spices and salt to pan. Stir gently until sugar begins to melt. Cook apples uncovered for 5-10 minutes until tender. Add lemon juice, stir and reduce heat to low and allow to simmer if pancake has not finished baking.
Remove pancake from oven. Pour apples into center. Dust with powdered sugar and slice to serve. Finish with whipped cream if desired.
Serves four as a main dish or six as a side.