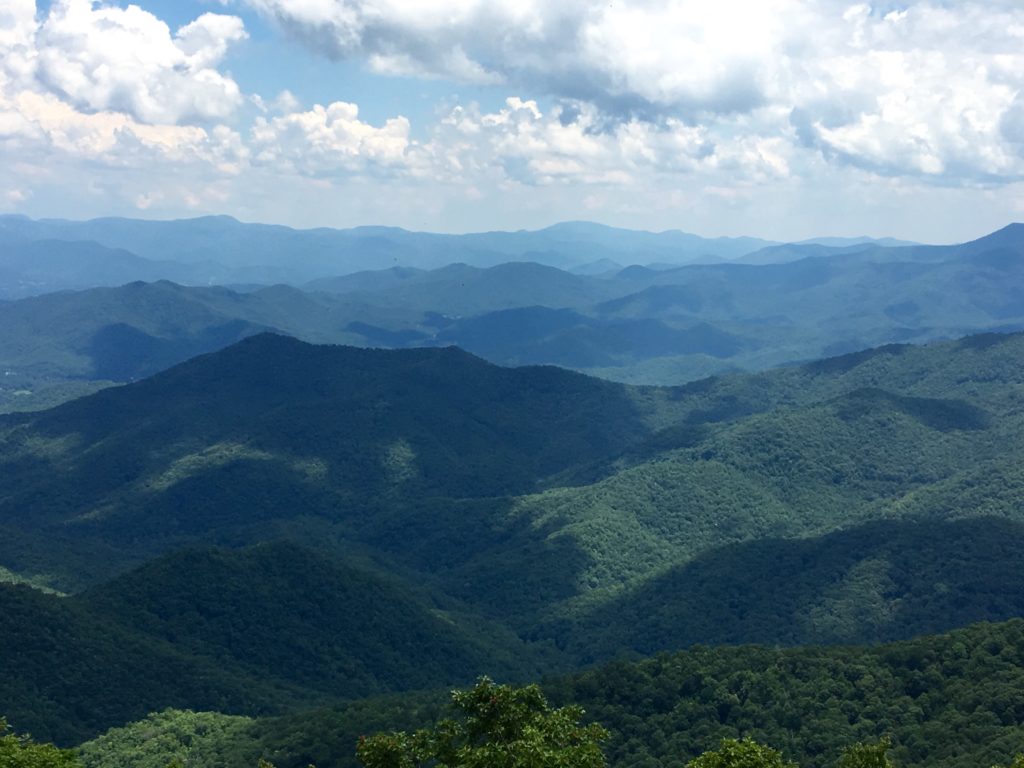 My family and I always seem to be eating our way through some city or another. Our summer trip to North Carolina was a bit different. Because this was our longest road trip to date with our 8 year-old son, Everett, the car was full of snacks and food packed for on-the-go; there was no stop every two hours for food. We stayed in the Franklin, North Carolina mountains, about 20 minutes out of town; instead of a hotel, we rented a cabin. Cooking in our cozy digs for the week made us feel more like residents than tourists. As a result of not eating out five times per day, we did not do our usual whirlwind culinary tour of town–however, we did do some drinking.
Living in St. Petersburg has spoiled us; we have coffee places and local breweries around every corner. When we venture out of our little town, those are the top two things on our radar. Rule number one: no coffee shop chains that we have at home–sorry, Starbucks. Rule number two: local craft beers only–no imports. With the current craft beer boom, we had no problem sticking with number two. To get the full mountain-town experience and to search for proper beverages, we ventured out to several of the other cities within a sixty-mile radius of Franklin: Bryson City, Sylva, Highlands, and Cashiers. On the route home, we drove through Greenville, SC and Savannah, GA all on the same quest. Here were our favorite drink stops along the way:
First stop every morning: coffee. Since our cabin was so far out of town, we took our Nespresso coffee machine with us for our morning joe. But, when we were out and about, we were on the lookout for some local brew. After visiting a Kona coffee plantation in Hawaii, my husband, Ed, and I learned to drink coffee black. As bracing as it felt at the time, I learned what coffee is actually supposed to taste like: not like the flavored syrups and creams that I was always dumping into my cup. I'm a black coffee convert now–except for the occasional treat of something sweet and syrupy–so I am always on the search for good tasting coffee; this trip did not disappoint.
Our first fantastic coffee find was at the Mountain Fresh Grocery Store in Highlands, NC. This wasn't your typical grocery store; it was an epicure's delight. We met up with some friends and while the kids ate, we pored over the dozen or so varieties of coffee. All roasted in house. Each sounding better than the next. We took the House Blend and the Ethiopian beans back to our cabin and served them up for the rest of the week.
Sylva's Signature Brew Coffee Company features organic, fair-traded coffee that is roasted onsite. There is something special about a place that takes such pride in their coffee and in the process of making it. Their iced coffee–black, of course–was strong without a hint of bitterness.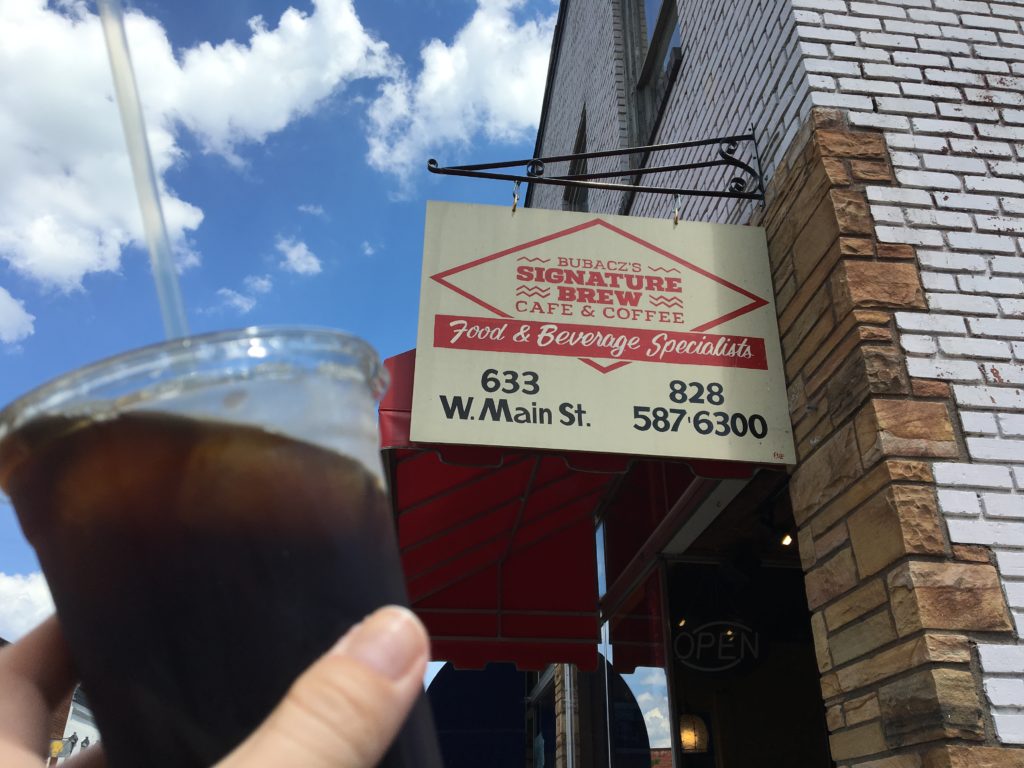 Lastly, in Savannah, we got lucky, twice. The Coffee Fox had cold brew, amazing pastries and one of the most unique drinks I've ever found in a coffee shop: Horchata Latte. The thought of that sweet, cinnamon-laden rice milk drink combined with espresso was a no-brainer. I should have ordered two! It was so fantastic; I need to immediately concoct that at home!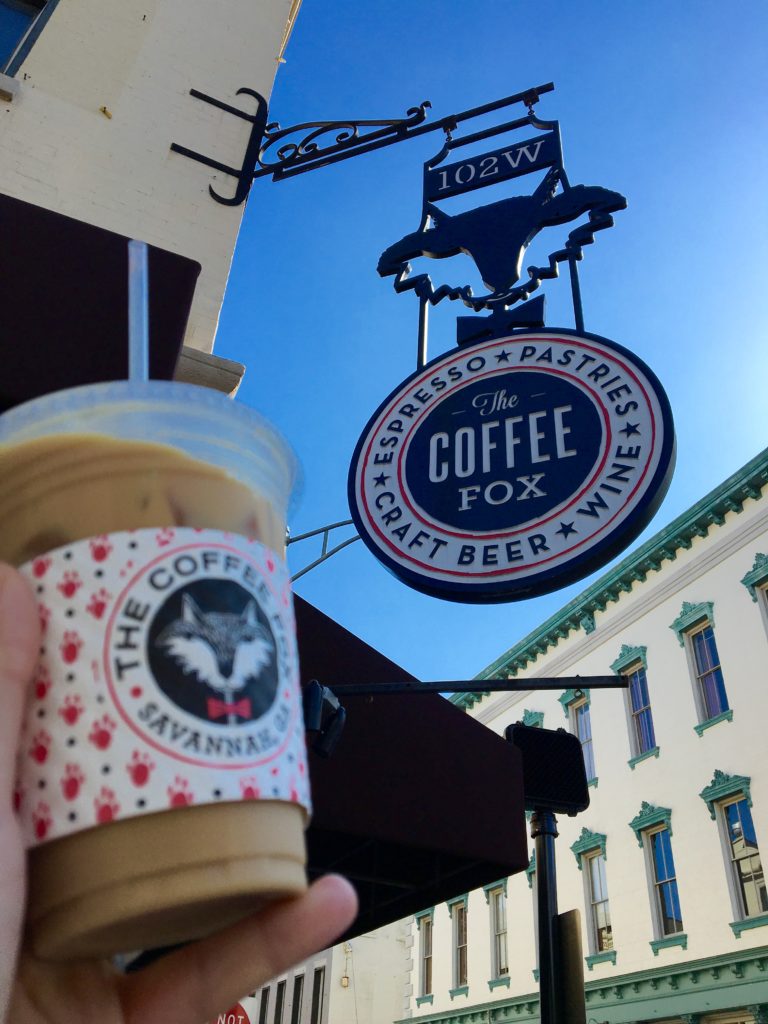 The second find of all finds on our tour of Savannah was a café called Mate Factor. Although mate is highly caffeinated, it doesn't give you the same perk-up, crash-down effect as coffee. The green chai mate was creamy with just the right amount of spice. The pastries and homemade breads offered were as tasty as this place was quaint. Um, sweet potato pound cake?!? Yes, please! The all-wooden, sunken seating area was a fun place to eat and drink; it felt like eating on a pirate ship.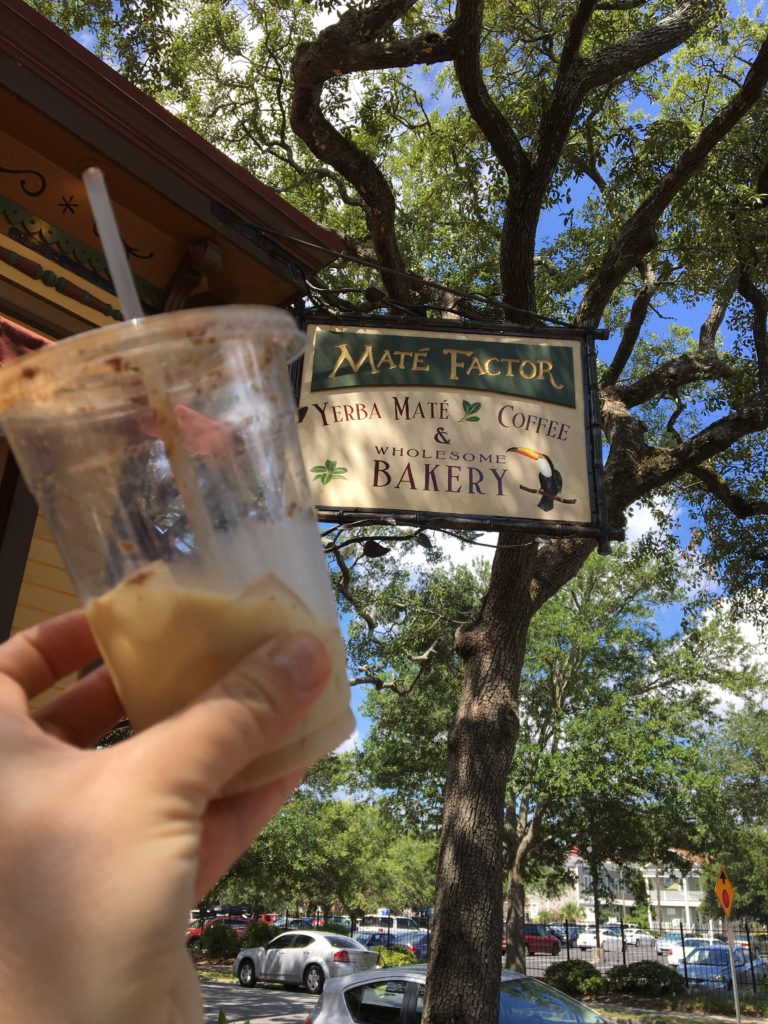 Coffee by day, breweries by night–or by mid-afternoon, for that matter. It took many long years for me to appreciate beer, let alone go in search of it. We were on a mission; and through multiple cities and four states, we were handsomely rewarded with the brews we found.
Franklin's Lazy Hiker Brewery is in the heart of downtown. We sampled the Trail Mate Golden Ale and the Belgian Dark Strong; the latter was my favorite. As we played mega-Jenga on the patio and enjoyed our beverages it began to rain. It felt like being back in St. Pete with the fleeting showers and the fun outdoor vibe.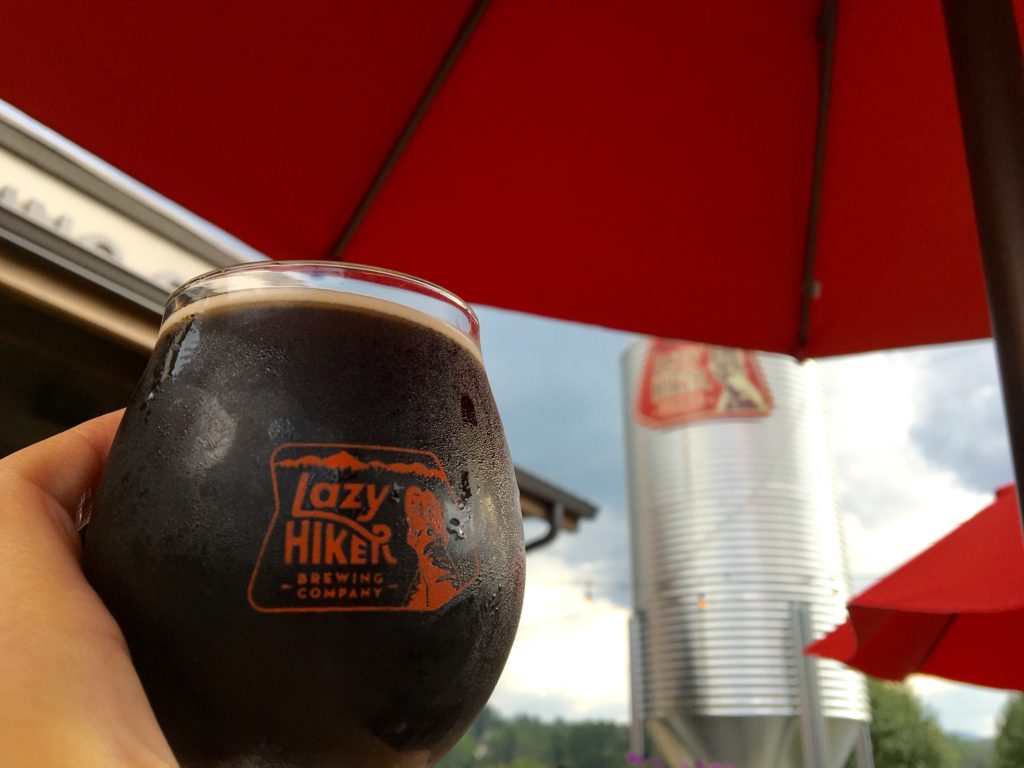 After a day of white water rafting, we drove through Sylva, NC. Sylva's Innovation Brewery was just that–innovative. With so many styles and creative flavors to choose from, a flight was the way to go. We sat outside, overlooking a creek and drinking our way through a Sour Blonde, Nitro Coffee Blonde, Nut Brown, Irish Stout and an incredibly dark Porter. My son enjoyed a fiercely gingery ginger beer.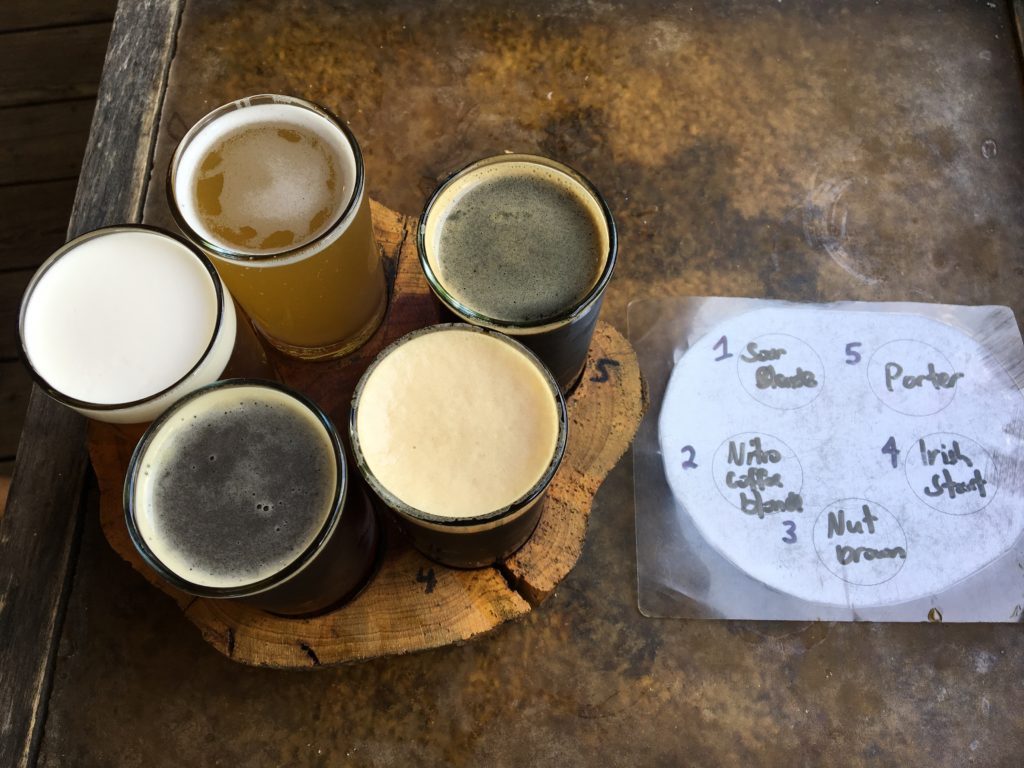 Stopping over in Greenville, SC, we had a proper French lunch at Passerelle Bistro overlooking Falls Park. Fresh-baked bread, trout on toast, butter bean salad, radishes with salted butter, and a kid's steak and veggies meal were all served up right at the entry of the bridge, overlooking the river. To drink, we were surprised by how smooth and distinctively subtle the smoke was in Quest Brewing Co.'s Smoking Mirror Porter.
Aside from the experience of visiting another city, state or country, food is the next most important part of any trip. Where we eat often defines the places we visit with a focus on locally grown/produced edibles and food specialties unique to that area. Craft beers and coffee are often included in our taste experiences, but this trip truly focused on these finds. It's a new way of traveling for us. I suppose it's the equivalent of seeking out the best desserts on every leg of the trip—as we did in Quebec City—but this go 'round our desserts were of the drinkable kind.