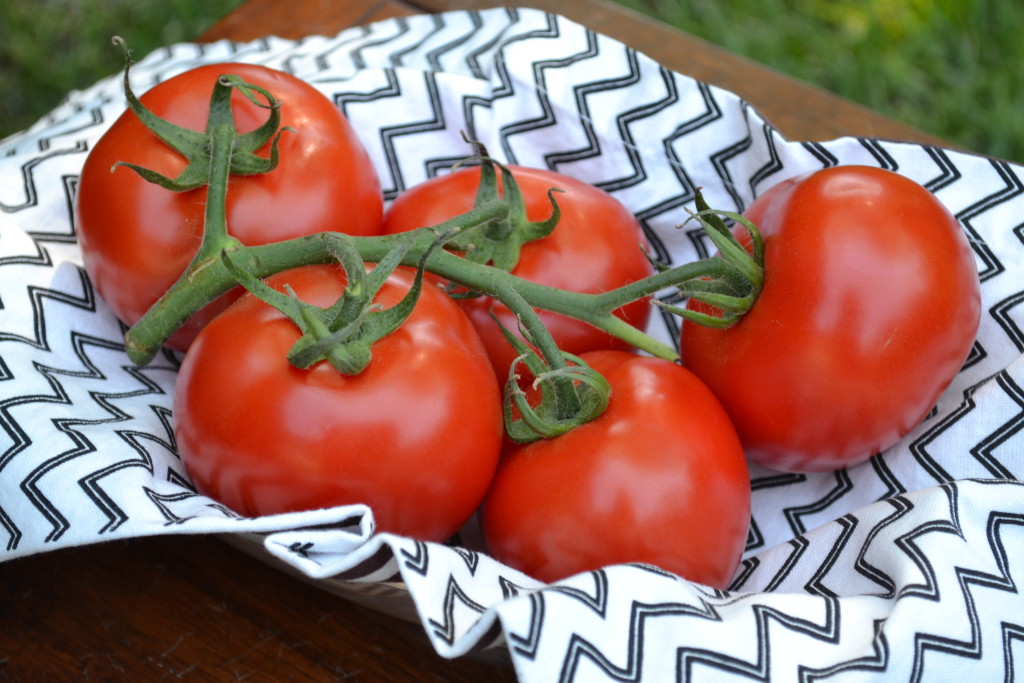 Summer is right around the corner here in Florida: the humidity is getting higher by the day and hurricane season is about ready to begin. When the summer comes, I look forward to stone fruits, melons and sweet corn on the cob–I also can't wait to get my hands on some in-season tomatoes.
When I was a kid, I would eat tomatoes fresh from my Grandfather's garden and bite into them as I would an apple–with the added addition of a bit of salt. The smell of a fresh tomato is intoxicating: it smells just like the vine it grew on. If you don't grow your own tomatoes, the next best thing is the on-the-vine variety from your local supermarket. I have found that these smell just like those back in my Grandfather's garden and taste almost as good. Compari tomatoes, although small, are my runner-up at the grocery store.
One of my favorite things to do with tomatoes is layer them on white bread with a generous amount of salt, pepper and mayonnaise. That's all. Just a tomato sandwich. The white bread is a necessity: there's something about the sponginess of good old-fashioned white bread that sops up the abundant juices in this sandwich. When I was pregnant with my son, Everett, I was craving them like mad. I would go down to the deli in the lobby of where I worked and ask for the aforementioned sandwich. "Just tomatoes?" the owner would inquire. "And mayonnaise…and salt and pepper," I would reply. I received some very unusual looks the first couple of times, but by the third day, he just made my sandwich and awkwardly smiled as he handed it to me. So, I began to wonder if this sandwich is just a northern thing. Could it be just a non-Florida thing? Come to think of it, I have never seen this simple sandwich on a menu anywhere. Maybe it was just something my family did? Does anyone else eat these??
Speaking of simple sandwiches featuring tomatoes, have you heard of the Caprese sandwich? It is fresh mozzarella cheese and sliced tomato topped with basil, oil and vinegar and served on crusty bread. This sandwich is one of my absolute favorites and is more about the cheese than the tomato–it deserves a post all to itself. Stay tuned for that one…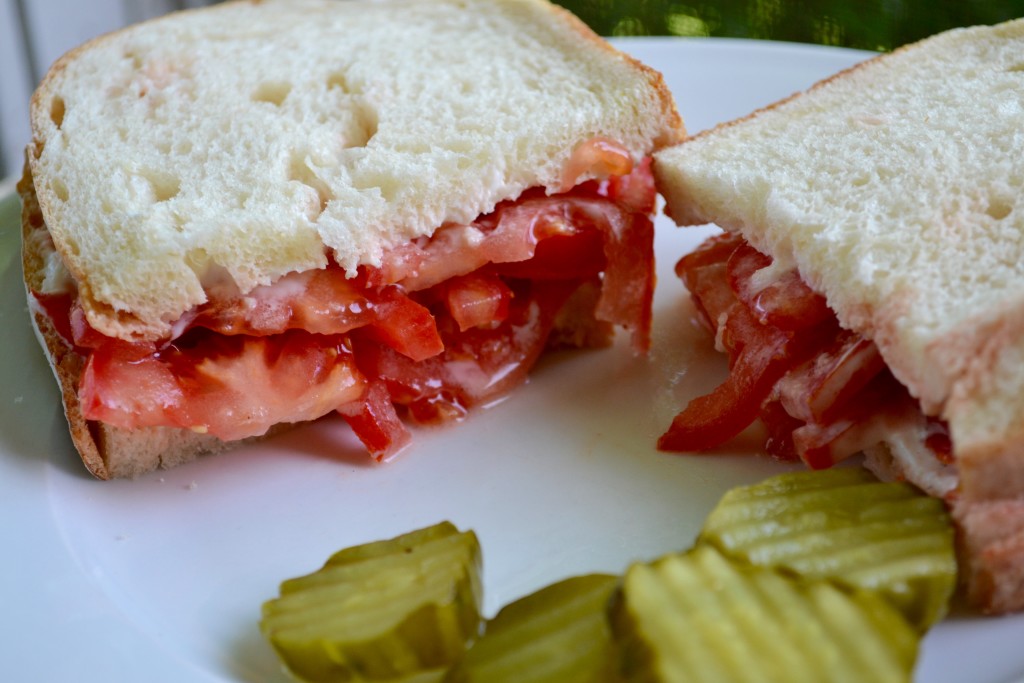 My second favorite way to use tomatoes is in my Blender Gazpacho. Gazpacho is typically a tomato-based soup with added vegetables that is served cold; it is of Spanish origin. Some see gazpacho as eating "salsa with a spoon", but I find it very refreshing and far more refined than its chip-dipping counterpart. Traditionally, gazpacho is made with a mortar and pestle: the crushing and grinding of the ingredients creates the difference between this delicious soup and a chopped up salsa–talk about time consuming! In my book, the easiest way to make gazpacho is with my handy-dandy blender. I found a recipe for this soup in the cookbook that accompanied my Vitamix blender. My version has more veggies added to the mix and more flavor than the original recipe. If you have a standard blender, you can still make this soup–you will simply need to cut the ingredients into smaller pieces.
Proper gazpacho should have two qualities: the perfect "not too chunky, not too watery" texture, and a flavor punch so bold, you should have a breath mint at the ready for when you are done eating. Don't let that flavor burst intimidate you; trust me, there is nothing worse than a bland gazpacho–it tastes like tomato water.
Tomatoes are perhaps one of the most versatile fruits: they can be eaten all on their own, added to sandwiches and salads, made into a dip, used in drinks, roasted and turned into a sauce and even used in desserts. Whether your goal is savory or sweet, salt is a must when cooking with tomatoes–it coaxes out the true tomato flavor. With the summer getting ready to usher itself in, get outside, enjoy the sun and find some new ways to use tomatoes at your table.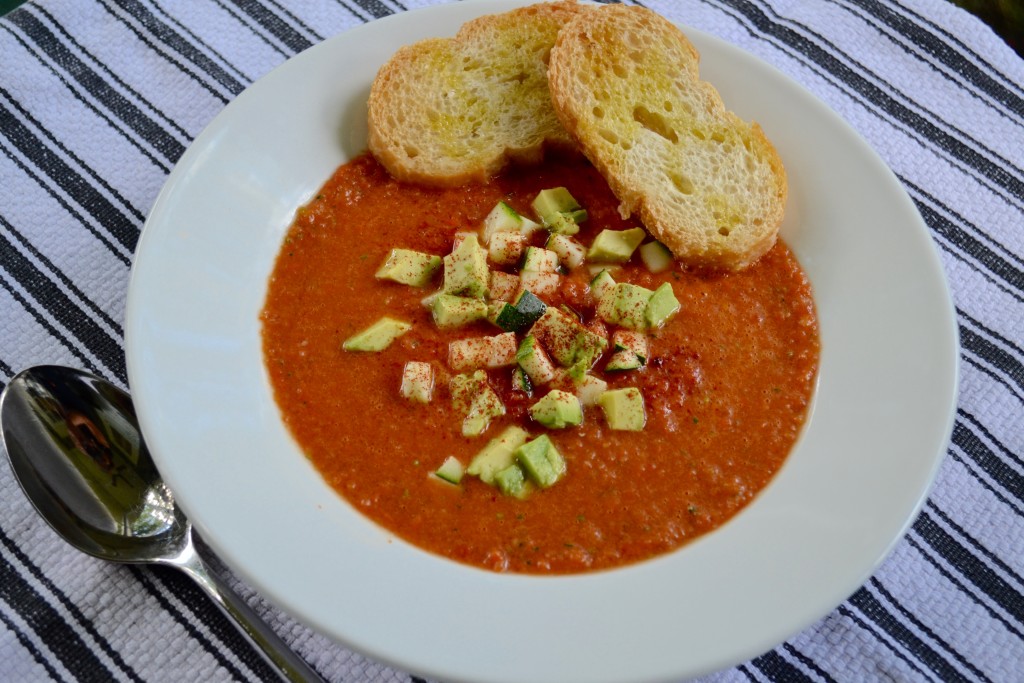 BLENDER GAZPACHO
Cucumber is one of the traditional veggies in this soup, but I find that zucchini gives the soup more body and is less watery than the cucumber. This recipe is easy-peasy and can be cut in half.
SOUP:
3 cups low-sodium V8
2 large ripe tomatoes, quartered
1/2 sweet red bell pepper, seeded, quartered
1 zucchini or seedless cucumber, scrubbed well, ends discarded, quartered
2 large carrots, scrubbed well and ends discarded, quartered
1/2 small Spanish onion, quartered
1 large or 2 small garlic cloves, quartered
1/4 cup good quality olive oil
2 Tablespoons sherry vinegar
1/2 teaspoon kosher salt
1/2 freshly ground black pepper
2 teaspoons hot sauce
Juice of 1 lime
GARNISH:
Diced zucchini (or cucumber)
Diced avocado
Smoked paprika
Toasted bread, for serving
Place all soup ingredients, in the order listed, into a high-powered blender. Put top on blender. Turn on blender and slowly turn dial to 50% power. Blend for 45 seconds to 1 minute.
For best results, transfer to container and refrigerate overnight…if you can wait that long. For serving, pour into soup bowl, garnish with diced zucchini, avocado and paprika. Serve with toasted bread drizzled with olive oil for dipping.
Makes about 7 cups.