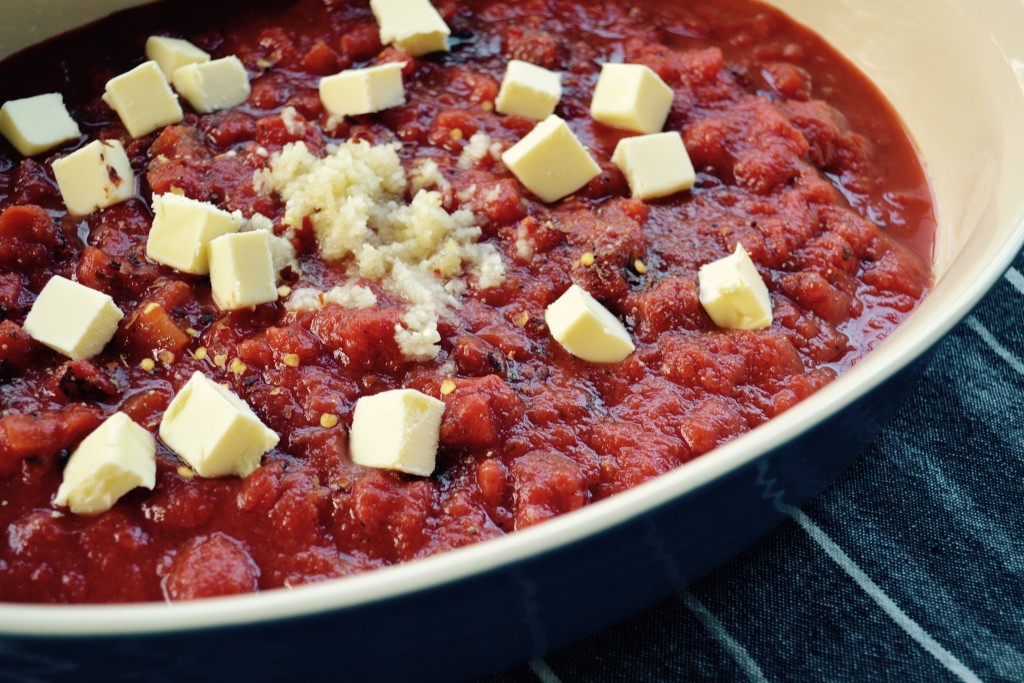 I spent years perfecting my homemade tomato sauce recipe using the "little bit of this, little bit of that" technique.  To this day, I don't know that I could write an actual recipe for it since it was a tad different each time. What was consistent with my sauce was the incessant tasting, tweaking, and babysitting it required. Despite how involved it was, it was always better than the jarred stuff.
All of those years spent honing my sauce now seem futile: I have found a new favorite that requires far fewer ingredients, zero babysitting time, and even more flavor than the sauce that I lovingly toiled over.
I found my new sauce recipe on a quest for Thanksgiving dinner ideas. A last minute change of plan two years ago made our house the site for our family's Thanksgiving meal. I had very little time to plan and no ideas. I was thumbing through the November 2013 issue of Bon Appétit; while I found no inspiration for our dinner, I did find a recipe for "Butter Roasted Tomato Sauce". Butter?? I was intrigued enough to bookmark it for when the Thanksgiving dust had settled.  Months later, it was time to give this crazy recipe a try. Looking over the ingredients both piqued my curiosity and concerned me at the same time. I wondered if using all of the butter that this recipe called for would make the sauce too greasy and if that quantity of garlic would be too overpowering. Most importantly, would it get my son, Everett's approval?  To make this sauce vegetarian, I omitted the anchovies that the original recipe contained. To make it kid-friendly, I reduced the amount of garlic and red pepper.
The outcome was top notch: roasting the sauce really intensifies that tomato flavor and mellows the pungent garlic to a sweetness that cuts the acidity. The addition of butter not only adds richness to the sauce, but also negates the "tinny" taste that can occur in canned tomatoes. Surprisingly, this sauce is not greasy, even with a half of a stick of butter added to the mix. As it roasts, the sauce thickens to a jam-like consistency and when it is added to the pasta, it coats every strand with just enough flavor punch for each bite. This new recipe received an official thumbs-up from Everett, and nowadays he doesn't like anything!
The best part about this recipe is the ease in making it. You simply dump all of the ingredients into your baking dish, stir to combine, stir once more midway, and you're done!  It is so effortless–unlike my homemade sauce–and requires no constant attention.  As the sauce cooks down, you will probably smell something burning. No, you didn't burn the sauce, it is just the residue on the side of the pan; this will not affect the end result. Clean up time is as simple as soaking your baking dish with hot water, dish soap, and a sprinkle of baking soda for about 30 minutes. It should clean easily with minimal scrubbing.
Don't think you have time to make homemade sauce? Now you do. The rest of your meal can be prepared while this sauce is roasting. Simple, flavorful, homemade, and easy clean-up? It is evident why this sauce earned the title of My Favorite "Savory" Recipe of 2014.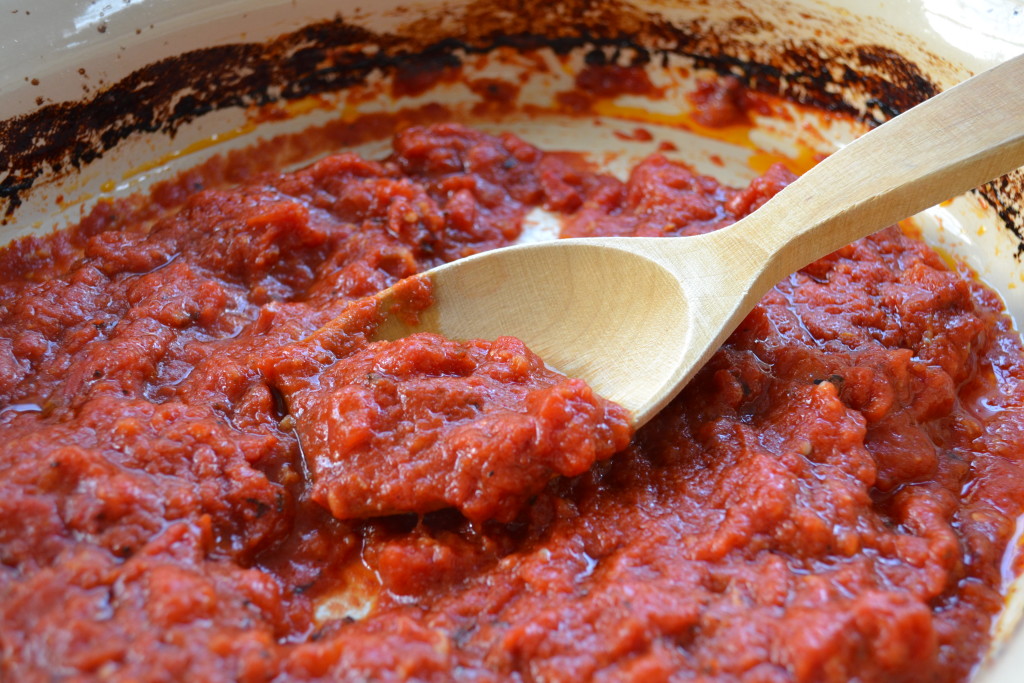 BUTTER ROASTED TOMATO SAUCE
The texture of this sauce makes it an ideal bruschetta topping–simply spoon onto slices of toasted baguette. To make it extra special, spread ricotta cheese on the toast first and then top with warmed sauce.
1 (28 ounce) can crushed tomatoes (I use organic fire-roasted tomatoes)
5 large cloves garlic, crushed or finely chopped
1/2 stick (4 Tablespoons) unsalted butter, cut into small cubes
1/8- 1/4 teaspoon crushed red pepper flakes
1/4 teaspoon salt
1/4 teaspoon freshly ground pepper
Finely grated parmesan cheese (for serving)
Preheat oven to 425 degrees. Combine all ingredients–except cheese–in a large ceramic baking dish. Stir to combine. Roast for 45 minutes, stirring once halfway through cooking time. Serve atop your favorite pasta and sprinkle with parmesan cheese for serving.
Makes 2 cups.