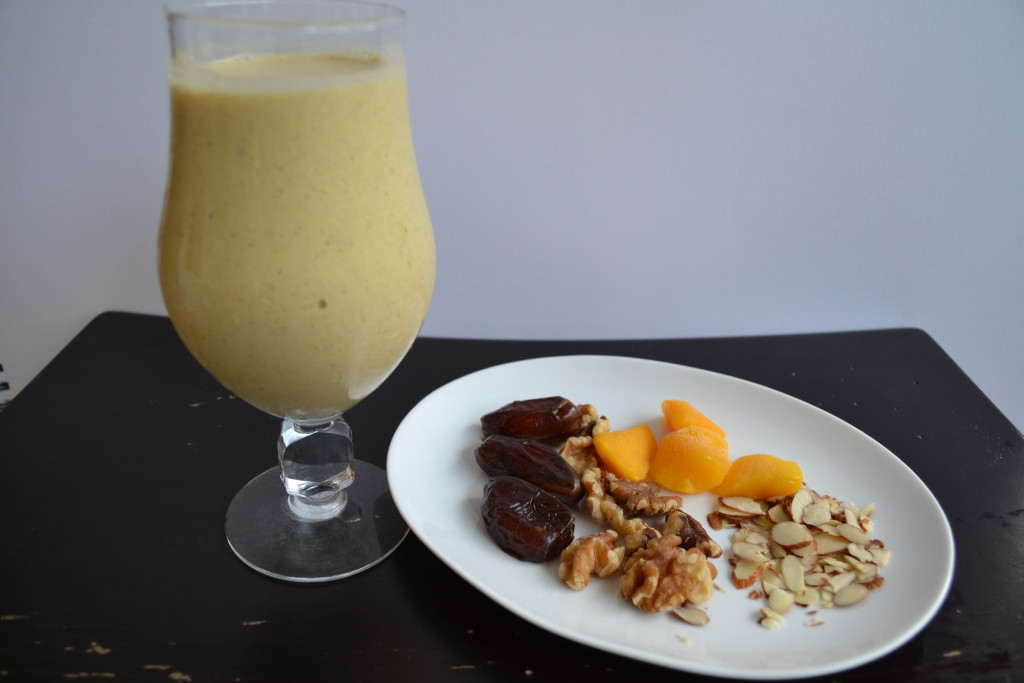 Smoothies are pretty popular in my house. Sometimes, it is much easier to drink your nutrition than to eat it. Take kale smoothies, for instance: kale on its own can be bitter and overpowering. On the other hand, mixed up in a blender with some fruits and coconut water, it is downright delicious–and nutritious. When my son, Everett, was young, we purchased our Vitamix blender so that we could maximize his veggie intake: green smoothies were served up daily. Now that my kiddo is in school all day, we have dialed it back to about three times per week.
Until recently, my husband, Ed, was the self-proclaimed "Smoothie Master" in our house–in fairness, his title was well earned. He had the uncanny ability to just start throwing things into the blender–fruits and vegetables–with no recipe and no measurements, and somehow, an amazing drink came together every time. Me, I need recipes. I need ideas. Working on a whim is disastrous for me. Surprisingly, even Everett has turned out to be a "Master" in training. Being a huge Star Wars fan, he would call himself a "Padawan". If you have him taste a concoction, he will tell you exactly what it needs–and I'll tell you what, he's right on the money every time. A few months back, I was browsing through Giada de Laurentiis' Feel Good Food cookbook and I found a recipe for a "Banana, Walnut & Date Smoothie". When I made it, I really liked it.  My son, however, had some critiques: "It needs mango and vanilla". Seriously?! But, he was right…seriously. So, under his tutelage, I have tweaked Giada's recipe to meet his requirements and have come up with something pretty special–and everyone loves it!
The best part is that a smoothie doesn't have to be green to be a nutritional powerhouse. The blend of protein and electrolytes in this drink make it perfect for after a workout or as an occasional meal replacement. I've also discovered that it helps alleviate nausea.
Since I perfected my version of this recipe, my husband seems a little intimidated: he's a bit off-kilter.  His last two smoothies have not been as stellar as in the past–in fact, they bordered on undrinkable.  Did I rattle his resolve? Did I alter his juju? Could there be a new "Smoothie Master" in town? At least for now, it appears that I have taken over the title. I suspect my tenure will be short-lived: either my husband will make a comeback, or my son will be along to overthrow me. In the meantime, I'll keep making my special smoothie and enjoy my reign while it lasts.
EVERETT'S MANGO-NUT SMOOTHIE
Adding 1/2 cup fresh or frozen blueberries turns this drink into my version of Tropical Smoothie Café's Health Nut Smoothie.
1  1/2 cups ice
1/2 cup coconut water
1/2 cup nut milk (I use almond)
5 ounces (2/3 cup) nuts (I use equal amounts of walnuts and almonds)
4 dates
3/4 cup frozen mango chunks
1 teaspoon pure vanilla extract
1 banana, peeled
Place all ingredients into a powerful blender container in the order listed and secure lid. Blend according to your blender instructions until smooth.
Serves 2.