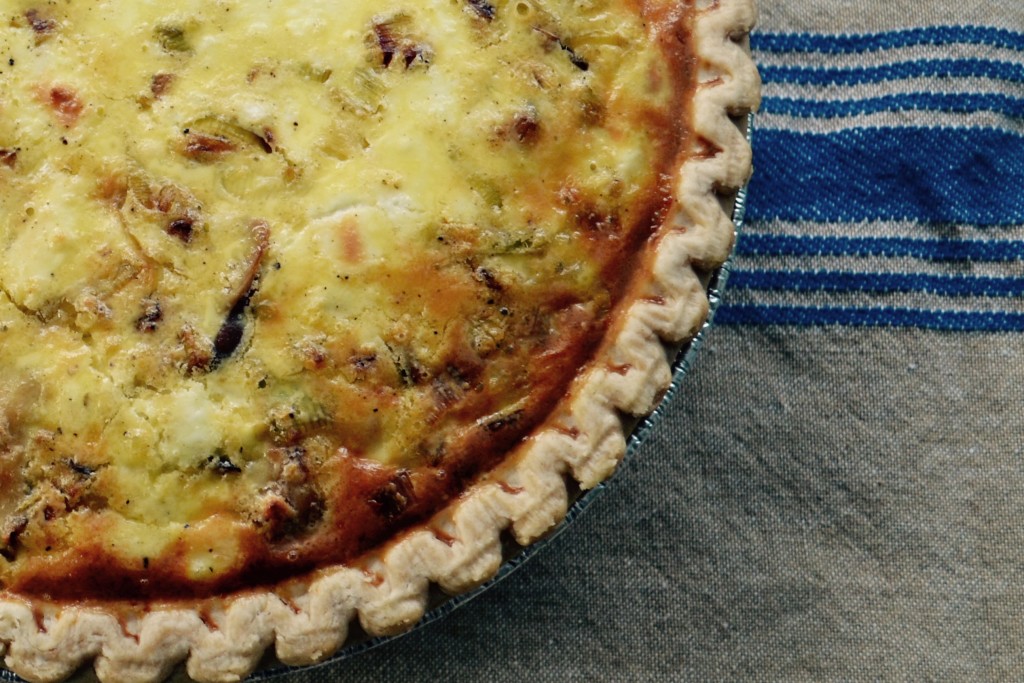 Where do the holidays take you? Christmas is all about family for us, but since my son was born, we no longer rush to multiple houses on Christmas Day; we compromised to make the day less chaotic. Christmas Eve is now spent with my in-laws: first, dinner at Carrabbas and then back to our house for presents and cookies. Christmas Day is always dinner at either my Mom's or sister's house. This year, it's my turn to host my family for a Christmas brunch. Me…make breakfast food? I'm sure you're shocked. At this point, I should be seriously thinking about renaming my blog Breakfast 24/7. At any rate, our holiday table will be a veritable buffet of my favorite brunchy foods–the catch is, they need to be practically effortless. This brings me to quiche–or as my son, Everett, used to call it, egg pie.
Quiche is one of the simplest and most versatile things on this planet to make: beat some eggs and milk together; throw in a little of this and that into a frozen pie crust; pour the egg mixture over everything and bake–it's really that easy. Use what you have on hand: any crust, any kind of milk, any cooked meat, almost any cooked or raw veggie, and any cheese can combine to create a unique meal. Depending on the ingredients you choose, you can have this ready for the oven in less than 10 minutes. I'm ashamed of how often I let food go to waste; a quiche is a great way to use up those leftovers that are hanging around in the fridge.
No judgment on the frozen pie crust, please. Homemade pie crust intimidates me. I know in theory, it's simple: a food processor and a rolling pin are all you really need. It just feels like a lot of work–and sometimes, I just want easy peasy. One day, I will take on the challenge and I'll post about my adventures in crust creation. For now, frozen pie crust is a staple in my freezer–and it should be in yours, too.
Finding the right quiche formula took some time; I wanted to find one that was eggy enough, but not too eggy. Most of the recipes I found used nearly a dozen eggs and heavy cream: that yields a dense, heavy quiche. I wanted a pie that was hearty enough for a meal, but light enough to be paired with a salad or soup: 6 eggs to 1 1/2 cups milk seems to be the magic ratio for me.
A few words about eggs: quality is key! The quality of the egg is completely affected by how the chickens were raised. The best eggs you can get without having your own chickens are those eggs that come from pasture-raised hens. Those feathery gals get to wander around farms and forage as normal chickens do–as opposed to spending their lives in an overcrowded factory. The result is a nutritionally superior egg with a yolk as orange as the sun. If you can spend $5 on a drink at Starbucks, there's no reason why you should feel guilty about spending $5 on a dozen of the best quality eggs. You'll notice a difference–I promise you.
My favorite quiche ingredient is the humble leek. Leeks are often overshadowed by regular onions; they deserve to be just as popular. They are a milder member of the onion family; the inside is composed of concentric rings. The inner rings collect sand as the leek grows, so proper cleaning is crucial–unless you like grit with your food! The white base of the leek transitions from light green to dark green; only the white and light green parts should be cooked with. The dark green section can be used for homemade stock, but it is far too fibrous to be eaten. Leeks can be cooked just about any which way, but for this particular quiche, they will be caramelized. Caramelizing anything just means bringing out the natural sugars; these beauties will brown and get sweet and nutty while adding depth of flavor to our quiche.
So it's time to walk to your kitchen, open the fridge door and have a look around. Pull out those leftovers from yesterday or the day before and imagine how they would taste harmoniously combined as a quiche. Now get out your eggs, milk and crust and start mixing. You are officially ready to bake yourself up a pie–an egg pie–filled with options as limitless as your imagination. Brunch–or dinner–will be ready in no time with far less effort than you could have imagined…enjoy!
EASIEST MASTER QUICHE RECIPE
You can make this a thousand different ways–have fun!
1 deep dish frozen pie crust, do not thaw
6 large eggs
1 1/2 cup any milk
Fillings of your choice: cooked meats, raw or cooked veggies, cheese (see note)
Preheat oven to 375 degrees.
Beat together eggs and milk in a large bowl. Season with salt and pepper. Set aside. Place crust on a sheet pan and add fillings to frozen crust. Pour egg mixture evenly over filling–do not overfill.
Bake for 40-50 minutes until the top is evenly golden. Allow to cool on rack for 10 minutes. Can be served warm, room temperature or cold.
Note: If you choose to use tomatoes or zucchini or other "wet" veggies, allow them to sit on a few paper towels to drain for about ten minutes or your quiche will be too soggy.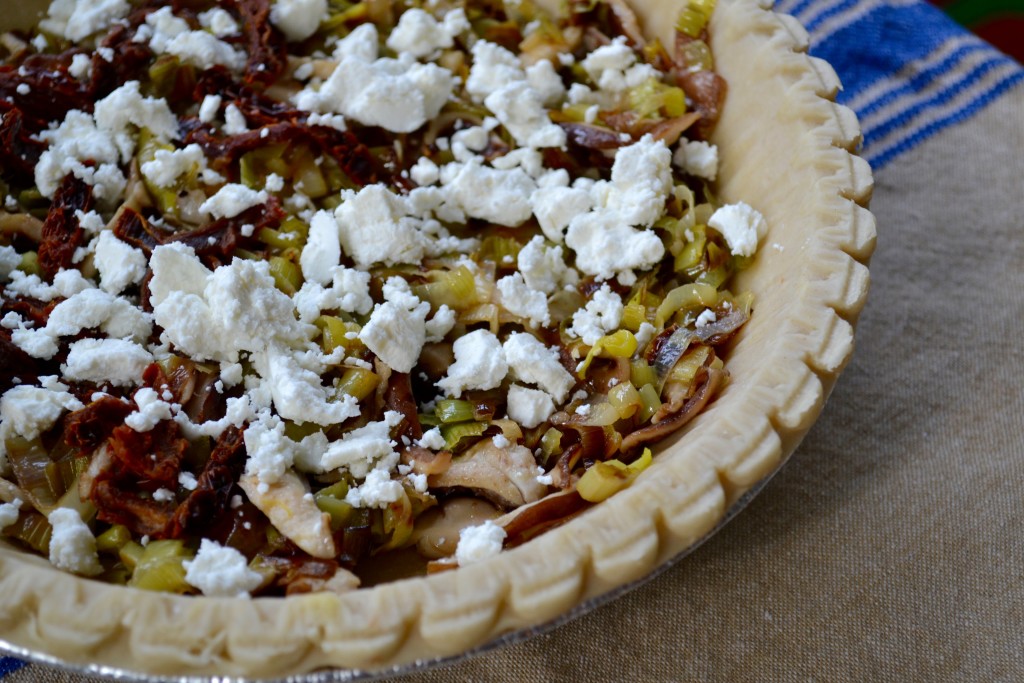 LEEK, SUN-DRIED TOMATO AND GOAT CHEESE QUICHE
This version of quiche requires about 25 minutes of additional prep time to caramelize the leeks. It is an extra step that is totally worth it. If you don't have leeks, onions would work just fine, but leeks are just extra special–they're delicate and they just seem fancy. If you don't have the time, the leeks can be made in advance or quickly sautéed as opposed to cooking them down slowly.
1 deep dish frozen pie crust, do not thaw
6 large eggs
1 1/2 cup half & half
2 leeks sliced, white and light green parts only
1 ounce crumbled goat cheese
1/4 cup smoked sun-dried tomatoes (see note), soaked in boiling water for 10 minutes, chopped
Preheat oven to 375 degrees.
Caramelize leeks: see directions below. Set aside to cool.
Beat together eggs and half and half in a large bowl. Set aside. Place crust on a sheet pan and sprinkle cooled leeks, sun-dried tomatoes and goat cheese evenly over the crust. Pour egg mixture evenly over filling–do not overfill.
Bake for 40-50 minutes until the top is evenly golden. Allow to cool on rack for 10 minutes before serving. Can be served warm, room temperature or cold.
NOTE: If you cannot find smoked sun-dried tomatoes, use regular sun-dried tomatoes and whisk 1/8 teaspoon of smoked paprika into the egg/milk mixture.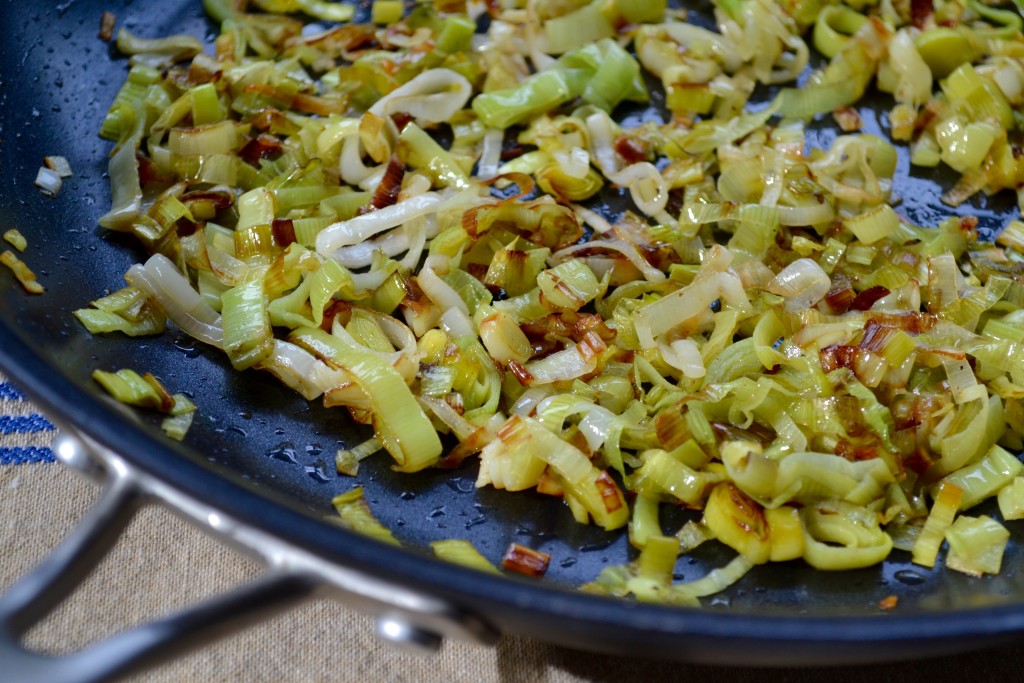 CARAMELIZED LEEKS
Slow and low is the key to caramelizing leeks.
2 leeks, white and light green parts only, thinly sliced
1 Tablespoon butter
1 Tablespoon olive oil
1/4 teaspoon salt
To clean leeks, place sliced leeks in a colander. Submerge the colander into a large bowl of clean water until leeks are completely covered. Separate the rings of the leek slices while in the water, swishing the leeks around to release all of the sand.  You may need to change out the water and repeat the process if the leeks are especially sandy. Remove colander from water and allow leeks to drain.
In a large skillet over medium heat, add butter and oil. When butter is melted, add leeks to skillet. Stir to coat. Season with salt. Turn heat down to medium-low and stir occasionally until most leeks are golden: see photo.
Remove from pan and allow to cool to room temperature.
Makes enough for one quiche.