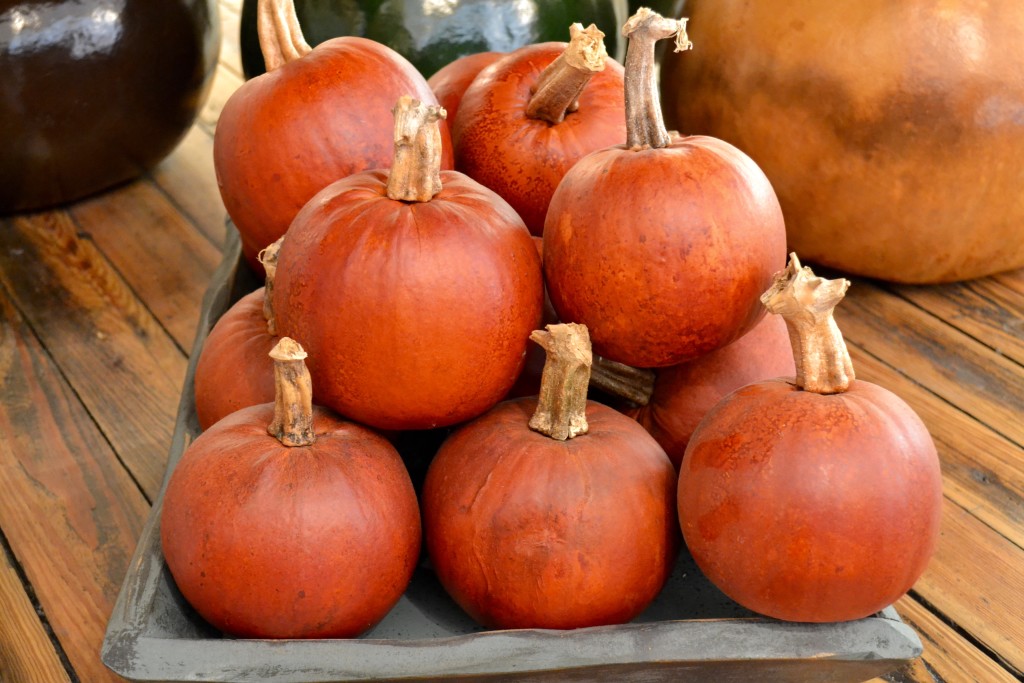 Pumpkin bread, pumpkin muffins, pumpkin scones, pumpkin cookies: if you can bake it, you can bake it with pumpkin. These are just a few of the yummy treats that will be popping up very soon…it is pumpkin season! Since the weather here in Florida doesn't really start to change until around Halloween, the release of pumpkin items is our cue that fall is on its way–even though the weather here still feels like July.
I can remember many years ago, when Pumpkin Spice Lattes from Starbucks made their debut. "Why would someone put pumpkin in their coffee?" I thought. Prior to that, I believed that pumpkin was reserved only for pies and muffins, and lest I forget, pumpkin truffles from Godiva. One of my co-workers at the time visited Starbucks every day before coming into work–yes, actually every day. She introduced me to this pumpkin-y concoction–it was so strange, yet so yummy. It started a tradition between the two of us: we would have a countdown every year to PSL season. Starbucks always changed the date they released it, so it was always a surprise when it showed up in the cafes. As a testament to its popularity, the release date seemed to get earlier and earlier every year: at its inception, it started in October and by the time I changed jobs four years later, it was being released at the end of August. I still think of my co-worker to this day when this season comes around.
What makes this drink so good is the syrup, and by nature, the essence of syrup is sugar. Of course, they had to throw in some artificial colors to create its festive orange hue. When I found a recipe in Food Network Magazine last year for a homemade pumpkin spice latte, I immediately headed for the kitchen. It is easy to whip up and, unlike its Starbucks counterpart, is significantly lower in sugar without the artificial colors; I have amped up the pumpkin and the espresso a bit.
Not a coffee fan? Well, how about something to nosh on? Using the base to my favorite banana bread recipe, I created a pumpkin variety that is so moist, pumpkin-y, and warm with spices like cinnamon, nutmeg, and clove, it just screams fall. I don't always feel the need to wait until this time of year to make pumpkin-flavored goodies, but it is so much more apropos, don't you agree?
So, let's welcome fall with some treats packed with pumpkin: this squash isn't just for pies anymore!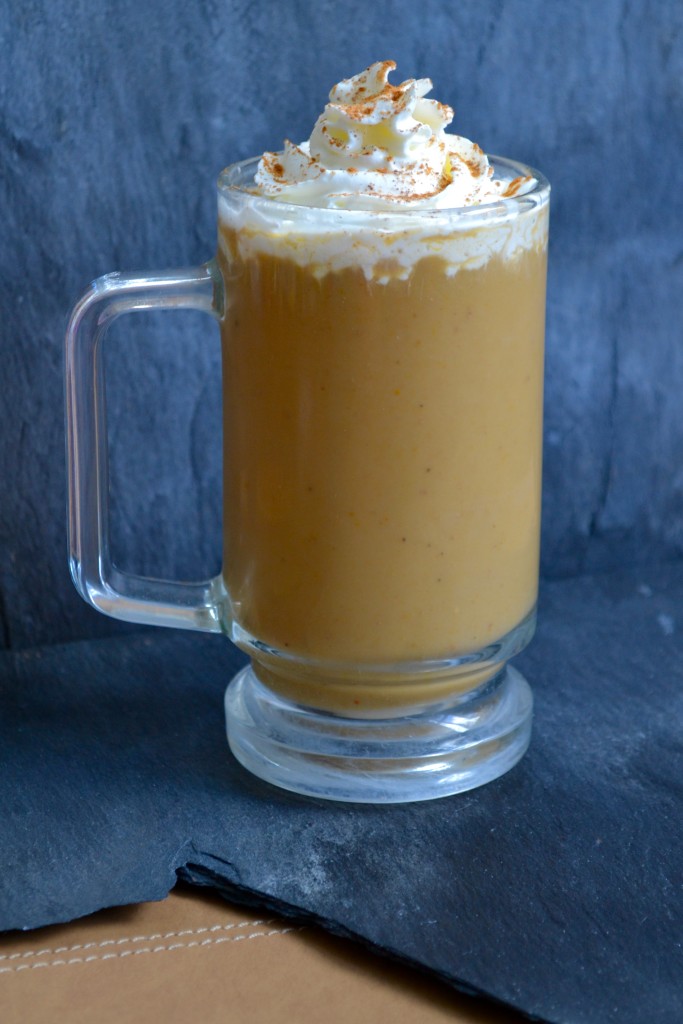 PUMPKIN SPICE LATTE
Despite the fact that almond milk is my staple around the house, I really like using soymilk for this drink; it makes for a creamier drink. Depending on your preference, regular milk works just as well.
2 Tablespoons sugar, or sweetener of choice
3 Tablespoons pumpkin puree
1 Tablespoon pure vanilla extract
¼ teaspoon cinnamon, plus more for garnish
¼ teaspoon ground ginger
¼ teaspoon nutmeg, plus more for garnish
Dash kosher salt
2 ¼ cups soymilk or regular milk
2 ½ ounces freshly-brewed espresso
Whipped cream for garnish
Combine all ingedients, except milk in a small saucepan. Gently whisk in the milk, making sure spices have blended in. Bring to a simmer over medium-high heat. Pour into 2 mugs and top with whipped cream, nutmeg and cinnamon.
Serves 2.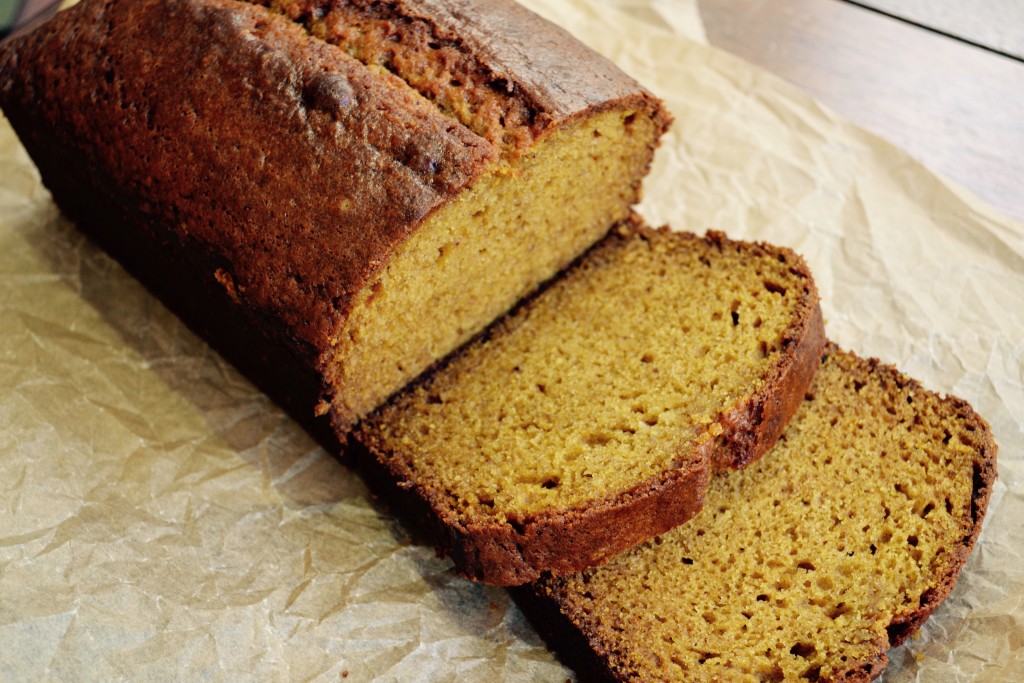 SPICED PUMPKIN BREAD
This bread is great for breakfast, a snack, or even dessert. You could gussy it up with some icing…but it really doesn't need it.
1 ¾ cup all purpose flour
1 ½ teaspoon baking soda
¾ teaspoon kosher salt
3 large eggs
1 ¼ cup sugar
1 cup canned pumpkin puree, (not pumpkin pie mix), or mashed sweet potato
¾ cup vegetable oil
1 teaspoon pure vanilla extract
¾ teaspoon ground cinnamon
½ teaspoon ground nutmeg
¼ teaspoon ground ginger
¼ teaspoon ground cloves
Preheat oven to 350 degrees. Spray a loaf pan (9x5x3) with non-stick cooking spray. In large bowl, whisk together the flour, baking soda, salt and spices. In another bowl, whisk eggs, sugar, pumpkin (or sweet potato), oil and vanilla until smooth. Add dry ingredients to the wet ingredients. Stir until just combined and you no longer see any flour.
Pour batter into prepared loaf pan. Tap pan down on counter once to even batter. Bake 60-75 minutes, rotating pan halfway through baking, until a tester comes out clean. Allow bread to cool on wire rack for 15 minutes.
Run a knife around the pan to release the bread. Invert pan onto a rack to remove the bread. Flip bread back right side up and allow to cool—can be eaten warm if you can't wait. Once cool, wrap in plastic wrap and store at room temperature for up to 4 days.
Makes 1 loaf.