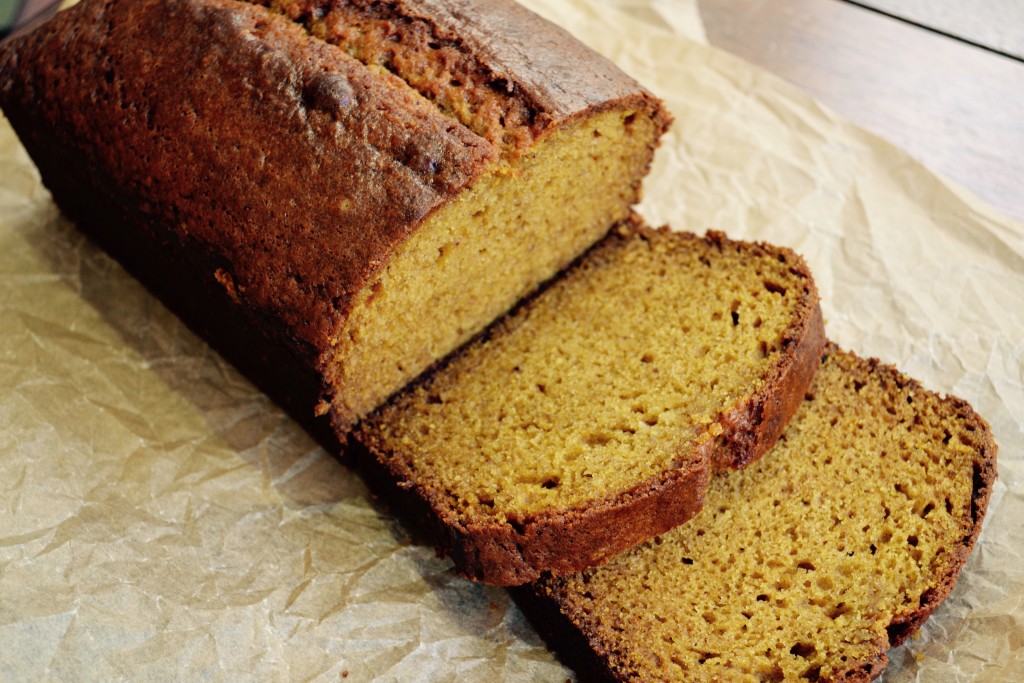 61 DEGREES, people! I walked outside this morning wearing boots on my feet and a smile on my face. The fact that this weather is upon us now–instead of making us wait until mid-November–is refreshing; everyone I came in contact with today was in a great mood. So, with much excitement–and a slight chill in the air–I can finally talk about fall and pumpkins! This is my favorite time of year: pumpkin-spiced goodies abound, cool weather, comfort food, and always a cozy blanket nearby; I typically find myself cooking and baking more than ever. Unfortunately, experimenting in the kitchen is on the back-burner for now…our busy weeks have left me little time for writing or cooking. New, fun, fall recipes will be coming down the pike, but, for now, I must resort to my first ever throwback: pumpkin bread.
This recipe originally appeared in my banana bread post as a side note–an alternative for those who aren't banana fans. Made completely of pantry/refrigerator staples, this moist, pumpkin-y bread spiked with cinnamon, nutmeg, ginger and cloves deserves its own spotlight. Could you use fresh pumpkin? Sure. You could take the time to clean and roast and scoop and purée your own, but when convenience is the goal–and canned is available all year-round–it's ok to take the easier route.
I have to give Starbucks credit: their Pumpkin Spice Latte spawned quite the craze. Pumpkin really only used to get proper attention during the Thanksgiving and Christmas holidays–as pie. And while I seriously questioned the notion of adding puréed jack-o-lantern to my coffee, it turns out this squash's versatility runs the sweet-savory gamut. Walk the grocery store aisles–especially Trader Joe's–and you will see pumpkin added to everything from baked goods to dog treats.
This pumpkin bread is my ticket back into the kitchen. Such a simple recipe is the perfect segue to not only welcome the fabulous flavors of the season, but also give me the chance to become reacquainted with my oven. New ideas have already started to flow… Now that November has arrived, time begins to slow a bit and we can begin to really enjoy all that fall has to offer.  As they say here in the south: Happy Fall, y'all!
SPICED PUMPKIN BREAD
This bread is great for breakfast, a snack, or even dessert. You could gussy it up with some icing…but it really doesn't need it.
1 ¾ cup all purpose flour
1 ½ teaspoon baking soda
¾ teaspoon kosher salt
3 large eggs
1 ¼ cup sugar
1 cup canned pumpkin puree, (not pumpkin pie mix), or mashed sweet potato
¾ cup vegetable oil
1 teaspoon pure vanilla extract
¾ teaspoon ground cinnamon
½ teaspoon ground nutmeg
¼ teaspoon ground ginger
¼ teaspoon ground cloves
Preheat oven to 350 degrees. Spray a loaf pan (9x5x3) with non-stick cooking spray. In large bowl, whisk together the flour, baking soda, salt and spices. In another bowl, whisk eggs, sugar, pumpkin (or sweet potato), oil and vanilla until smooth. Add dry ingredients to the wet ingredients. Stir until just combined and you no longer see any flour.
Pour batter into prepared loaf pan. Tap pan down on counter once to even batter. Bake 60-75 minutes, rotating pan halfway through baking, until a tester comes out clean. Allow bread to cool on wire rack for 15 minutes.
Run a knife around the pan to release the bread. Invert pan onto a rack to remove the bread. Flip bread back right side up and allow to cool—can be eaten warm if you can't wait. Once cool, wrap in plastic wrap and store at room temperature for up to 4 days.