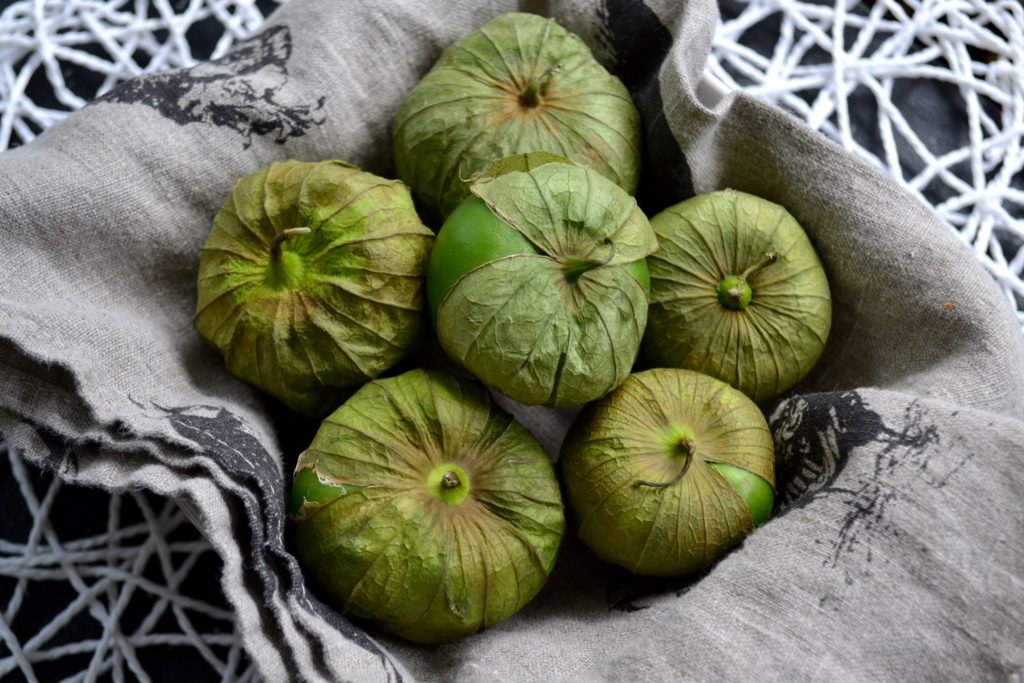 I think tomatillos are one of the coolest items in the produce aisle. They look just like baby green tomatoes, but their papery husks tell a different tale–they are not even related to tomatoes at all, but members of the gooseberry family. Acidic like their red lookalike, but not nearly as juicy, tomatillos can wake up the flavor of a dish with their vibrant personality. Since today is Cinco de Mayo, I am going to use these guys for the perfect accompaniment for my tacos and tortilla chips: tomatillo salsa.
Red Mesa Mercado, a local restaurant in St. Petersburg, Florida, featured this salsa in their attached market when they first opened their doors back in 2014. Ready-to-bake enchiladas and rellenos sat next to multiple varieties of ceviche. As a vegetarian, I was missing ceviche: the tangy seafood appetizer "cooked" in citrus juices. Scanning over the tubs, my eyes met something new, fantastic, and seafood-free: tomatillo-avocado salsa. After a flavor-packed sample, I was in love; this salsa was everything I missed about traditional ceviche, and since it was vegetarian, I went home with a pound. In fact, I began to think this stuff could easily be dubbed its own type of ceviche–a vegetarian ceviche. Despite its lack of seafood, this salsa has all of the same qualities: it is acidic, creamy, tomatoey, and herbaceous with a crunch. I can't begin to estimate how many pounds I have eaten over the years, but it was enough to prompt me to make a similar version at home. And I'm so glad I did–the market has now been converted to indoor seating…and the salsa is gone.
To make your own, prepare your tomatillos. After removing the papery husk, wash them well with a bit of baking soda in your hands; this will scrub away the sticky residue that the husk leaves behind. After a dice, they will come together with creamy avocado, raw–but mild–crunchy shallot, tangy lime juice, herby cilantro and extra virgin olive oil for balance. Give it some time for all of the flavors to meld and it is ready for anything.
My beer is chilled and my limes are sliced. There is a large serving spoon in my bowl of ceviche–there are no small servings of this tasty salsa. We've got a spread of fixings for our tacos and more tortilla chips than three people should probably eat. There never needs to be a reason to eat Mexican food, but when it's May the fifth, anything else would just feel wrong.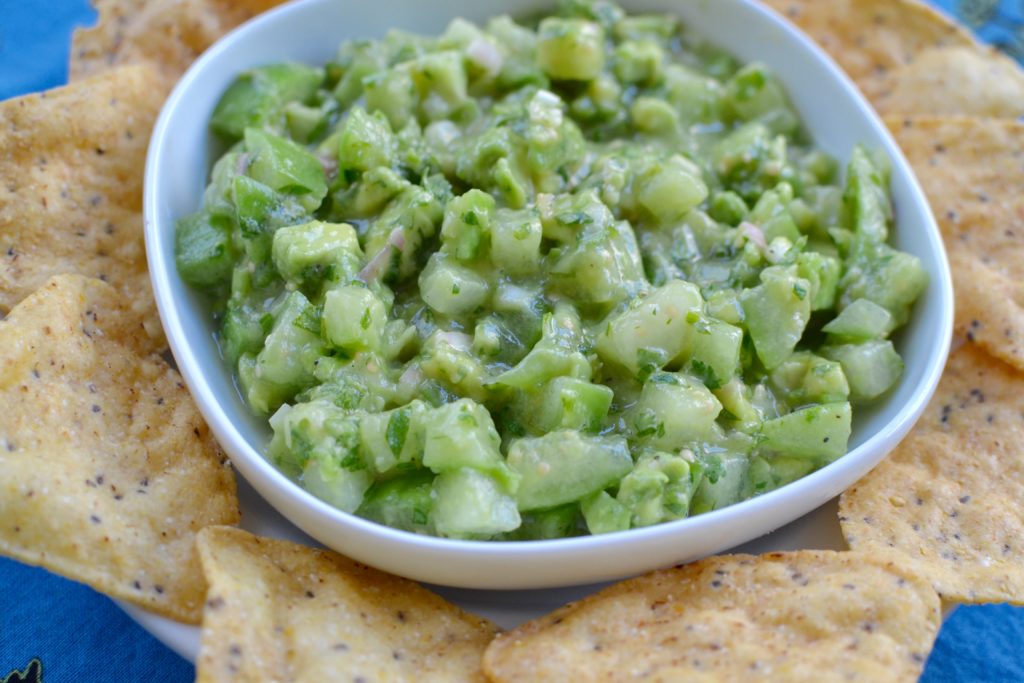 VEGETARIAN CEVICHE
Love the acidic, creamy, tomatoey flavors of ceviche, but can't have seafood? Then this vegan version is for you. This recipe can be doubled–or tripled–for a gathering.
1 cup tomatillos, diced (see prep notes below)
1 avocado, removed from the skin and diced
1 shallot, minced
3 heaping Tablespoons cilantro, finely chopped
Juice of 1 lime
2 teaspoons olive oil
Salt and pepper to taste
Combine all ingredients in a large bowl. Mix well. Refrigerate to meld flavors for 30 minutes. Serve with tortilla chips, atop tacos, or alongside your favorite Mexican food.
Makes about 2 cups.
**Tomatillo prep note: remove husk from outside of tomatillo. Rinse tomatillos and sprinkle with baking soda. Gently scrub wet tomatillos with baking soda to remove the sticky residue from the husks. Rinse well. Dice.