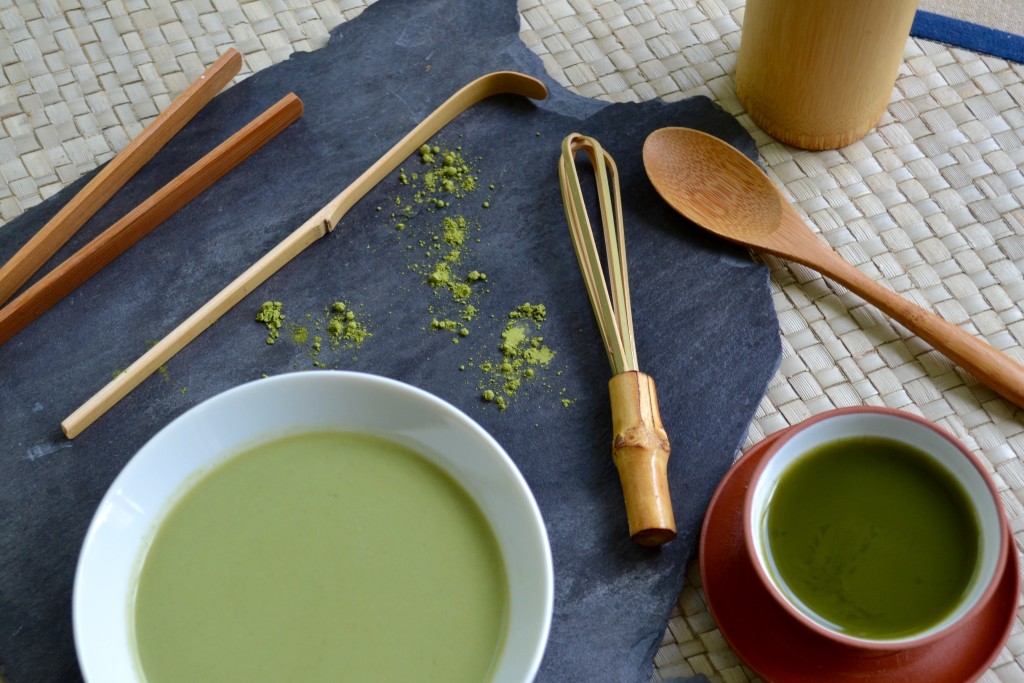 Aeons ago, someone gave me a Matcha tea set as a gift; in that beautiful bamboo box I found a cup, scoop, tongs, spoon and a whisk–each piece also made of bamboo. The only item the set did not include was the actual tea. Even if I had the tea, I really didn't know what to do with any of the equipment. Being a little intimidated, I never bought the tea, so all five pieces had been collecting dust in a drawer for more years than I can remember.
I pulled them all out a few months ago after I tried a green tea latte from Starbucks; it was so unique. That earthy, creamy concoction had me wanting more; I knew I had to buy some matcha to have at home. It is pricy: prices are around the $20 mark for 1-3 ounces–the fact that a little goes a long way helped justify the purchase. After all, it would only take four visits at Starbucks to pay for my own tin.
Matcha is Japanese green tea powder as opposed to whole or broken tea leaves. Instead of merely steeping regular tea leaves in hot water and then removing them, matcha powder is whisked directly into the hot water in your cup—without straining. The powder results from grinding up whole tea leaves, so what you get is super-concentrated, intensely flavored, highly caffeinated tea that's brimming with antioxidants. This tea is well known for its health benefits such as lowering cholesterol, boosting metabolism and concentration, detoxifying and improving the immune system.
You can make an amazing cup of tea with this stuff, but its uses extend beyond that: I'm seeing it pop up in the food world in smoothies, cakes, popsicles, puddings, donuts, truffles, cookies and ice cream. This tea has an interesting grassy note that complements sweets well and lends a lovely green hue to anything you mix it in.
There is a formal ceremony in Japan surrounding the art of matcha brewing. You don't need the formality–and all of the equipment–to make your own cup at home; all you really need is a whisk, a measuring spoon, and–of course–a cup. This tea is clumpy, so a whisk is necessary to break up the lumps for a smooth consistency. Here's my trick for smooth, un-lumpy tea: if you create a paste with the tea and a scant bit of water or milk, it breaks up all of the lumps and readies the tea for your remaining liquid. If you simply try to whisk it directly into your drink, the lumps are very hard to completely dissolve. No matter how well you mix it, there will still be some sediment in your cup; occasional stirring will be required to keep the flavor consistent.
The steps to brewing your own matcha are simple:
Step 1: Measure out the matcha into a cup. A good ratio to start with is 1/2 teaspoon tea: 2 ounces of liquid. You can increase the proportion of tea according to your taste.
Step 2: Boil water or heat milk. If using water, allow to cool a bit before adding to the tea: adding boiling water can make the tea bitter.
Step 3: Pour two teaspoons of your heated liquid of choice over the matcha powder.
Step 4: Work the two together into a paste and break up all lumps, adding more liquid if necessary.
Step 5: Whisk in remaining liquid.
Step 6: Sweeten to taste with your favorite sweetener, if desired.
Step 7: If making a matcha latte, top with milk foam if desired.
Want to switch it up? Adding matcha to other recipes is simple: add 1 Tablespoon to your favorite smoothie or milkshake; my avocado milkshake is a good place to start. For baked goods, start with 1 Tablespoon added to your dry ingredients, batter or frosting and increase to suit your palate. See my recipe below for Green Tea Shortbread Cookies.
If you are a fan of green tea, then give Matcha a try–it is green tea on steroids; it may just be the new coffee.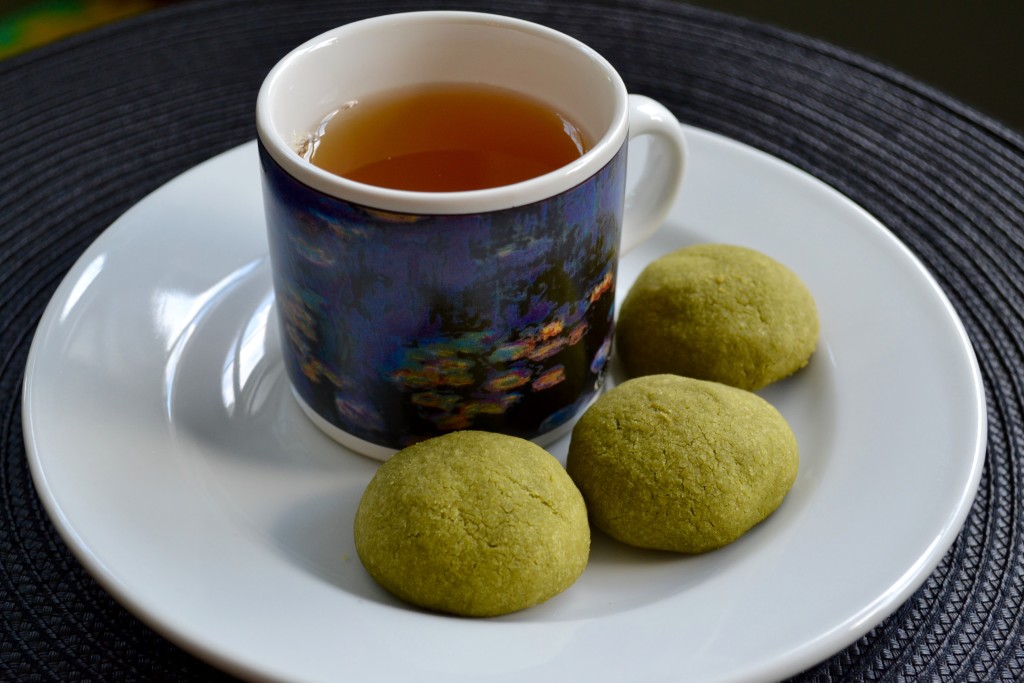 GREEN TEA SHORTBREAD
Mmm…butter. Shortbread cookies have only a few ingredients and despite the addition of matcha, the butter is the star. To make these cookies their butteriest, I use organic unsalted butter–it really does make a difference. If you prefer to leave out the matcha, these cookies are even decadent without it.
2 sticks organic unsalted butter, room temperature
2 cups all-purpose flour
1/2 cup granulated sugar
1/2 teaspoon kosher salt
1 1/2 teaspoons pure vanilla extract
2 Tablespoons matcha tea powder
Preheat oven to 325 degrees. Line two baking sheets with parchment paper or Silpat baking mats.
Sift together the flour, salt and matcha. Set aside.
Cream butter with a hand mixer or with a stand mixer using the paddle attachment on medium speed until fluffy: 3-5 minutes. Beat in sugar until light-colored and fluffy, another 2-3 minutes. Occasionally, scrape down the sides of the bowl to incorporate all of the sugar. Beat in vanilla.
Add flour mixture to the butter mixture and mix on low until all ingredients come together and the dough is evenly green.
Form dough into a disc, wrap in plastic wrap and refrigerate for at least 1 hour.
Scoop 1 Tablespoon of chilled dough and roll into a ball. Place 1-inch apart on cookie sheet and bake until cookies are firm and just start to color.
Important Note: The caffeine from the matcha does not bake out in the finished cookies–I found this out the hard way after eating a few around 9pm!
Makes about 3 dozen.