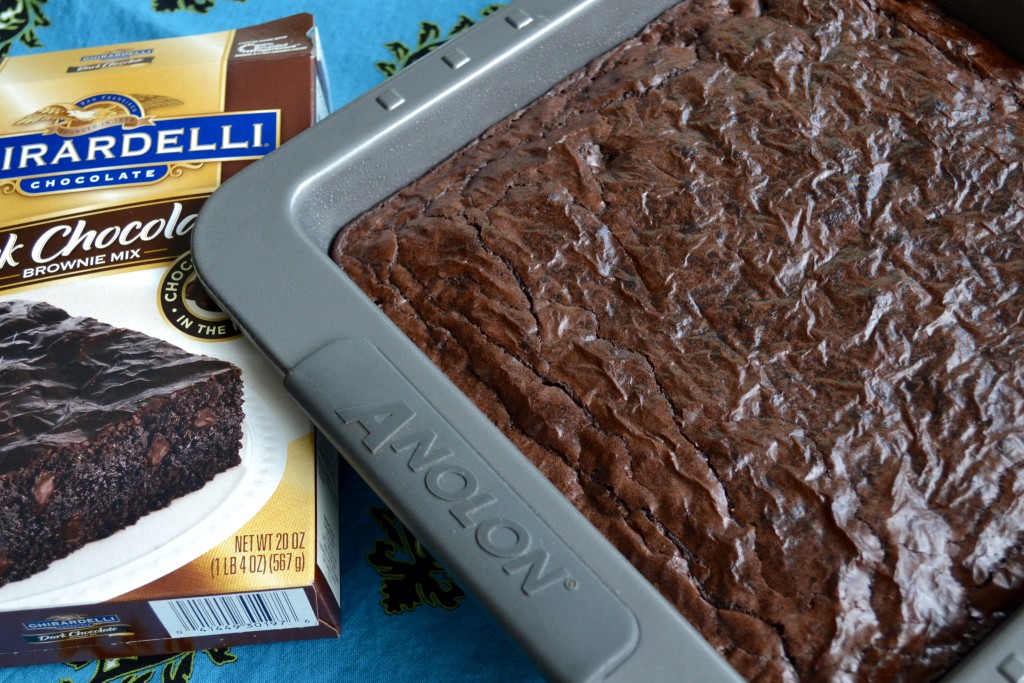 Confession: I don't make everything from scratch. In our crazy lives, I'm not sure many people do anymore. Like many folks out there, I use frozen foods, canned goods and pre-made items at times. Someday, I will meet Martha and she will tell me that she cheats sometimes, too–she must! And if in fact, she really doesn't take shortcuts, I will then persuade her to make me her protégé so that I can be privy to all of her secrets.
I take shortcuts in my day-to-day life; however, not when it comes to baking: I make my cookies, cakes, and other sweet treats from scratch. There is nothing more satisfying and relaxing than taking a few basic ingredients and turning them into something incredibly decadent. For today's Tidbit, I wanted to share with you my top secret recipe for the best brownies in the world and—surprise!—they come from a box! Yes, I just said that I don't take shortcuts when I bake—I'm a total hypocrite. The truth is I have just two exceptions to that rule: brownies and puff pastry.
After many attempts at making brownies from scratch in the past, I could never create the epitome of the fudgy, cakey, crinkly-topped goodness that I was looking for–until I had dessert at an Earl of Sandwich restaurant years ago. After my grilled cheese and tomato soup, I sat and devoured my divine chocolaty square of perfection. As I gazed over and observed the cooks prepping food in the kitchen, my eyes did a double-take. Were those boxes of Ghirardelli brownie mix lining the shelves above them? A mix? In a restaurant? Well, right then and there, I vowed to find that brownie mix during my next grocery run.
I was feeling overwhelmed in the grocery aisle as I was surrounded by no less than seven varieties of the chocolate mogul's brownie mix. Which to choose? To help decide, I began reading the ingredient label of each box–preservatives and ingredients like high fructose corn syrup are the reasons I don't buy mixes. Every flavor contained some combination of my no-no ingredients; that is, except for the Dark Chocolate. My decision was made for me. It took several attempts at making these brownies before I figured out the trick…
After preheating your oven to 325 degrees, it's time to make the batter. For the perfect fudgy brownie, add your brownie mix, 1/2 cup oil, 1/4 cup water or strongly-brewed coffee and one egg into a bowl. Note: coffee enhances the flavor of chocolate, so swapping it out for water yields a more flavorful brownie–not a coffee-flavored one. Mix well, pour batter into a lightly greased 8×8 metal pan, and smooth the surface evenly. NOW HERE COMES THE SECRET: CHECK THEM AT 28 MINUTES! That's right, the instructions say to cook for 40-45 minutes and I'm here to tell you the box is wrong! Yes, every oven is different; however, even with oven temperature variation, I cannot imagine that these brownies would ever need up to 45 minutes to bake. Ironically, found directly under the baking times, the box instructs you to "Do not overbake". I have made these dozens of times and I don't even have to check them at this point–28 minutes and they are exactly where you want them to be: once the entire brownie surface is crinkly and the edges look dry and start to pull away from the pan, they are done.
Remove from oven to a rack to cool. Grab your potholder and cut yourself a piece after the pan has had five minutes to cool. There is only one thing better than digging into one of these brownies and that is digging into one of these brownies while they are still warm. I don't feel a bit guilty about taking this shortcut!
So, if you are like me and have struggled to create brownie perfection, struggle no more and pick yourself up a box of Ghirardelli Dark Chocolate brownie mix the next time you are at the supermarket—but don't forget my secret!  And no, sadly, I am not being compensated for this endorsement. Enjoy!