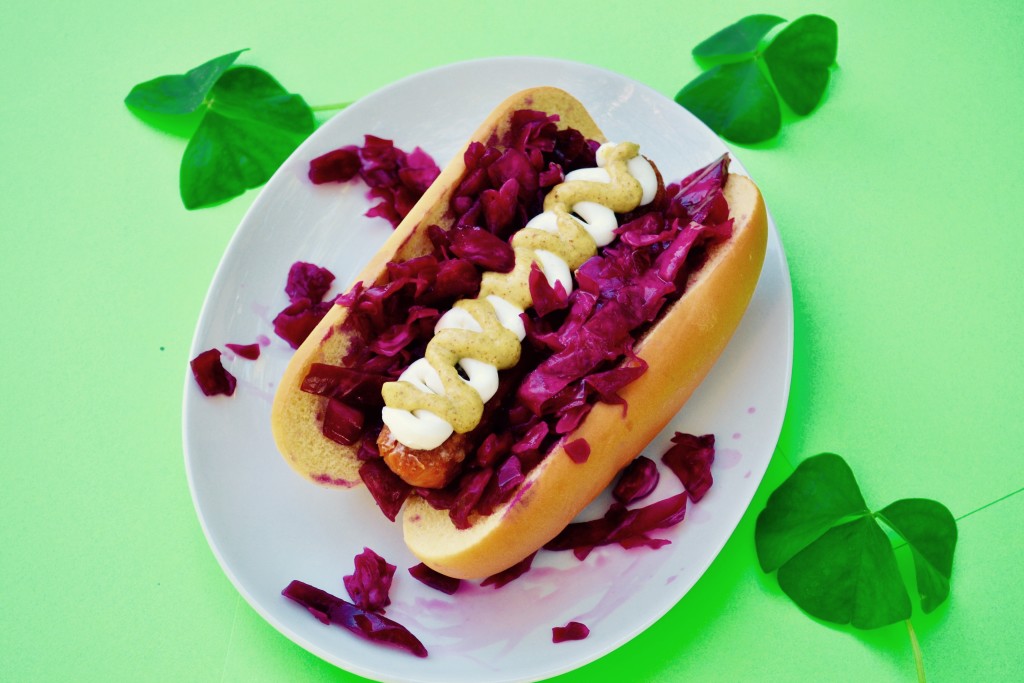 No judgment, please…I just ate an entire bowl of sauerkraut. Just sauerkraut. In a bowl. With a little salt. What can I say, I'm German and Polish; I grew up eating this stuff with everything from pork to pierogies–but never in a bowl, by itself. I think I may have a problem…
A friend of ours recently started making his own sauerkraut. He has generously shared with us and now we are on our second jar. I can only imagine his kitchen counters lined with pickle jars full of this magenta-colored, crunchy, vinegary cabbage; just awaiting the fermentation to be complete enough to call it sauerkraut.
When I brought home my first jar from him, the question swirled around in my mind: "What should I do with it?" At the time, eating it all by itself did not register–I don't think that thought registers with many. But, typically, sauerkraut is paired with meat. What to do?
Then I remembered a trip to one of St Pete's local breweries, Three Daughters. There is a hot dog guy that vends there and he has the most unique list of hot dogs. But, as is always the case, no veggie dogs. (Fortunately, I have learned from other hot dog vendors in the area that you can just request all of the toppings on the bun, sans dog, and still be able to enjoy the experience). I wish I could tell you about the other interesting menu items, but unfortunately, I can't seem to remember anything right now other than cream cheese, sauerkraut, and brown mustard–on a dog. Strange, but intriguing, right? This was his "Seattle Dog". I have been to Seattle, and while I remember so much of our trip: Pike's Market, the Space Needle, one of the best ghost tours, Top Pot Donuts, Mount Rainier, the original Starbucks, seeing Mario Batali sipping espresso, The Crumpet Store, eating African food, and Snoqualmie Falls–seeing a hot dog with cream cheese, sauerkraut and mustard does not register in my memory banks.
So, I explained my meat-free situation, and that I would like the "Seattle Dog" toppings on a bun, hold the dog. By his reaction, I'm guessing I was the first customer to ever make this request. In the end he reluctantly put the toppings on the bun and I gladly gave him my money. These three ingredients worked together so oddly, yet somehow so perfectly. There was something about the creamy, crunchy, vinegary, spicy, and sour toppings on that soft bun that left me craving more. So, I recreated this "Seattle Dog" at home with and without the dog. It is my new favorite use for sauerkraut–conveniently, I have a new jar of it waiting for me in the fridge! Should you find yourself without a friend who makes homemade sauerkraut, fear not, there are plenty of great options at your supermarket. I have found the refrigerated brands to be the crunchiest and taste the freshest. Two of my favorite brands are Bubbies and Claussen.
So, for this St. Patrick's Day, try some sauerkraut instead of the traditional cabbage…it's not just for meat anymore.