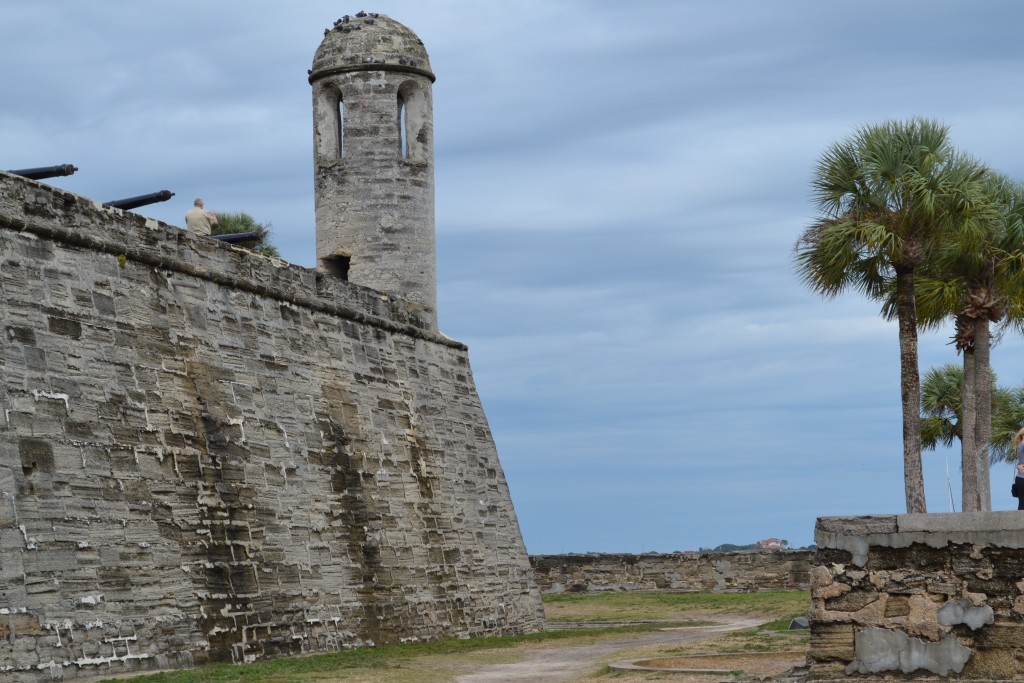 Traveling is my second favorite thing to do–eating is my first. My husband, son and I travel quite a bit and one of our favorite places to visit is Saint Augustine, Florida. Saint Augustine is one of those cities that not only is rich in American and European history, but also full of history for my husband and I as a couple.  It was one of our first trips together when we were dating, it was the place that he proposed, it was the city where we spent our first anniversary, and now it is one of my son's favorite places to visit. As you walk down the streets of this "ancient" town–ancient by American standards–you can palpate the history. Despite the seemingly endless list of things to see, we have found ourselves on multiple visits without agenda and meandering through the brick streets while taking it all in. Even if you had an agenda, it's hard to do it all: the Castillo de San Marcos Fort, the art museums, the history museums, the lighthouse and beach, the shops, and wait…did I mention the food?
There are enough restaurants to make your head spin: Saint Augustine has something for everyone. These are the places we hit each time we visit: The Columbia–a Florida institution serving Cuban food, The Floridian–veg-friendly southern fare, The Hyppo–a gourmet popsicle shop, and Casa Maya–an authentic Mexican place. Casa Maya is a quaint little Mexican restaurant that features simple, homey food that is big on flavor–and very vegetarian friendly. My favorite item on their menu is the Mayan Soup–it is comfort in a bowl. Soup was one of my food groups growing up. When I was a kid, there was not a week that would go by without us having soup at least twice. It is so simple and satisfying and the options are endless! Tortilla soup is one of my favorite soups, but once I became a vegetarian, it was pretty much off my list: it always contained some kind of meat or meat stock.  When we found this vegetarian version at Casa Maya, I was thrilled. I literally sat there, poked my spoon around in it and wrote down all of the ingredients that I could see. I knew I had to try and make this soup when I got home.  That ingredient list sat on my phone for over a year and then I finally decided to experiment. The flavors in this soup are authentically Mexican, but yet so simple, I can't believe that I actually made a comparable version. More importantly, I don't feel as though I'm missing out on anything by not having any meat in it. I have added hominy to add a little something special, but feel free to throw in some chicken or pork if you choose. The following is my take on this light and flavorful soup inspired by Casa Maya's Mayan Soup.
VEGETARIAN TORTILLA SOUP
This recipe is "soup-er" easy to make! The cilantro just brightens up the dish. It is best served right away; if you have leftovers, just refresh the soup with a bit more chopped cilantro after heating.
1 1/2 Tablespoons vegetable oil
1 cup onion, diced
1 large clove garlic, minced
1 (14oz) can hominy, drained and rinsed
1/8 teaspoon ground cumin
1/8 teaspoon ground smoked paprika
1 (32oz) box vegetarian broth (I use Swanson's Organic)
1/2 bunch cilantro, finely chopped, divided
1/2 teaspoon salt
1/4 teaspoon freshly ground black pepper
1 tomato, seeded and diced
1 avocado, pitted, scooped from the skin and sliced
1 lime, sliced for squeezing
Crushed tortilla chips
Heat soup pot or Dutch oven over medium heat. Add oil. Sautee onion and garlic until translucent. Add hominy and stir for a few minutes until it begins to brown. Add cumin and paprika, stir for 30 seconds to toast spices. Add entire box of veggie broth as well as 1/2 the amount of chopped cilantro. Season with salt and pepper. Turn heat to low and allow to simmer for no more than 15 minutes–the cilantro starts to lose its color past that time. (It still tastes perfectly fine if it goes over 15 minutes).
While the soup is simmering, prep serving bowls. Divide diced tomato, sliced avocado, and remaining cilantro into serving bowls. Ladle soup into bowls. Top with crushed tortilla chips and a squeeze of lime.
Serves 4.