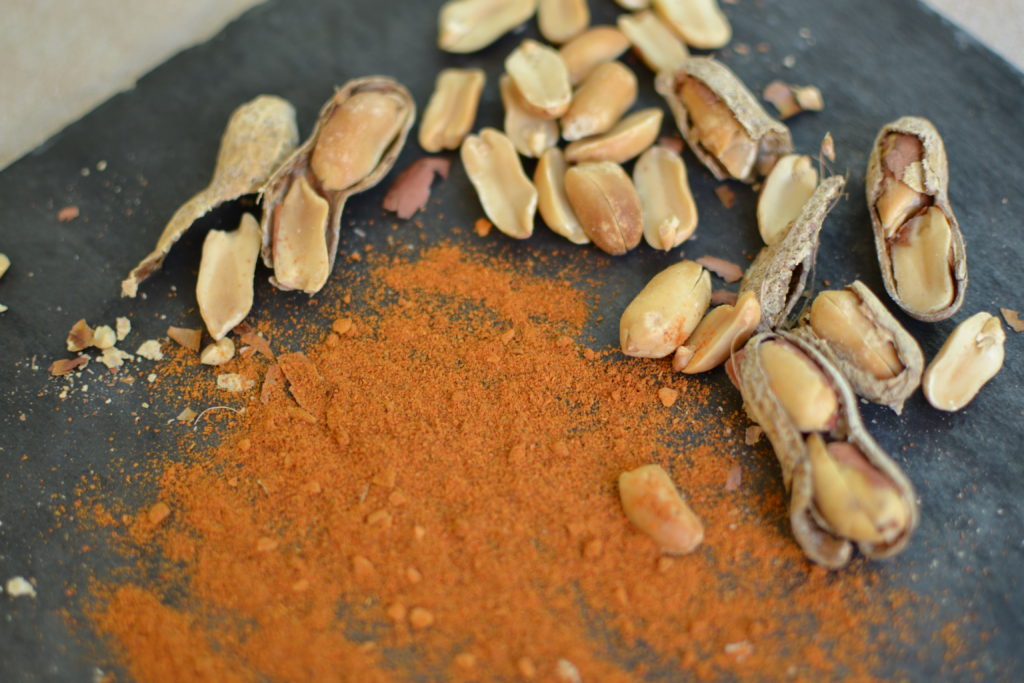 I noticed during today's weekly grocery trip that the landscape of the produce section is changing. Squash and apples and citrus were more abundant than usual. Summer berries are in scant supply. Potato bins were filled to the gills with russet, red, yellow and sweet potatoes. Fall is approaching; I wish the Florida weather would follow suit.
Old habits die hard; therefore, my first dish of the fall season is always my butternut squash soup. I feel inclined to go a different direction this year. Don't worry, you'll still want to cozy up and eat it in a big bowl while on the couch. The only difference is that I'm reaching across the globe for this fall's inspiration: African peanut stew.
My first taste of African cuisine came during a trip to Seattle back in 2007. The creamy, peanutty, pumpkin-colored soup was rich and satisfying with a hit of spice at the end. That was long before my vegetarian days, but I remember this soup well and thinking how satisfying it was despite having no meat. Although the name of the cafe with the brightly colored walls escapes me, the food memory still lingers.
This stew gets much of its flavor–and heat–from Berbere, a North African spice made of an aromatic mix of cayenne, garlic, ginger, fenugreek, cardamom, cumin, black pepper, allspice, turmeric, cloves, cinnamon and coriander. This intoxicating blend of spices is like curry on steroids.
The other major flavor component is contributed by the recipe's namesake: peanut. I've complemented that healthy dose of peanut butter with the addition of coconut milk, lime and cilantro, transporting this dish from Africa to Thailand for a flavor melding that is exotic and comforting–it's Thai-African! I love that it is reminiscent of my favorite peanut curry at Thai restaurants. Served over rice and scooped up with Indian Naan bread, you would never know that three cultures came together to make this dish.
Change is good. Right? As someone who is always looking for the next new thing to try, I am often surprised by what a creature of habit I am. For now, it's out with the butternut squash soup…gasp! I'm moving on to something that is new and exotic, yet feels as comforting as that soup I've made for over a decade. Off I go, clad in my jammies, blanket strewn across my lap, Amazon movie queue at the ready, clutching my bowl of stew and waiting for the last episode of The Good Wife to start. It's going to be a good night.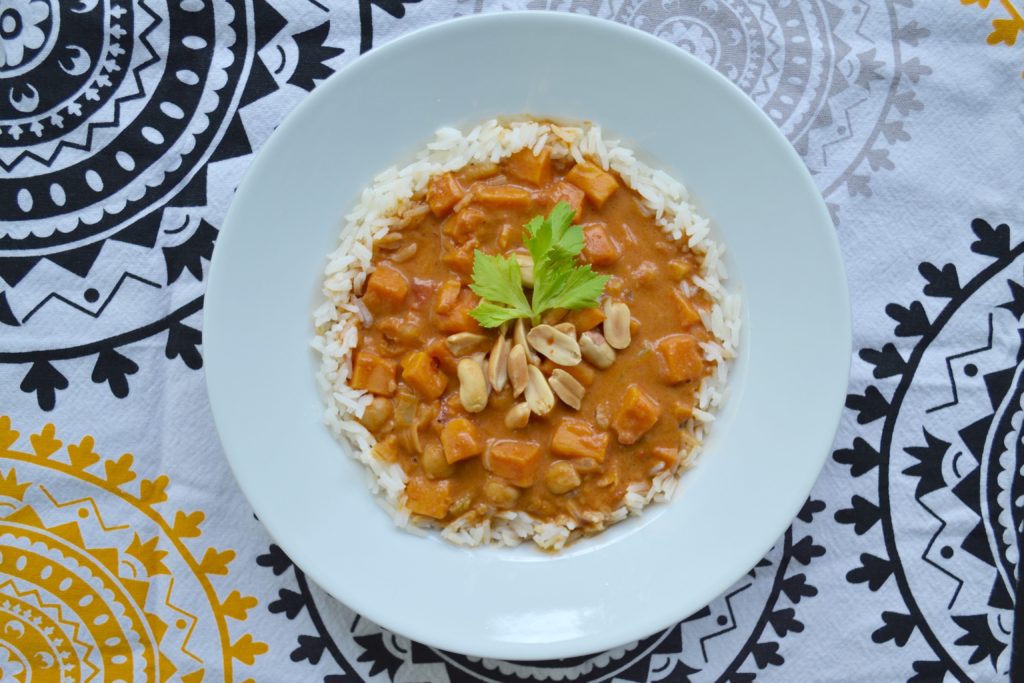 VEGETARIAN AFRICAN PEANUT STEW
This vegan stew is reminiscent of Thai food with its fragrant peanut, chile, coconut and lime; chickpeas bump up the protein factor. Berbere may be found at your local spice shop or can be found online at Penzeys: if you cannot find it, you can mix it up yourself: ¾ teaspoon yellow curry powder, 1/8 teaspoon ground allspice, ¼- ½ teaspoon cayenne pepper.
2 cups vegetable stock
1 can coconut milk, shaken well
1 can garbanzo beans, (chickpeas), drained and rinsed
2 Tablespoons neutral flavored oil (canola, safflower)
1 1/2 cup diced fire-roasted canned tomatoes and juice
1 medium yellow onion, diced (about 1 1/4 cup)
2 large garlic cloves, minced
1/2 cup diced celery
3 cups diced, peeled sweet potatoes (1/2 inch dice)
2 teaspoons salt
1/2 teaspoon freshly ground black pepper
1 – 1  1/2 teaspoon Berbere (start with 1 teaspoon and add more if you like more heat)
3/4 cup creamy or crunchy natural peanut butter (Smucker's organic and Santa Cruz dark-roasted are the best)
Juice of 1/2 lime
Toasted peanuts or cashews, for garnish
Finely chopped cilantro, for garnish
White rice, for serving
Naan bread, for serving
Heat Dutch oven over medium heat. Add oil, onion, and 1/2 teaspoon salt to the pot. Stirring occasionally, sauté until translucent, about 5 minutes. Add celery and garlic; stir and cook for another minute. Add sweet potatoes, pepper and 1 teaspoon salt; stir to combine. Cook, stirring occasionally for 10 minutes.
Stir in Berbere to toast, about 30 seconds. Pour in stock, coconut milk, canned tomatoes, chickpeas and peanut butter. Stir well to combine.
Bring to a boil, then reduce to simmer for 20 minutes, or until sweet potatoes are tender. Season with remaining salt and lime juice. Serve over rice with Naan bread on the side. Top with toasted nuts and a sprinkle of chopped cilantro.