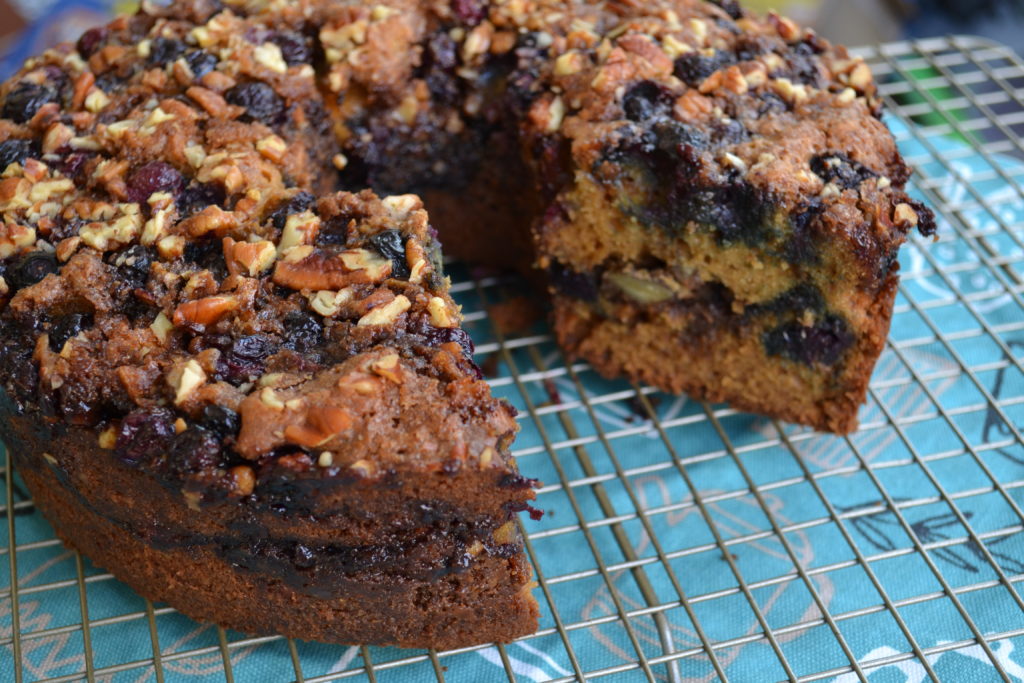 Last year my aunt gifted me a recipe card, penned by my late grandmother. The slightly stained index card was beginning to show its age: once white, now yellowing, its blue ink now bleeding through to the other side. The exceptional penmanship on this card was a rarity; my Grandma was known for having practically illegible handwriting–a consequence of the Catholic nuns trying to "fix" her left-handedness by forcing her to write with her right hand. While I was well-schooled in deciphering her hieroglyphics, it was always a surprise to see something legible come from her hand. The recipe is for Merk's Coffee Cake.
This buttery breakfast cake is layered and topped with streusel; it was one of my Grandmother's favorites—and it turns out that she wasn't the only one. Toted by some as the "best coffee cake in the world", this recipe has been circulating amongst families for the last two to three generations. Although the history of both the cake and the infamous author, Milli Merk, are uncertain, its popularity has not been hampered. There are countless listings on the internet with little to no variation; this recipe is clearly perfect as is. I was excited to try out the recipe and since blueberry season has arrived here in Florida, I thought of a modification that could cure my craving for blueberry baked goods.
Last year around this time, I went absolutely bonkers for blueberries and bought a total of 12 pints over the course of a few weeks; I've already started with my first eight pints of the year. Other than addictively popping them as is, I immediately baked up some Lemon Glazed Blueberry Muffins. Now, after having added a healthy dose to each layer of my Grandmother's recipe, I'm sitting here taking in the most amazing scent of cinnamon, toasting nuts and cake. The timer can't seem to finish soon enough.
Bubbling blueberries; crunchy, caramelized, nutty streusel; moist, buttery crumb: I can see how this recipe has stood the test of time. Whether from the local bakery or homemade, coffee cakes often graced our breakfast table when I was a kid; I loved that they were always so satisfying.  Although I never got the opportunity to bake one of these with my Grandma, I can only imagine us enjoying a blueberry-doctored slice—still warm from the oven—with the perfect accompaniment: a piping hot cup of coffee.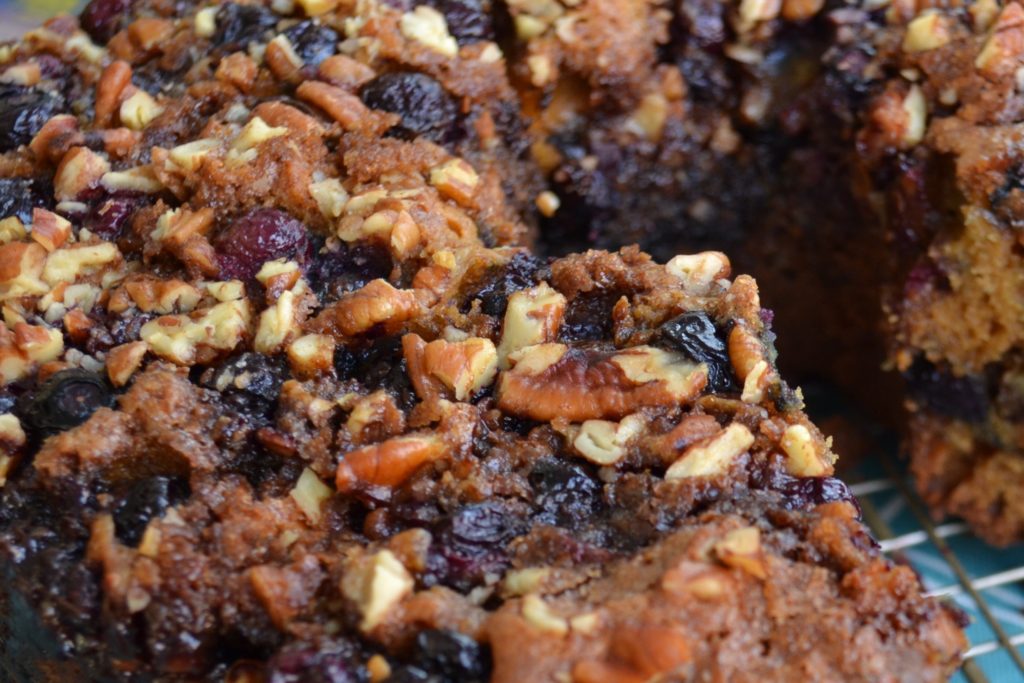 BLUEBERRY MERK'S COFFEE CAKE
The classic streusel butter coffee cake, with the addition of blueberries and a hint of cardamom, makes for a tasty accompaniment to your morning coffee or tea.
CAKE
1/2 cup butter, softened
3/4 cup sugar
2 teaspoons pure vanilla extract
3 eggs, room temperature
2 cups all-purpose flour
1 teaspoon baking powder
1 teaspoon baking soda
1 cup sour cream
STRUESEL (NUT MIXTURE)
6 Tablespoons butter, softened
2 teaspoons ground cinnamon
1/2 teaspoon ground cardamom
1 cup chopped nuts
1 cup firmly packed brown sugar
2 cups fresh blueberries, divided
Preheat oven to 350 degrees. Grease a 10-inch tube pan with butter.
Cream butter, sugar and vanilla thoroughly. Add eggs, one at a time, beating well after each addition. Sift flour, baking powder and baking soda together. Add to creamed mixture, alternately, with sour cream, blending after each addition. Spread half of batter in a 10-inch tube pan that has been greased.
To make streusel, cream butter, brown sugar, cinnamon and cardamom together. Add nuts; mix well. Dot batter in pan evenly with half of streusel (nut) mixture and one cup of blueberries. Cover with remaining cake batter. Dot remaining streusel mixture evenly on top. Sprinkle remaining blueberries evenly on top.
Bake for 25 minutes, then rotate half way. Bake for 20-25 minutes more, until a toothpick comes out clean. Cool cake for 10 minutes in pan. Remove from pan. Wrap in plastic wrap; keeps for 3 days.