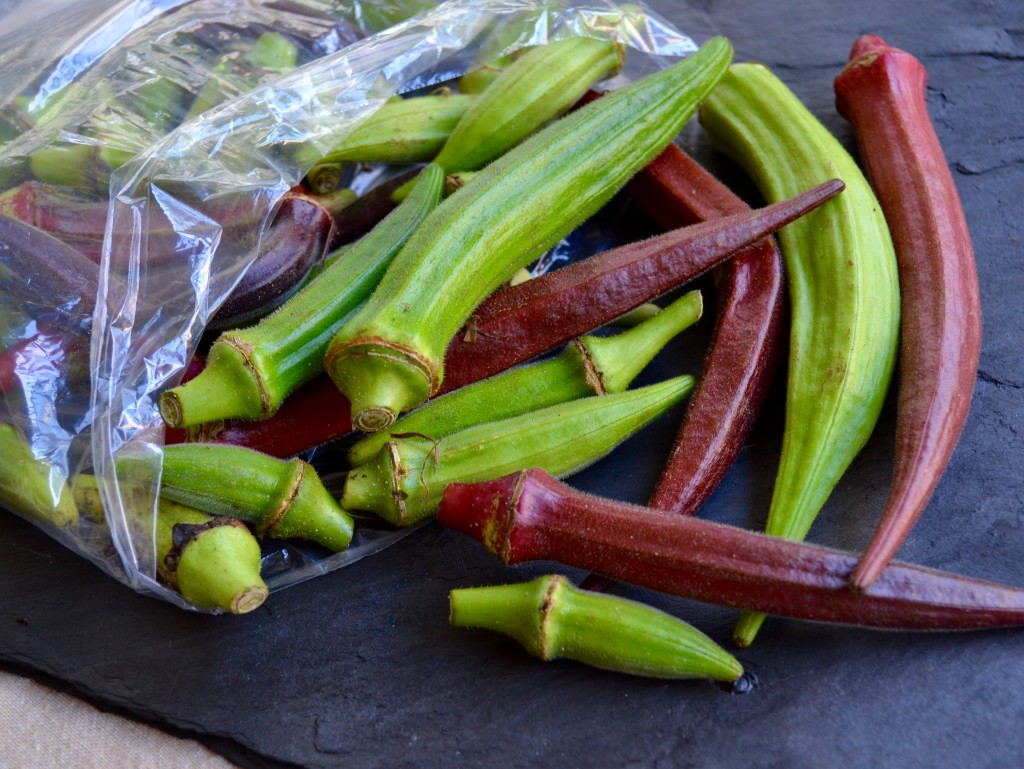 Slimy: the first word that always came to mind when I thought about okra. My relationship with that funky pod is a fairly new one. I used to think you could only eat okra fried or use it in gumbo. The fried are tasty–but often greasy–and after one bad gumbo experience, that slime memory was all that I needed to cross okra off my list. Except for the occasional piece of fried okra that my mom will put on my plate at Cracker Barrel, this stuff was never on my radar. It took one meal to change my mind…
Fast forward to last year when my husband, Ed, and I tried the new Tampa restaurant Ulele. Their Native Florida-inspired offerings are a vegetarian's delight. We filled our table with nearly all of them: chilled avocado soup, squash gratin, jalapeño cheddar grits cake, and meat-free collards. What grabbed my attention was the okra; it was unbreaded, flash fried and served with homemade ketchup. It was time to let go of my grudge and give it a try. Pure okra without the traditional thick, cornmeal breading: it was a bit crunchy, and there was no slime!
I. Loved. It.
I didn't want to have to wait until my next trip to Ulele to have okra again, so it got me thinking. Since I don't fry food at home, how I could replicate that pure okra flavor sans the slime? The answer? Roasting! The high heat of roasting dries out the sliminess and crisps up the outside. Tossed in a just a bit of olive oil and seasoned with salt and pepper, the true taste of okra was allowed to shine through. If you wanted to dip it in fancy ketchup or ranch dressing, you could, but it doesn't need a dip in anything at all. As usual for me, it's roasting to the rescue! Want to try a new veggie? Roast it. It is, by far, the easiest and best way to show off vegetables in their truest form–it also doesn't hurt that this form of cooking has the least amount of babysitting involved.
Feeling excited about the newest member of my veg repertoire, I wanted to find more to do with okra sans slime. First, I experimented with grilling. Like roasting, the high heat of the grill helps to dry out the slimy insides of okra: combined with the char and the smoke, it feels–and tastes–like a Southern barbeque, without all of the heavy frying. Slice your okra down the middle, toss with some extra virgin olive oil, season with salt and pepper and then skewer them. Grill over high heat until blistered on one side, about 8 minutes. Flip and grill for another 8 minutes. If you choose to skewer them whole, toss with oil and season; grill time is the same. But know that they will be charred on the outside and still a bit slimy inside because the direct heat couldn't get to the middle to dry out the pod; it's a matter of preference.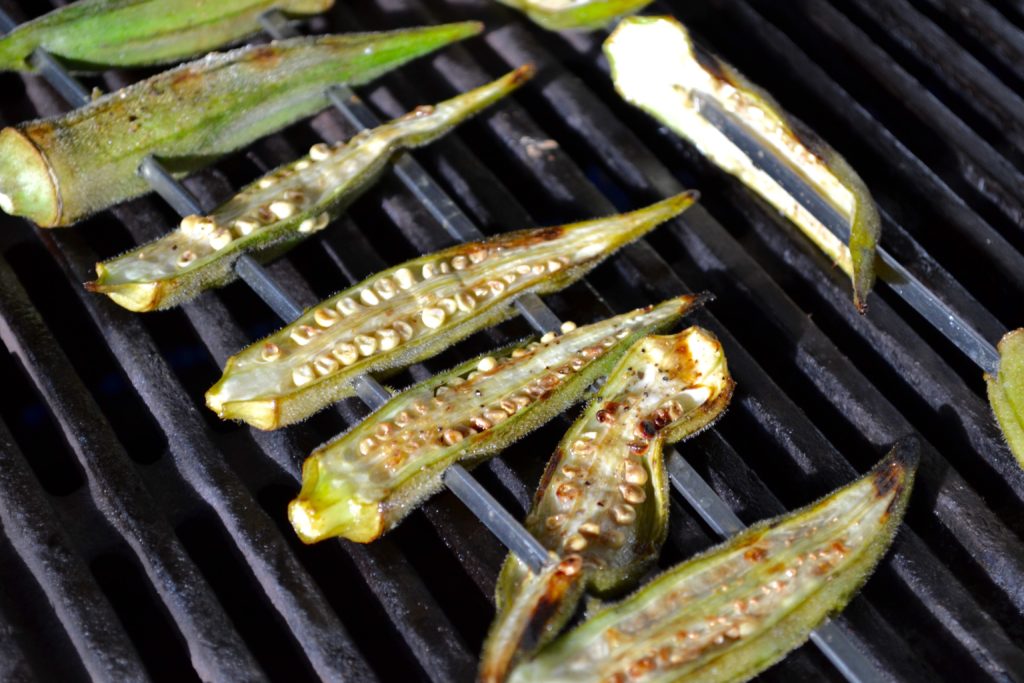 The next trial was with pickling: save your pickle juice, people! Back in my zucchini post, I shared a hack that involved tossing veggies into leftover refrigerated pickle juice. I started taking leftover cut carrots, zucchini and celery into my pickle jar to see what would happen. After a week, I was loving those crunchy, veggie pickles. So, why not okra? I threw in some of the smaller–about an inch long–pods from the farmer's market for fun. And….they worked, too! The okra needed at least two weeks to really soak in all of that brine for proper pickley goodness. The larger the pod, the longer the transformation is going to take: much sampling will be required to get the timing just right.
Another anti-slime trick? Tomatoes. Pairing okra with tomatoes is a match made in heaven, for good reason. The acidity in the tomatoes counteracts the sliminess and converts it to a thickener. Only three ingredients are needed for my take on a thick, rich gumbo-esque stew: okra, canned tomatoes and V8. Served atop rice or grits, it makes for a homey, comforting meal. Searing the okra in a hot skillet before adding the tomatoes adds another level of flavor and texture to this dish.
All signs point to the fact that I was a Southern belle in my former life. Bring me some grits, cornbread, hominy, veg-friendly barbeque with all the fixings–and now okra–and I am one happy girl. I may have grown up eating the German and Polish foods of my ancestors, but I've always had a soft spot for good 'ole Southern cooking. Okra may have been on the bottom of my list for most of my life, but I've discovered that it's all about finding the right preparation to turn a not-so-favorite into a new love.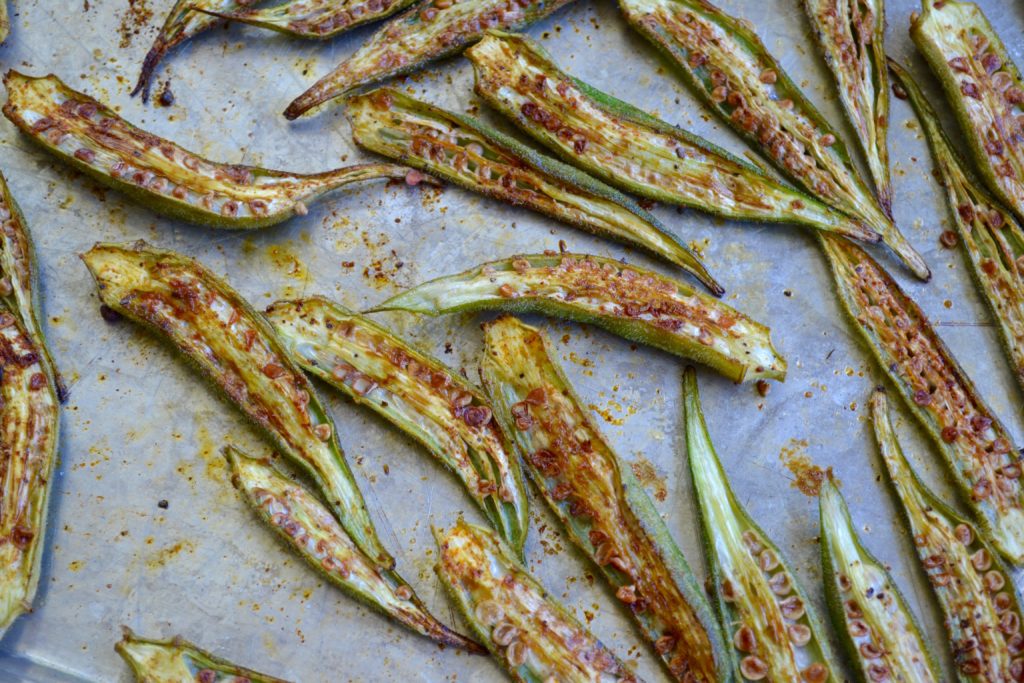 ROASTED OKRA
Okra has fuzzy pods, so when you wash them, give them a little scrub to remove some of the fuzz; it won't all come off, and that's ok.
Okra pods, cleaned
Extra virgin olive oil
Salt and pepper to season
Cajun seasoning, optional
Preheat oven to 425 degrees. Slice the okra pods down the middle lengthwise. Toss with a drizzle of extra virgin olive oil and season with salt and pepper; add a sprinkle of Cajun seasoning if you want to kick it up a bit. Place cut-side down on a sheet pan; roast for 15-20 minutes, until you see the pods are golden brown. Serve.
OKRA AND TOMATO STEW
In the time it takes you to make rice or grits, this rich stew will be ready and waiting; it tastes like you cooked it all day.
1 Tablespoon extra virgin olive oil
2 cups okra, sliced crosswise in 1/2-inch pieces, caps discarded
1/4 cup canned fire-roasted diced tomatoes in juice
1 cup low-sodium V8 (if you use regular V8, reduce the amount of salt to season)
Salt and pepper to season
Heat a skillet over medium-high heat. Add oil until it shimmers. Toss in okra and, stirring occasionally, sear until all cut sides are browned well. Add tomatoes and V8 and turn down heat to medium-low. Season with salt and pepper and allow tomatoes and juice to reduce by half, about 5 minutes.
Serve over rice or grits; I like to serve mine over cheesy grits.