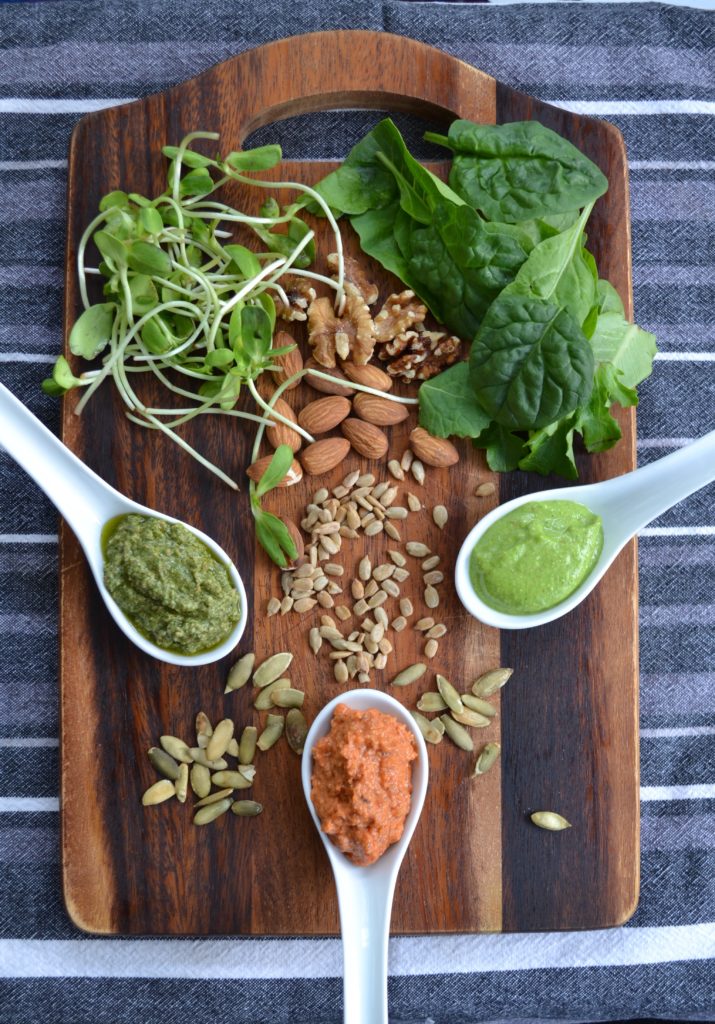 Pesto was never on my radar. I was always a red sauce kind of girl…until I found a recipe for lemon spaghetti. With those two in my life, my pasta didn't need any other options. I wasn't completely ignorant: I had tried pesto a couple of times before, but only at restaurants; and honestly, while I like basil, I didn't really enjoy an entire meal of it.
The one time I did venture out to buy pesto from the grocery store, I was not expecting what I found. Inside the container was an unemulisified mingling of dark green–nearly black–basil suspended in a layer of oil. That hallmark intense, kelly green color of homemade pesto was missing—it did not look appetizing. Despite its questionable appearance, I had to taste it; not surprisingly, the flavor was lackluster at best and the oiliness was overwhelming—I can't believe I actually ate it. This solidified the case that pesto need not be in my repertoire.
Once I started my blog, daily food research brought me to videos all over social media about making fresh pesto. Not only did it look super simple to make, but the classic basil/pine nut duo no longer seemed to be the default combination: kale, spinach, parsley, and various nuts and seeds were taking center stage. All of those options opened a creative door for me; it was time to break out the Cuisinart.
I followed Pinch of Yum's 5 Minute Kale Pesto recipe the first two times and was excited by what resulted; this stuff was nothing like the store-bought and everything like the restaurants where I had sampled it in the past. Simple, yet so complex with its garlic-y, vibrant flavor; I deserved a slap to the forehead for never attempting it before. My version includes lemon zest and sumac for an extra pop of flavor, and cheese, well, because cheese makes everything better.
My favorite thing about pesto–besides its bright flavor–is that it is so ingredient-flexible; it is the perfect thing to make when cleaning out the fridge. Since those experimental batches with kale, I'm becoming much more confident in my swapping skills: I have used everything from spinach to mixed greens; cilantro to pea shoots; and parsley to beet greens–I love that the beet greens turn the pesto a lovely speckled pink color. Pine nuts are pricey, so for the times I haven't had any on hand, I've switched them out for either pumpkin seeds, almonds, sunflower seeds, pecans, walnuts, or a combination of two. Even the cheese can be changed out; a hard, aged cheese works best. Clearly, this stuff is the most versatile condiment on the planet and it's no one-trick pony: it can also be used on veggies, meats, pizza or drizzled atop soup.
Pesto's ingredients are not the only flexible feature; the way it's made can also vary. I prefer to use a food processor, but you can use a high-powered blender–if you really want to get authentic, you can break out a mortar and pestle; I have yet to try the latter. Recently, Ed and I got to sample blender pesto during a 6-week nutrition class that our friend, Steven, was teaching. Steven Ashton, founder of Nutrition as Rx—a nutrition coaching company–taught this class as his final assignment towards earning his Holistic Nutrition Consultant certification; a food demonstration after each class was a bonus for his attendees. His vegan pesto consisted of merely oil, almonds, spinach, basil, mint and garlic which he proceeded to spread on nori as our snack; it was tasty straight from the spoon. Using a high powered blender yields a thicker paste-like pesto; a food processor will give you a looser consistency, yet you won't lose any of the flavors. It's all a matter of preference.
Pesto was a long time coming for me; in fact, I've gone from never eating it at all to eating it several times per month. Whenever I serve it on my pumped up protein pasta, the greens, nuts, lemon, oil, and cheese feel like a complete, balanced meal–all in one bowl. In the end, there is not one perfect pesto; each and every combination is perfect in its own way. So, it is a win-win in the creativity department with this foolproof recipe. For now, my favorite marinara and lemon spaghetti will take a backseat to this new, ever-varying sauce for my pasta. Between my fridge and pantry, there are probably enough ingredients for at least ten new versions of pesto, all vying to be my new favorite. Which combination will be next?
__________________________________________________________________
PERFECT PESTO
Experiment with different combinations to find your favorite; this recipe will work with whatever you have on hand; that's what makes it perfect. This keeps well for a week in an air-tight container in the refrigerator.
2 cups greens (kale/spinach/chard/beet greens/herbs/pea shoots/sunflower sprouts/carrot tops–or a combination)
Zest and juice of 1 lemon
1 clove garlic, chopped
¼ teaspoon ground sumac, optional
½ cup nuts or seeds (pine nuts/walnuts/pecans/sunflower seeds/pumpkin seeds)
¼ – ½ teaspoon salt, to taste
½ cup extra virgin olive oil
1/3 cup grated hard cheese (Parmesan/Asiago/Pecorino/aged Gouda)
Combine greens, lemon zest and juice, garlic and sumac in a food processor and pulse until roughly chopped. Add nuts and salt and turn on machine. While machine is running, drizzle in olive oil through the chute. Once all oil is blended, add cheese and pulse again until combined.
Makes about 2 cups.
__________________________________________________________________
STEVEN'S PESTO
Steven Ashton is a Nutrition Consultant for Nutrition as Rx. His pesto uses greens and herbs from his garden to create a thick, flavorful pesto that's vegan.
1 cup raw almonds
1 cup olive oil
2 cloves garlic
1/2 teaspoon salt
2 cups greens (Steven used a combination of spinach, mint, and basil)
In a high powered blender, blend nuts and olive oil on high until combined. Add garlic and salt and blend again for 1 minute. Add greens and blend until a smooth paste forms, about 2 minutes.
Makes about 2 cups.
__________________________________________________________________
OVEN-DRIED TOMATO PESTO
Pia's Trattoria is a local Italian restaurant in St. Petersburg that serves an amazing sun-dried tomato pesto over their homemade pasta. My version is a nod to their zippy, flavor-packed dish.
1 cup homemade oven-dried tomatoes, see recipe below, or ¾ cup sun-dried tomatoes in oil, drained
½ cup blanched hazelnuts
1 clove garlic, coarsely chopped
½ teaspoon salt
¼ cup extra virgin olive oil
Juice of ½ lemon
1/3 cup freshly grated Parmesan cheese
Pulse tomatoes, hazelnuts, garlic, and salt in food processor until mixture comes together. Turn food pro on low and slowly drizzle in oil and lemon juice through chute until smooth. Add cheese and pulse until combined.
Makes about 1 ½ cups.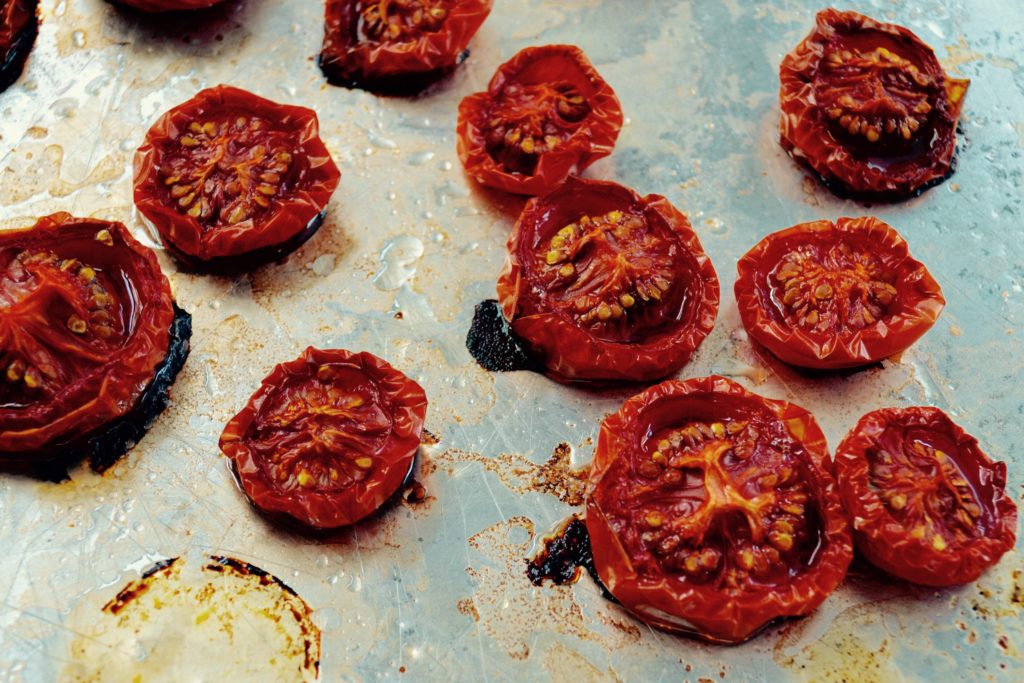 OVEN-DRIED TOMATOES
This recipe is adapted from Gwyneth Paltrow's My Father's Daughter cookbook. The concentrated flavor of these tomatoes works well in salads, on top of crostini, on a sandwich, or just by themselves.
Two packages of Campari tomatoes, about 20, sliced cross-wise
Extra virgin olive oil
Salt
Preheat oven to 275 degrees.
On a sheet pan, drizzle cut tomatoes with olive oil and season with salt. Roast for 3-4 hours until shriveled.
Allow to cool to room temperature before blending for pesto. Otherwise, can be stored in the refrigerator for up to one week.